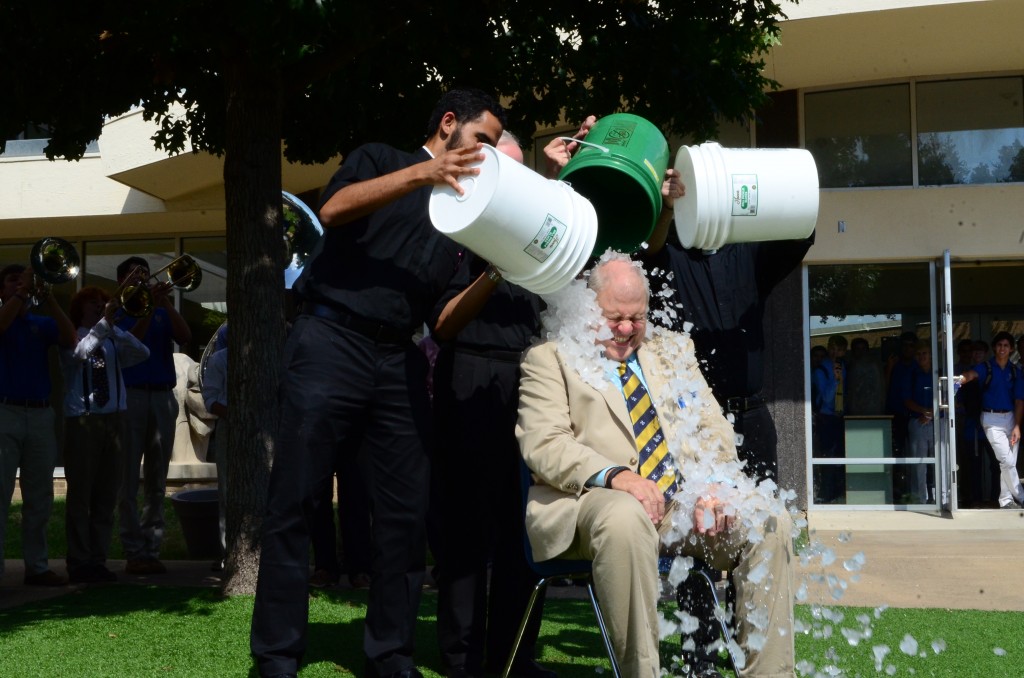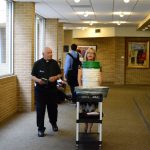 Since its inception, the ALS Ice Bucket Challenge has raised over $80 million and raised awareness for a debilitating disease that afflicts thousands. An Internet sensation, the challenge has spread around the world as people from all walks of life encourage their friends to pour buckets of ice water over their heads or donate money to the ALS Association. The list of big names who have taken the Ice Bucket Challenge is a long one, from Bill Gates to Michael Jordan to George W. Bush.
On Wednesday, August 27, Mr. Mike Earsing, President of Jesuit Dallas, joined that list. Nominated by former board and foundation member John Grimes Sr., Earsing was joined by countless faculty and student onlookers in the Senior Courtyard as he completed the challenge.
With the Jesuit band providing music in the background, Father Billy Huete, SJ, Mr. David Lugo, SJ, and Mr. Jonathan Harmon, SJ did the honors, pouring three buckets of ice water over Earsing, who remained calm and collected throughout the challenge. After a good dousing, he went on to challenge Coaches Charlie Delong and Chris Hill, the Jesuit Student Council, and The Roundup senior staff.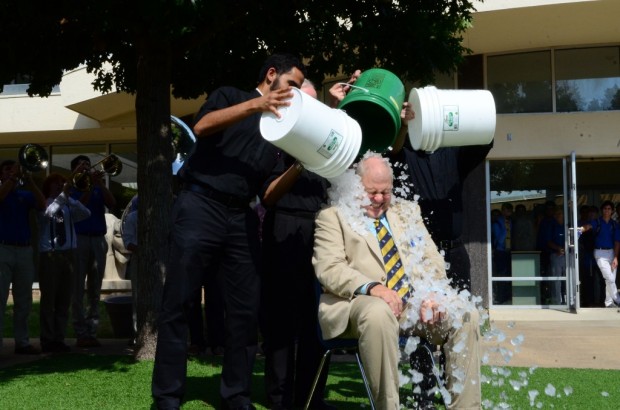 Earsing took the challenge in stride, displaying surprising composure as the ice water splashed over him. Prior to the challenge, Earsing noted with a smile, "I am from Buffalo, so it'll probably be like a Buffalo summer."
Students everywhere were mesmerized throughout the challenge, with seniors crowding the courtyard and underclassmen standing eagerly at the windows looking in. Impressed by Earsing's challenge, William Feist '15 remarked, "I think it's a fantastic show of support! It's really inspiring to see our president do [the Ice Bucket Challenge]." Ben Ovenshire '15 shared similar thoughts, commenting, "I think it's really cool…to see the president of the school doing something like that." Wowed by the whole event, faculty and students gave a heartfelt round of applause.
But for Earsing, the Ice Bucket Challenge means more than just raising awareness or helping with fundraising. The challenge connects on a more personal level as one of his close friends, Father Raymond Fitzgerald, SJ,  former President of Jesuit High School in New Orleans, was diagnosed with ALS just last year. "Having Father Fitzgerald, who's a friend of mine, a close friend of mine, come down with it last year was pretty devastating," said Earsing. Honored to take the challenge, he added, "I think anytime something like ALS can have awareness raised, it's an important issue."
Before Father Fitzgerald's diagnosis, Earsing had a different understanding of ALS. "I did not realize that for most people it is a death sentence within a couple of years," said Earsing. "And it's a pretty terrible death sentence…it's very debilitating."
Father Fitzgerald and Earsing's friendship dates back to his time as a chemistry teacher. Father Fitzgerald was a scholastic at the time. He and Earsing "had great adventures blowing stuff up during the summer when teaching chemistry." Father Fitzgerald later become the rector of Jesuit Dallas and eventually the President of Jesuit High in New Orleans.
But things have been difficult in recent months. "For me to see [ALS take its toll], it's hard," said Earsing. "I had lunch with him last week and he couldn't open up a bottle of water anymore…He can drive but the problem for him is having enough strength to turn the key. You don't think of things like that…To see somebody go downhill that fast is pretty devastating. I'm glad that social media has picked up on such a worthy cause."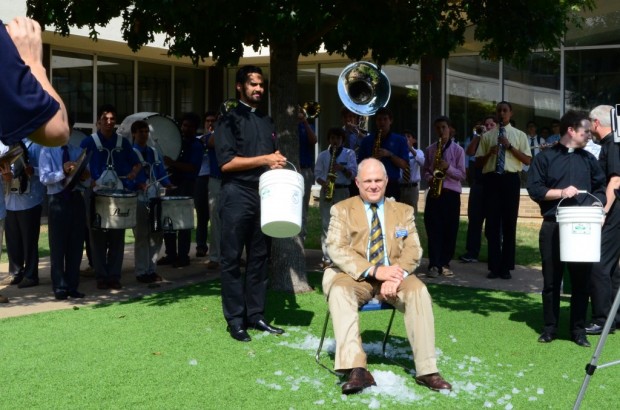 Despite the trials that ALS brings, Earsing is optimistic about the future: "This is a disease that affects a lot of people. We need to do more research on it. We have a pretty good idea of what's going on but we don't know why. But I'm confident we're gonna find a cure."
Mr. Tom Garrison, Jesuit's principal, praised Earsing, noting what outstanding "leadership" the President showed. Additionally, he shared his thoughts on the trend as a whole: "I'm happy that they've found this way, that they had this lucky circumstance where they were able to raise this much money. I hope that other organizations are able to catch this lightning in a model for other good causes. I hope they find a cure."
Students also applauded the challenge, amazed by its success. Cole House '15 commented, "The challenge itself is pretty fun…Even though it might not seem very sophisticated, it went viral, brought awareness, and raised millions of dollars." Feist shared similar sentiments, applauding the fact that it "gives people a chance to show their support even if they can't always donate." Ovenshire called it a "very clever marketing strategy" and a "great way to raise awareness."
While some might consider the challenge a bit unusual, the success it has had is undeniable, raising tens of millions of dollars and spreading awareness around the world.
Video produced by Jesuit Stage & Film