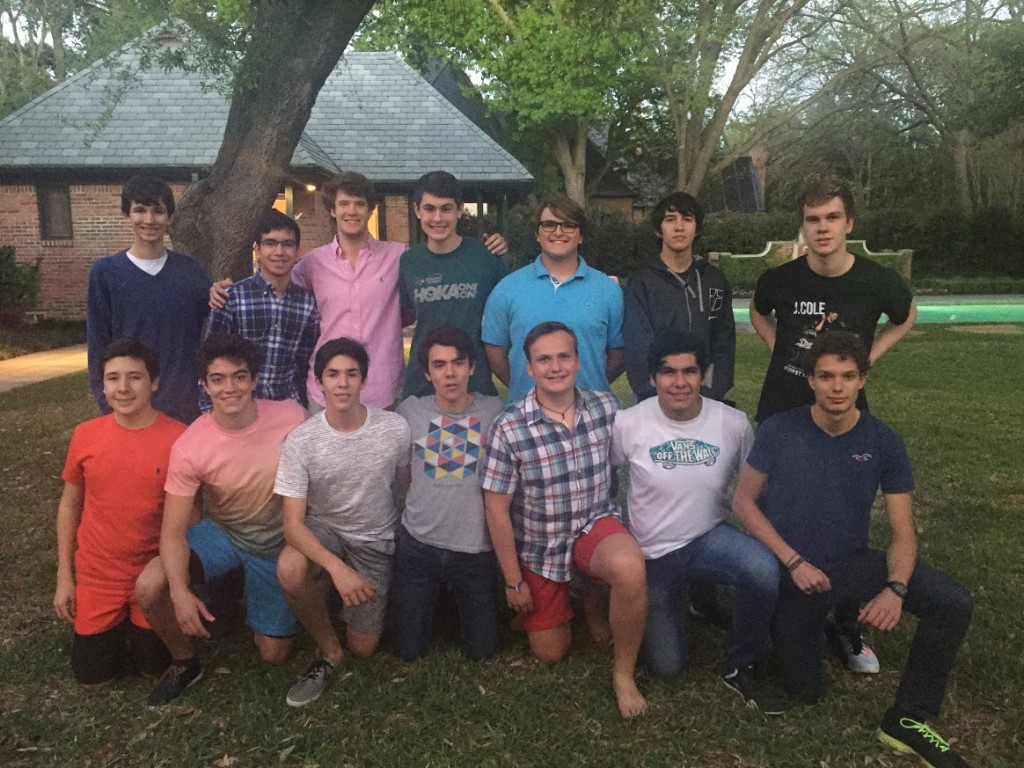 "My family in Mexico is like … I used to live with my grandma, and 2 cousins, with my father and mom, and we were 6 in the house … now we are living just my parents and me in the house … There was no exchange program in my school (Bachillerato Pedro Arrupe, a Jesuit School in Mexico), that program is only to Ciencias (Instituto de Ciencias, another Jesuit School in Mexico) … the Jesuit College (the Jesuit College of Guadalajara) offers … one place, to select one to go with the Exchange Students with Ciencias, to represent the school. He has to have [good] grades, great level of speaking English, has to have some skills of adaptation. They told us we select 7 of you, and you have to write a letter of application about why you want to go, and so I wrote my letter, and the next day they told us who will go, and they select me. I was so excited, I have never been in another country, I have never flown … it is kind of crazy."
This is the story of David Arias (Mexico equivalent of a senior), one of the many incredible Mexico exchange students that came to Dallas Jesuit as a part of the Guadalajara-Dallas Exchange Student program, to encounter a completely new experience and to spend a month with their host family, who over the course of their stay would start to see them less as a stranger and more as a real member of the family.
The Guadalajara-Dallas Exchange Student program has been an integral part of Jesuit's experience since 7 years ago when the director of Social Justice Mr. Perry of Jesuit went to meet the principal of a Jesuit school in Mexico. After meeting with the principle, they established a reciprocal program, where students from Jesuit schools in Mexico would come to Dallas for a month and Jesuit Dallas students would go to Mexico for a month.
Some criteria were met when choosing students to come to Dallas Jesuit within the Mexico Jesuit schools, like being able to speak English at a fairly decent level. Since 3 years ago, there were complications in the exchange program, and Jesuit students are now unable to go to Mexico as a proper exchange, and instead has been instituted as a host program. This year, there were students that came from Mexico to be integrated into the American culture, bringing elements of their own Mexican culture to the table, as well assimilating into the Dallas Jesuit brotherhood.
It's crazy to imagine what it would be like to be immersed in a completely new atmosphere, stay with people you've never even met before, and go through the daily routine of a society in which you are completely out of tune with. Such were the experiences of the exchange students, to live and learn the culture of Texas. Exchange student David Arias talks about some of these experiences, claiming some of the differences are "in the city … clean, bigger, and [more] open space, and you drive a lot." He continues on, talking about some other changes such as the greater prevalence of public transportation in Mexico rather than Texas.
In terms of the schools, Arias notices that Dallas Jesuit with his Jesuit is "pretty similar," although Dallas Jesuit "has an enormous campus. [Arias] had never been on a campus as big as [ours]" and was awestruck by the "technology that [we] implement in each classroom." Among the exchange students, some of them claimed that the trip helped them find not only new experiences and a new culture but to "know themselves better," as exchange student Alex Gispert (Mexico equivalent of a Junior) puts it. Many of them still enjoy the same things that students in Dallas enjoy, such as playing games with friends, hanging out and having a laugh, playing Clash Royale on their iPads, and many other parallels. With these elements, it becomes easier to notice the similarities in completely different cultures than the differences, further blurring the line between exchange student and classmate.
While the experience of the exchange student is one of experiencing a new culture, it's likewise also a new experience for the host student and their family. For the host students, it's all about "experiencing other cultures," as exchange student host Jonathan Coxon '18 describes it. After they meet their exchange student, the relationships begin with establishing a foundation, getting to know one another, and they soon quickly learn, amidst their many environmental differences, they have more in common than they first had let on. Coxon '18 commented saying, "We were talking a lot about his family, and he was asking a lot of questions and I was asking a lot of questions … [in the end], it's pretty much like having a new friend and having him live in your house for a month." Over the course of the month, the students grow closer to their twin as well as one another and develop a bond that withstands the barriers of language, and the borders of a country.
  With the exchange program approaching, it's 8th year, it's good to reflect on the accomplishments of the program as well as what could be changed. One change, in particular, something that has been on the wish list of many, may be coming to the program with the next few years. Director of Social Justice Mr. Perry plans to "[revisit] going back to Mexico and continuing the visits," suggesting the possibility that, in the near future, Jesuit Dallas might begin sending students to Mexico again, restoring the balanced exchange than was once a reality years ago. Jesuit's exchange student program is all about "enhancing cultural understanding, and to support the development of friendships without borders," as affirmed by Mr. Perry.
In the end, the program boils down to relationships, and the connection and bonds the exchange student makes with the school, with the other exchange students, with the host family, as well as the connections the host student will make with the other exchange students, and most importantly, the relationship between the two brothers from different countries. The program has enabled many to experience what they consider one of the greatest experiences of their lives, as Coxon '18 confirms that it is something that some in "10 years,  I'll just remember [my exchange student]." When asked to summarize what makes the trip memorable, Arias responded, "When you don't expect something, the best comes by itself." Jesuit's foreign exchange student program allows students to develop long lasting relationships, not just between the incredible students but with the families as well, and the program is a transformation, as it turns two strangers into two best friends.