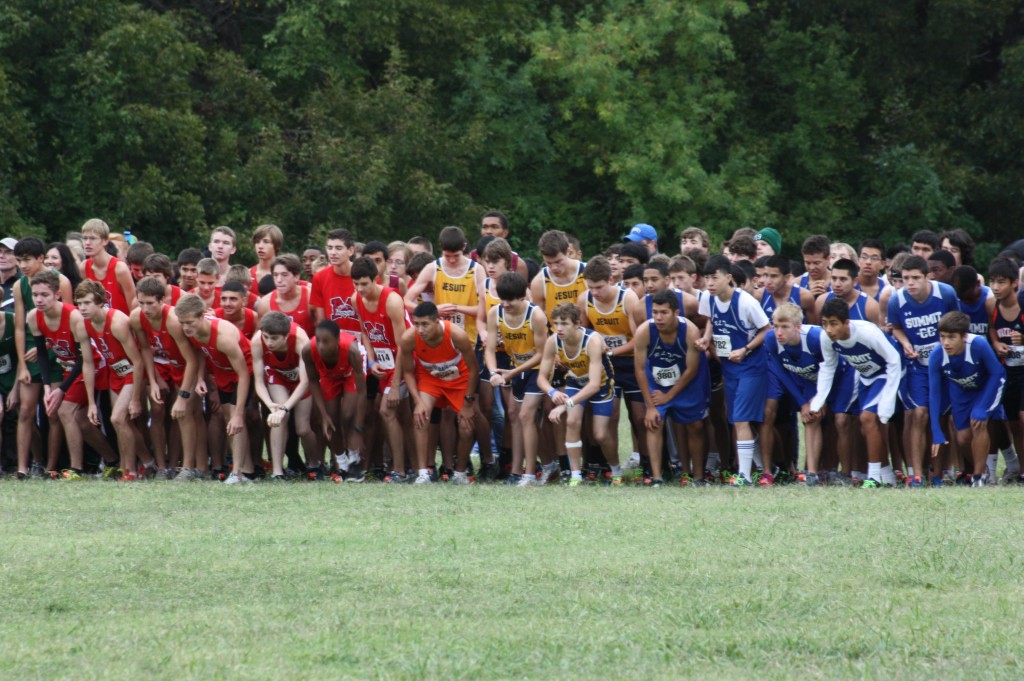 The Jesuit Cross Country team has been familiar with winning for years.  Through the tremendous coaching of Bob Molyet and Jonathan Segal, the Jesuit XC team does not hope for awards or medals or titles, they expect them. Andrew Pott '14 revealed how this attitude pushes the Rangers, "The coaches are what push us to be so great.  I think it's their dislike for losing that kind of rubs off on us."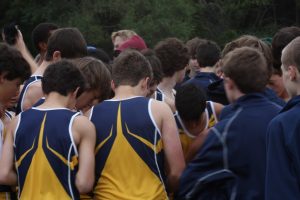 Coach Segal, the assistant XC and track coach, explained their approach to practice, "We typically practice 5 days a week, every school day, in the morning before school. Mondays and Tuesdays are usually our most difficult days; Wednesday is a lighter recovery day. Thursday it picks up a little more and then Friday is basically just a shakeout run before our meet the next day."
The Rangers have participated in 7 of their 8 regular season meets to date.  This year the Rangers have competed in the Frisco Invitational, Marcus Invitational, UTA Gerald Richey Invitational, the McKinney Boyd CC Meet, the Wylie Dustin Rodriguez Run, the 76th Annual Cowboy Jamboree, and the Jesuit XC Classic.  The team has one more race, the Mesquite – Run the Farm CC Meet before the District Championships."  This year, the Varsity team has been led by seniors Grant Pittman, Michael Boone, Tyler Ward, Will Cormier, Evan Dittmar and Josh Segal; junior standouts for the Rangers include Dillon Smith, Andrew Pott, Chris Wolff, Nick Hayes and Kyle Wolf; sophomores Zachary Schutze and Jacob Maras and freshman contender Connor Garvey round out the varsity squad.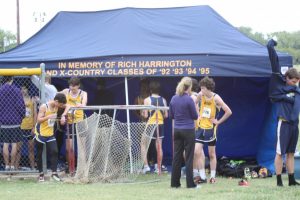 Segal reveals, "Most seasons have 8 "regular season" meets. The primary purpose of these meets is to figure out who the top 7 guys on the team are, and to give the entire team a chance to show off the hard work that they have done since June."  Work hard they have, as Mr. Segal makes this very clear in saying, "many of our runners have engaged in running, biking, swimming, and lifting over a period of a few months in order to prepare for the season."  Mr. Segal explains the average season for a Jesuit Cross Country runner, "Most runners will only run 6 or 7 of these 8 meets. Then we have the district meet, which every school in district runs in. Our top 7 runners will comprise our 'varsity squad,' although there is also a 'JV,' district race."
The Jesuit Ranger Cross Country team understands that the Jesuit XC Classic is one of the season's defining moments and the past two seasons, the win has gone to the Rangers along with the District Title. This year the team finished 3rd, not exactly the results they were looking for but still a very impressive end result for the squad.
Coach Segal explains what comes after the district meets, "Then comes the regional meet, which the top teams from each district go to. Obviously, the regional meets are very competitive because they are filled with teams that won their respective districts. Finally, the top teams from each region, as well as the top individual runners, qualify for the state meet."  Dillon Smith '14 had this to say about the team's chances, "I think we should do pretty well.  The team chemistry really sets us apart from the other teams, I mean we all have each other's back and even if it is an individual sport we still cheer on the others and help them succeed.
This is another great looking year for the Ranger's as they try to qualify for Regional's and possibly State.  To track the teams results and times, visit http://www.athletic.net/CrossCountry/School.aspx?SchoolID=5138
Good luck to the team, the Jesuit Community is rooting for you.