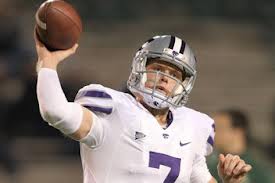 When reflecting on the Kansas State Wildcats season, the most familiar words that come to mind are "Klein pounds it in for the touchdown!"
To the 6'5, 226-pound senior out of Loveland, Colorado this is second nature. With 55 career rushing touchdowns, 22 this season, "Optimus Klein," as he is known as by his fans, is a force to be reckoned with.
Not only is he a serious threat on the ground, but he is also almost just as deadly in the air to opposing teams. With 15 passing touchdowns this season, Klein is always on the minds of his opponents, who must watch out for an air strike, like the 62-yard pass he threw against TCU. And after this pass, one could guess what happened next: Colin Klein pounded it in for a rushing touchdown, a characteristic feared by all 12 opponents this year.
The Team from which Klein Emerged as Leader
The Heisman Trophy's mission statement says that its winners "epitomize great ability combined with diligence, perseverance, and hard work."
According to Rivals.com, a prominent recruiting website, the Kansas State football team was 58th out of all 121 Division 1 schools in 2012, and 68th in 2011. To put it in more perspective, in 2011 SMU was 50th, an entire 18 teams better than Kansas State's recruiting class. SMU finished 6-6 with a trip to the Hawaii Bowl, while Kansas State finished 11-1, a season culminated with a trip to the Tostitos Fiesta Bowl vs. Oregon.
Even though SMU had a better recruiting class, there is something in Manhattan, Kansas that is making these players better. And this something certainly involves a combination of diligence, perseverance, and hard work.
While much can be attributed to legendary coach Bill Snyder, Collin Klein had more to do with this team than anyone. In the words of coach Snyder, "[Klein] deserves anything and everything and all the compliments he can have."
Klein is all around solid, and without him, who knows what record Kansas State would be sitting at right now.
The Baylor Game
Klein was the leader in most everyone's polls for many weeks until one fateful game against Baylor. Klein threw three interceptions in this game, and the previously-undefeated Wildcats went down in Waco 52-24.
But what most forget when reflecting on this game is that Collin Klein did not get much help from anyone else on his team. And Klein, even with that three-interception game, only has 7 interceptions for the entire season; Johnny Manziel has 8.
Even though one might say the prominent factor in this game that led to his decline in the polls was the loss, Johnny Manziel has lost two games with an arguably much better offensive line and a stellar defense, including all-SEC team member Damontre Moore, and senior linebacker Sean Porter, to get the ball back in his hands faster.
This game may have impacted Klein's chances at winning the Heisman, but it certainly did not put him too far behind Johnny Manziel.
The Stats Factor
Being a Texas A&M fan and seeing what Johnny Manziel is capable of since the Maroon and White game in the spring, I understand why he is the front-runner for the Heisman.
The common population has really only followed Johnny after he gained national attention from A&M's win versus Alabama. However, this really covers up significant stats that Johnny recorded versus sub-par teams.
What I mean by this is displayed by what Johnny was capable of after the Alabama game, when he raked up significant states and did serious damage to other teams on the field.
However, this damage was done in games against sub-par teams, like SMU or Arkansas, during which Johnny raked in the stats, and really buffed up his profile.
I'm not saying that "Johnny Football" had a cake walk in these games, I'm just showing how the argument that Johnny Manziel is better that Collin Klein, purely based on statistics, is not a sufficient argument for determining the Heisman winner.
As far as raw talent goes, well, that's up to the committee.
The One Other Contender
What Manti Te'o has over the other two candidates is that his team is undefeated and playing for the National Championship, and without him it is almost certain the Fighting Irish would not be contenders for the title.
If Klein and Kansas State had not lost to Baylor, Klein would have this advantage too, and if Manziel had not lost early on to Florida or LSU, Manziel might have this advantage as well.
Even though Te'o plays for an undefeated team, Klein is as close as it gets to undefeated, and like Te'o, if it were not for him, Kansas State might be struggling to just make a bowl like it did a few years ago.
Collin Klein's Transformation's Impact on Himself as a Player and on The Program
Collin Klein could be known as a savior to Kansas State.
Klein brought the Wildcat football program from a struggling team into a BCS number- one ranked team. In his transformation from receiver in his first year at Kansas State to quarterback, Colin Klein has turned Manhattan into a feared place to play.
If the voters can dissect what Klein has done for this football program from what Coach Snyder has done for this program, they can truly realize how Collin Klein took his team to be Big 12 Champions, and why he became Big 12 player of the year.
And with this knowledge he is far from out of the race, and "Johnny Football" and Manti Te'o need to watch out, because "Optimus Klein" is still very much in the running, and if it's anything like his running on the field, he will roll right over the other candidates.