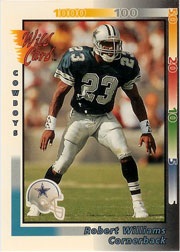 When one thinks about Coach Robert "Doogie" Williams, they might think of him as one of Jesuit's track coaches, football coaches, substitute teachers, or even as a former NFL player. Although Coach Williams is all of these things, he is also so much more.
Early Years
Robert Cole W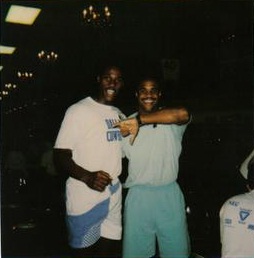 illiams was born on October 2, 1962 in Galveston, Texas. He attended Alamo Middle School and then Ball High School. A standout running back in high school, Williams was a very popular recruit. Many schools, including Louisiana State University, offered him a scholarship to play college football.
However, these schools wanted to convert Williams to a cornerback. Williams wanted to play running back, not corner, so he decided that he was going to play at the University of Southern California. However, his grandmother intervened and decided that he should go to another school that would play him at running back, Baylor University. "My grandma made me go to Baylor 'cause the head coach came by and she really liked him. She also wanted to be able to drive to Waco to see me 'cause she couldn't always fly," says Williams. Williams ended up playing four years in college and then graduated in 1985.
NFL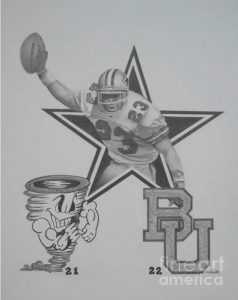 Most people know that Coach Williams played in the National Football League, but not many know how he got there. Starting with the Washington Redskins, Williams signed as an undrafted free agent running back. The one thing that helped him get signed was his speed. "My speed is what got me talking to teams," Williams says, "but I think I ran something like a 4.3 40-yard dash," he added, laughing. Although he ran a 4.23, times were not officially recorded in the NFL combine until 1999.
Williams never hit the field for the Redskins, though, "This was before the NFL actually looked into what teams were doing, so teams could place a guy like me [who was signed] on the (injured reserve) so that they could have me come in if someone got hurt and not take the chance that someone else might sign me off of the practice squad." After the season was over, Williams was waived from the team, but he would not be away from the game for long.
After going back to his home in Waco, Texas, where he had a wife, a couple of kids, and a stable, ordinary, job, Williams got a call from the Cowboys asking him to come to Dallas to work out.
After staying in an apartment for a few weeks in Dallas and working out at the practice facility, they finally gave him the news: he had made the Cowboys. But there was a catch: he wasn't at his original position at running back; he was now a cornerback. Like the Redskins, Coach Tom Landry saw potential in Williams' speed. "Coach Landry pulled me into his office and told me that he wanted me on the team, but as a corner.
When he's offering you a big check like that, you gotta do what you gotta do and take it." He went on to say that "Coach Landry was a hard, but fair coach and gave me time to transition to playing defense 'cause this was my first time playing it."  Unfortunately, after the regular season started, disaster struck the NFL.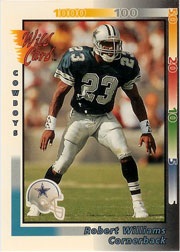 A 24-day players' strike was called after week two of the NFL regular season. The games that were scheduled for the third week of the season were canceled, reducing the 16-game season to 15, but the games for weeks 4–6 were played with replacement players, after which the union voted to end the strike. Eighty-five percent of the veteran players did not cross picket lines during the strike.
In places such as Dallas, some fans loved the replacements' grit and nicknamed them the "Rhinestone Cowboys." Nearly every replacement team wound up with some kind of revamped nickname, and they generally weren't nice: The Chicago Spare Bears, The Seattle Sea-Scabs, The New Orleans Saint Elsewheres. Williams, like the other players who crossed the picket lines, was what was known as a "scab."
However, he was one of the lucky few who got to stay with the Cowboys after the strike was over, "Most of the scabs were cut after the strike was over." Living in Dallas, Williams was lucky that most of the fans liked the scabs as some cities had fans that were vicious to scabs. "[The] most I ever heard was when I would go down to the courts with some of the boys and play some ball and someone would be yelling 'scab' in my direction."
Williams ended up playing for seven years in the NFL and won two Super Bowls. That's something that most Hall of Famers aren't able to say.
After playing for the legendary 1992 and 1993 Super Bowl champion Dallas Cowboys, Williams signed with the Kansas City Chiefs in December 1993, but was waived in March 1994. He then again signed with the Washington Redskins in August 1994, but was waived in training camp.
Williams ended his career with 1.0 sacks, 4 interceptions, and started 36 games. Along with his championship rings, he has many memories from the league, "One year, we played the St. Louis Cardinals, and I had a punt block early in the game. Later, we were winning and the Cardinals were driving the ball down the field and I got an interception that allowed us to win the game. The next year we played the same team and I got a sack on their quarterback."
Sadly, all good things must come to an end. After his seven great years in the NFL, Robert Williams retired from the NFL and moved on to the next stage of his life.
After the NFL
Williams found a job around the Coppell area as a substitute teacher for an elementary school after his retirement from the league. A few years later, his agent said he knew a guy who played under Coach Koch, Jesuit's athletic director, and said Koch's school was looking for coaches. This school happened to be Jesuit. In 1996, he interviewed with Coach Koch for the track and football coaching position and accepted the offer. Today, 16 years later, Coach Williams is one of the most beloved coaches at Jesuit.
The Nickname
The legendary nickname, Doogie, had to have come from somewhere, right? Williams said, "I actually don't remember when I got that nickname. It was either when I was with the Cowboys, or when I came to Jesuit, but I think someone at Jesuit called me 'Doogie' one time and the name stuck."
Jesuit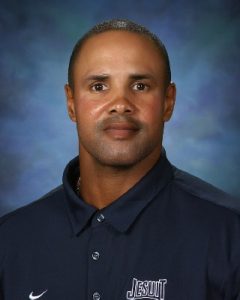 One student, Cooper Brehm '15, described Williams as a "great man, [and a] stellar substitute." Many students had much of the same to say: "He definitely thinks he's a funny man, but he always coaches you up and tries to put you in the best possible situation," said Orion Salters '14. Students have had great experiences with Williams. "He makes practice enjoyable instead of dreadful," said Chris McCall '14. According to Aidan Johnston '13, "Doogie is laid back and fun, but [takes] the game of football seriously."
Many people who know Coach Williams know him as a man that never gives up. For instance, in Coach Williams' first year at Jesuit, he was the head freshman football coach and "going into the last game of the season the freshmen team had not won a game. [He] gave a very impassioned pre-game speech in which he said 'give me the water' meaning win the game and pour the water over me in celebration.
The freshmen won the game and the rest is history," recounted Coach Charlie DeLong, "He accepts people for who and what they are and by doing so he creates an environment that allows others to grow and express themselves with enthusiastic freedom." "He has the unique ability to make hard work fun. He can be serious, but he never lets his players get too nervous about a game or event. He is a great motivator and teacher," Coach Paul Maturi agreed.
For a former NFL player, Williams is surprisingly selfless, "He is unique and one of a kind. A very special person who is extremely humble," Maturi says. "Coach Williams is the one coach at Jesuit who has competed at the highest levels and has great knowledge of the sports he coaches, and he is very humble. I am proud to say he is a friend," Coach Bob Molyet adds.
The impact Doogie has on students doesn't escape the eyes of his peers, as Molyet recalls: "My best memory was watching him console a young athlete who just failed in the high jump at a meet. The young man had tears coming down his eyes and there was Robert encouraging him. I don't think anyone noticed it, but I did.
That is the type of man I would want coaching my son. This same young man went on in college to become a two-time national champion. I truly believe that Coach Williams' encouragement during these early years helped this young man not to give up."
Even academically, Coach Williams has helped students out. History teacher Katherine Guinn said that "[he] is the only coach to have walked one of his players who was clearly nervous to come talk to me to my office to see how he could improve in my class. It was clear that they had discussed some of his assignments and the student was not sure how to approach me with his questions. I was impressed with Coach Williams' dedication to the academic improvement of his players and his willingness to go out of his way to help."
Finally, Coach Williams brings laughter to everyone he meets. Pierce Durham '14 sums up the one thing that everyone has said before:
"He's a really funny guy to be around."