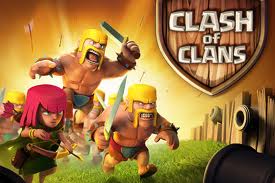 Overtaking the school, "Clash of Clans" has almost unanimously captivated Jesuit students. This interactive real-time strategy game for the iPad lets the player establish himself in a virtual "clan," providing for an online connection across the student body. Whether leading a village into a more civilized age or competing head-to-head in military battles with friends, this uniquely addictive game presents the opportunity to be the best in the online world of combat. Considering this game's ability to hook the user, this app presents an interesting challenge for the first generation of Jesuit "iStudents": how to gracefully balance school and play.
On Thursday, September 20, iPads could not connect to the "Clash of Clans" app. Speculation quickly circulated that the game had been banned on the Wi-Fi, a response not in accordance with the Jesuit College Prep ideal of trust. Disappointed and distraught, the students mourned the loss of some of their freedom and some of their fun, not fully understanding the rationale for this ban.
Before long, the situation had been resolved. Mr. Peter Billingham, head of the I.T. department, addressed these rumors, saying that "[the blocking of "Clash of Clans"] was an unintended consequence" of a security change in the firewall and "[was not done] intentionally." Students rejoiced at their renewed privileges and continued successfully pairing work and play. But this begs the question, how many people at Jesuit are playing this game?
To look further into the situation, a random, anonymous survey of fifty Jesuit students was conducted.  The results were a bit surprising: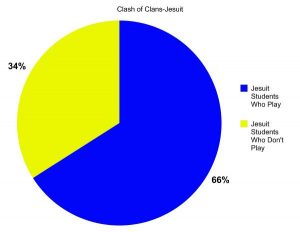 Even though two-thirds of the students who were surveyed were playing "Clash of Clans," the atmosphere of the school remained the same. This seemed to confirm Mr. Knize's statement, "There is not a giant statue of an iPad in front of the school; there is a blue cross, and that will never change." Certain characteristics of Jesuit will endure, regardless of fads that come and go.
To truly understand why such an astounding number of people devote numerous hours to the game, one must go to the source: the gamers.  Interviews show that the social aspect of the game has really contributed to its success. Alex Magee '15 shared his experience: "My friends got me started on it and I just thought it was an interesting game."
As talk of "Clash of Clans" mesmerized one student after another, soon the entire student body was made aware of this game. Despite this fact, some still chose not to play it for a number of reasons. Among those people, Patrick Joseph '15 said, "I just don't have enough time to play games with all the work. Also, the speed of the game does not appeal to me." Certain students, despite the popularity of the game, preferred to separate school and play. Patrick commented further saying that "there is just a time issue [at school]. I play games at home."
Others found no trouble with balancing the two. Mauricio Narvaez '14 said, "It's not really [a problem or distraction]" and that during the alleged ban, he was "disappointed [that he could] not play it afterschool or during free periods]."  Either way, Jesuit students implemented some strategy, depending on their situation, which allowed them to continue to do well in school while still enjoying their leisure time. Put simply, Ryan Tan '13 said, "If you go to Jesuit, you know how to balance [school and play]."
Mrs. Williams, who is in charge of iPads, has reported that she is "overall very pleased with how the student body [has adapted]," encountering "fewer problems than [she] had anticipated." This illustrates how well students have adjusted despite all of the potential issues. Mr. Knize has said that these transitional challenges simply accompany the journey of "always moving forward." The way he sees it, the integration of iPads is just another way to "prepare [students] for the world beyond," a standard that is consistent throughout the school.  Learning to deal with these distractions engenders a healthy relationship with these devices and with technology in general.
iPads will definitely continue to present challenges but Jesuit students have a tremendous capacity to adapt and learn. As long as students maintain the core values that are so important to this school, iPads will never be a problem. This year will be a fantastic opportunity to show everyone why Jesuit is the way we know it to be.