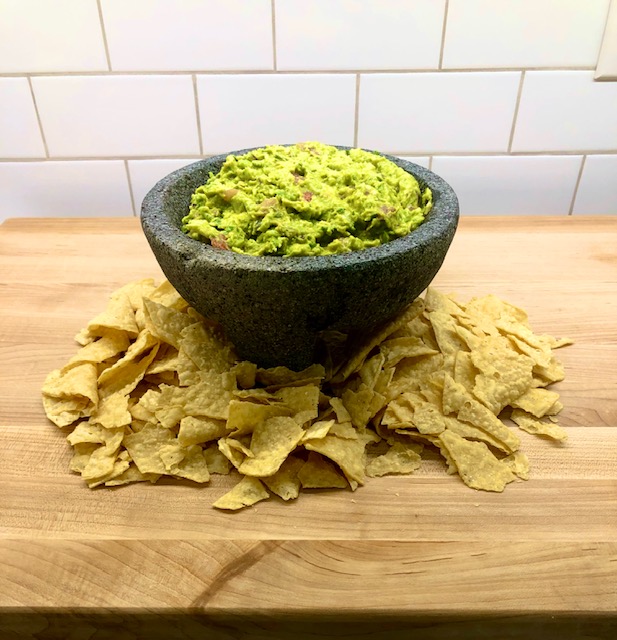 As you might now, Cinco de Mayo is coming up soon, and I wanted to share with you a great dish to celebrate this holiday with, guacamole. Guacamole is delicious because of its creamy and spicy components to the dip carried on a tortilla chip.
History and Popularity of Guacamole
Guacamole essentially is mashed avocados with many spices. It was first originated in South Central Mexico where avocados grow naturally. Therefore guacamole was created by the Aztecs who lived in that region a long time ago. Additionally, guacamole has many health benefits like natural fats from the avocado, a high source of carbs, and many different vitamins. While the Aztecs did not know all these facts about how good avocados were to eat, they did know that guacamole had some type of health benefits.
In the 1500s, Spaniards were introduced to guacamole. But at the time, they could not recreate it at home due to avocados not able to be grown in Spain. Also, in most of the twentieth century in the U.S. guacamole was not popular  due to low avocado imports. Although, as time went on guacamole's popularity grew due to more imports. In 2012, 1.6 billion avocados were consumed in the U.S. Now, avocados are widely used around the world, where they used to be never seen. So, guacamole's popularity can spread through the avocado's imports.
For more reading on the history of guacamole click here.
Recipe:
Notes before cooking:
Make sure that your avocados are ripe by looking at the color to see if they are a dark green, and feel the avocados to see if they seem soft or not. If you have time, you can put your avocados in a paper bag with a banana to make them more ripe. One jalapeño makes a mild guacamole, so you can omit the spice or add more. Bacon adds an umami flavor to the guacamole that is very enjoyable. Overall, this is a basic recipe for guacamole that you can alter to make it your own! Every time I make guacamole, I like changing one thing to add a new flavor to the dish.
Ingredients:
4  Ripe Avocados
1/3 cup of chopped red onions
1 chopped tomato
2 limes
1/2 cup of chopped cilantro
1 diced jalapeño
2 cloves of garlic minced
Salt
Instructions:
Prepare avocados by pitting and removing the skin. After you only have the flesh of the avocados put them into a large bowl and mash until you have a rough but smooth consistency. Then add the onion, tomato, lime juice, cilantro, jalapeño, garlic, and a pinch of salt. Mash again until the consistency is smooth and there is small chunks of avocado dispersed in the guacamole. Taste the guacamole to see if you need to add more salt, lime juice, or jalapeños. If you want add bacon to the guacamole and serve with tortilla chips.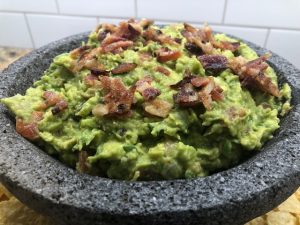 Conclusion:
As this week Cinco de Mayo, hopefully you try this guacamole recipe, or some other Mexican dish in celebration. Enjoy!