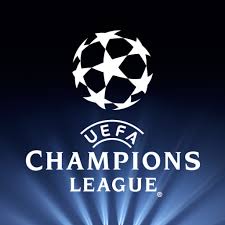 The Champions League: a tournament widely regarded as the best tournament behind the World Cup; a tournament where the best club teams play against each other in heated action; a tournament that determines the greatness of a player, a team, or a manager.
With the increased hype for football ever since the very exciting World Cup, where the United States actually made a name for themselves, this Champions League should be one of the most highly anticipated ones yet. Many new faces have entered the fandom of football, and this is the place to get the best action.
Unlike other tournaments like the Capital One Cup (an English tournament), teams try to play their best lineups because this tournament determines the success of the season, and every club wants to qualify and win it. If there is a league game near the time of a Champions League game, they will rest the starters during the league game. Winning this league is the equivalent of winning the Super Bowl in American football.
Similar to other sports like basketball and American football, the teams need to prove themselves in league play to earn a spot in the hallowed tournament. In leagues like the BPL and La Liga, the top four teams make it in the "playoffs." In smaller leagues, one or two teams make it. The teams qualify during the season before the tournament actually begins. In contrast to the other major sports, they play the tournament during the following season.
The set-up is exactly the same as the World Cup. There are group stages where each team plays the other teams twice, once home and once away. Then the top two in each group go into a knock-out set in order to reach the final.
In this article, I am going to address the two Champions League matches that have already happened, as well as predict who can make it out of the group*, with football humor along the way.
*All groups are based off current standings.
Group A
Atletico Madrid: 3 pts.
Juventus: 3pts.
Malmo FF: 3pts.
Olympiacos FC: 3pts.
In the first two games there have been some shockers. In the first match day, Olympiacos, at home, stunned Atletico 3-2. The home side did not dominant the game, but when they were on goal, they made it count, scoring three goals on four shots on net. The other shocker was Malmo FF beating Olympiacos, slowing their momentum. The score was 2-0, and Malmo had less possession but equal shot attempts. Rosenberg, the Malmo striker, led his team to victory, recording a brace. However, I think Juventus will lead the group when it is all said and done because of their success in the Serie A, their domestic league. They are absolutely dominating every opponent in the Serie A with their passing and possession, so much so that they haven't dropped a point through 6 games. Carlos Tevez, the striker, has scored at a blistering rate, netting a goal every game. I think with their dominance in the midfield and strong defense, they can beat Atlectio at home to bring home the number one spot. Furthermore, Chiellini doesn't have to worry about Suarez biting him again. Speaking of Atletico, I think they can advance as well. They have great talent in the likes of Mario Mandzukic, who is a goal machine with Antoine Griezmann, Koke, and Turan bossing the midfield. They can beat Malmo in the away game and get revenge on Olympiacos back in Madrid. The only reason I have them second is that they have to play their last game on the road to Juventus, who simply has a better midfield in Vidal and Pogba.
Group B
Real Madrid: 6 pts.
FC Basel: 3 pts.
Liverpool: 3pts.
PFC Ludogorets Razgrad: 0 pts.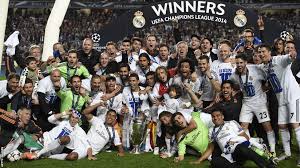 On match day two, FC Basel shocked the world, or at least me, by beating Liverpool at home 1-0. Liverpool is a powerhouse with players like Raheem Sterling, Daniel Sturridge, and Steven Gerrard. They should never lose to FC Basel, a team most casual fans have never heard of. Well, it happened. This loss puts Liverpool in a hard place. In order to finish top of the table, they need to beat Real twice, or win once and hope that Basel can tie them. Brendan Rodgers, the Liverpool manager, has full confidence in his men, but they will most likely let this one slip away, just like Steven Gerrard did to their title hopes in the EPL last season. There is no way they can win in the Bernabeu against Cristiano Ronaldo and company. Real Madrid's home stadium, the Bernabeu, is considered one of the toughest places to play in football, and along with a top 3 defender in the world in Sergio Ramos, an up and coming star in James Rodriguez and maybe the best player in the game, Cristiano Ronaldo, I have Madrid going out in the top spot easily. They completely obliterated Basel 5-1, and I can see them doing that again on the reverse fixture. The 1 billion dollar side (maybe a little over-exaggeration) has no excuse not to win the group, and I think they will follow through. Liverpool should be able to take care of business against a weak-ish side in Basel at the Anfield, so I can see them making it out in second place. But don't be surprised if Liverpool loses or draws against Ludogorets because they played both Real and Liverpool tough, and tough at the Anfield no less.
Group C
As Monaco: 4 pts.
FC Zenit St. Petersberg: 4 pts.
Bayer 04 Leverkusen: 3 pts.
Benfica: 0 pts.
This group is a great group, not because the teams are all outstanding, but because the teams are all solid and near the same level. Zenit and Bayer are both good attacking teams- Zenit has Hulk (who has shots as powerful as nuclear bombs) and Danny; Bayer has Kiessling and a lot future stars, led by Hakan Calhanoglu, who is ridiculous. He passes the ball around well, and can pop long shots like no other, whereas Kiessling can finish inside the box with his foot or with his head. With speed on the outside, and a fantastic keeper in Leno (the top keeper in Germany besides Neuer), I can't see them not topping the group. They destroyed Benfica and came up unlucky against Monaco, who is very overrated. I think Zenit can follow suit and reach the knockout stages. Who is even on Monaco anymore? They lost James Rodriguez to the rich Real Madrid, they lost Falcao to a desperate Man United team, and their owner is as stingy as Mr. Krabs. They can hold their own in the midfield but when your attack relies on the lazy giant (Berbatov), you know you are in trouble. They have only scored once and it was from the midfield. The real surprise to me is how Benfica hasn't gained a point yet. They are very solid in Portugal, but I guess they cannot handle the big boys.
Group D
Borussia Dortmund: 6 pts.
Arsenal: 3 pts.
Galatasaray: 1 pt.
RSC Anderlecht: 1 pt.
The group with two powerhouses, an alright side, and a side that is awful. The two powerhouses, Dortmund and Arsenal, I fully expect to win the group. Giroud is progressing through rehab rather quickly and can maybe make it back before the group stages are over. However the replacement, Welbeck, is playing like Emenike in FIFA- like a beast. He has 3 goals in 2 Champions League appearances. The new Gunner Alexis Sanchez is playing incredible right now and they are flying at a solid 100 miles per mertesacker. But in all seriousness, Mertesacker and the defense are holding up well for Szczesny. Bayern's minor league team, Dortmund, are also playing well even without their star man Marco Reus. He is scheduled to be back in the next couple games, and I think he will propel the already solid side into first place when the group stage is finished since they already beat Arsenal. Galatasaray is a true shock for me. They have good players and they can only finish in a tie with Zlatan's practice squad Anderlecht. They will improve and maybe make a name for themselves, but they will need to slow down the pace of the game and allow Wesley to make those pinpoint passes he is used to making.
Group E
FC Bayern Munich: 6 pts.
AS Roma: 4 pts.
Manchester City: 1 pt.
CSKA Moskva: 0 pts.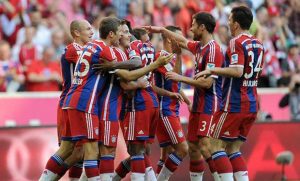 This is the proclaimed best group in the tournament, the group of death. At the moment, City are pulling a Portugal and are not playing well. The EPL champions are on the ropes as they lost to Bayern and drew against Roma at home. In order for them to advance they need to beat Roma in Italy, which is no small feat. Like Juventus, Roma is playing great in the league and have a lot of momentum. I really hope Roma can advance because without Totti, there is no party. Nonetheless, I think that Man City can pull it off and advance to the knockout stages. The number one team is obvious: the best team in the world, Munich. They have the best keeper, best defense, best midfield, and the best attack. They are destined to be in the top four when that stage comes about.
Group F
Paris Saint- Germain: 4 pts.
FC Barcelona: 3 pts.
AFC Ajax: 2 pts.
APOEL: 1 pt.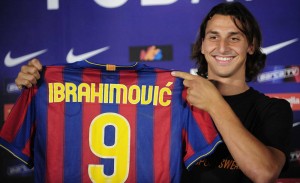 This group is very interesting because it features Zlatan playing against his old teams Barcelona and Ajax. In the first meeting, Ajax tied PSG in Amsterdam. Everyone in Paris started losing it, calling for Laurent Blanc, the PSG manager, to be fired. The fan base was getting sick of all of these 1-1 draws in the Champions League and the Ligue 1. It felt like Laurent was fighting for his job at home against Barcelona even though they were playing without their star players Zlatan Ibrahimovic, Lavezzi, and Thiago Silva. Even with these injuries, PSG came up with the victory. Behind Marquinhos' goal line clearance in the 81' and the fact that Messi could not reach the vending machine for another goal, PSG pulled off the upset. They played amazing, relying on their midfield, a midfield praised for toughness and creativity. Now PSG controls their own destiny, and with Zlatan at the helm, I think they can do it. Barca will get out of the group too due to the fact that Ajax is too young to step it up and make a run.
Group G:
Chelsea: 4 pts.
FC Schalke: 3 pts.
NK Maribor: 2 pts.
Sporting Club FC: 1 pt.
Yet again, another let down from the Portuguese league. Sporting are not living up to expectations; they tied NK Maribor. I don't think it is a big deal because they can easily crawl back into contention and possibly beat out Schalke for the second spot. Schalke is really good on the wings and can hold off this easy group with their defense in order to acquire the second seed. Chelsea will win because they are simply too good to lose. Costa is playing like a resurrected Alan Shearer and the combination of Cech and Courtois is too good in goal. The defense is top class and the midfield is insane. Mourinho will work his magical tactics and I think they are legitimate contenders for the cup.
Group H:
FC Porto: 4 pts.
FC BATE Borisov: 3 pts.
Shakhtar Donetsk: 2 pts.
Athletic Club: 1 pt.
Why is Athletic Bilbao playing so poorly? They had an amazing season in La Liga last year and is now letting an unknown team beat them 2-1. The reason is their defense. When playing Borisov, they allowed 22 attempts on goal, a number that a keeper will not be able to handle unless it is Tim Howard playing against Belgium. Porto beat this unknown team, FC BATE 6-1. This group is rather boring so I think Porto will cruise and Shakhtar will come in second. They are a really solid side coming out of the Ukrainian league, but they will not beat Porto on the reverse fixture.