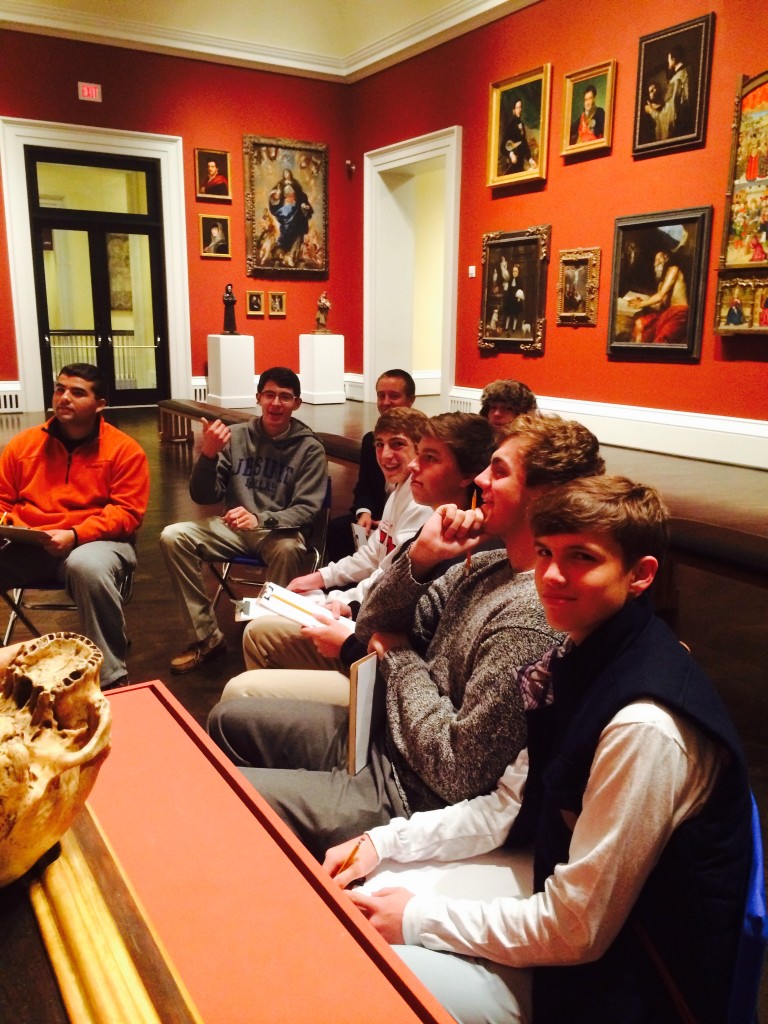 Theology teacher Mrs. Michelle Elchlepp has been teaching at Jesuit for years, but that doesn't mean she ever stopped learning. In fact, she's taken several courses at Southern Methodist University (SMU), including multiple art-focused classes.
SMU even has its own art museum, the Meadows Museum. While studying some of the museum's paintings in one of her classes, she thought, "This would be fun to do [for my class]."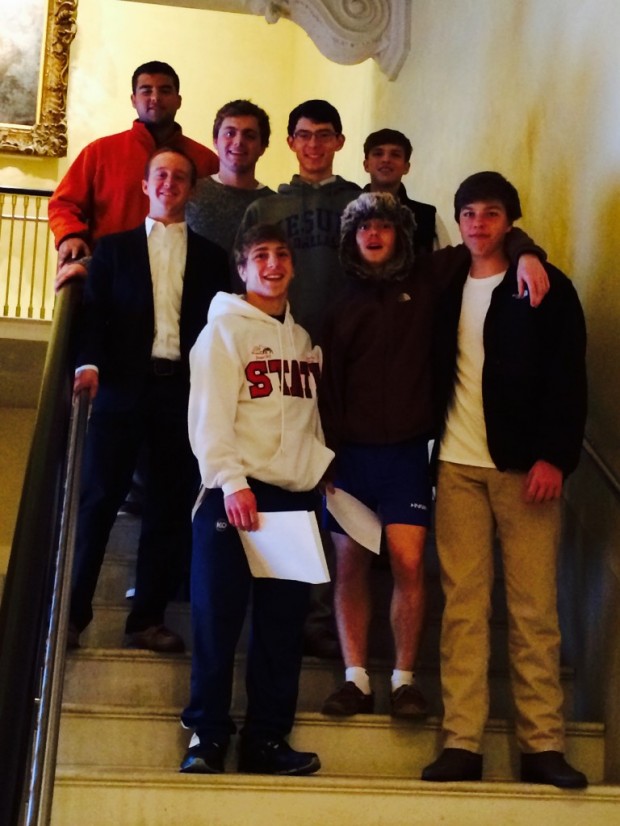 She decided to incorporate the museum's art into her theology curriculum, explaining that "it took me awhile to come up with an idea of how we could find a place for that and this year it was like, 'This could be an alternative to their semester assessment. They don't have to just do a normal history paper.' Part of that is the history course is in its third year and that's when I start getting my concepts in there where I like and there is a flow to it that is better than last year or the year before."
So, Elchlepp took small groups of students to the museum on Thursday, November 13th and Saturday, November 22nd. Students who chose this option over the 'normal' assessment were required to complete an in-depth analysis of one painting together, then split off to find pieces of their own.
"At first, I didn't think I would enjoy the experience because I have never really been into art or even a museum," said Parker Thompson '15. "But seeing the different paintings and meanings behind them opened a new perspective for me."
Shane Ross '15 similarly enjoyed the experience: "I thought that the artwork at the Meadow's Museum reinforced the concepts that we learned in our history of the Catholic Church class and provided the true emotions of the times through a variety of colors and visual imagery."
The students have two options for this version of the final assessment. The first option is to write a creative historical fiction essay that captures what is going on in a painting. The second option is to write a research paper describing the painting's history. Students who didn't attend the trip will have to write a paper on one of the topics of Catholic history discussed in class throughout the semester.
The majority of the art studied was Spanish art, spanning from the 12th century to the 18th century. This included portraits, religious art, leafs, sculptures, and etchings. Students also saw some 20th century art of Picasso.
Ben Horton '15 appreciated the variety of art, emphasizing that he was "really impressed by the vast array of incredible artwork the Meadows Museum had. When I went in I was mostly just expecting paintings, but I got the opportunity to see things from sculptures to cartoons."
This is the first field trip the Catholic History class has been on in a long time. About ten years ago, small groups went to see the patriarch of Constantinople in Dallas.
But after the success of this year's trips to the Meadows Museum, Mrs. Elchlepp is confident that her future classes will have the same field trip option. She explained that "if [the papers] turn out really well, we'll definitely do it. If not, we'll probably do it again next semester because the Goya exhibit will still be on and it will give people a chance to see that."
The optional field trip was an opportunity for students to visit an art museum, somewhere they typically wouldn't go, and an opportunity for them to try a new type of assessment.
"Everybody seemed happy about it and it was positive," said Elchlepp. "I think they liked it since it was something they got to choose to do, not something they were forced to do. I think people who were naturally inclined really enjoyed it."