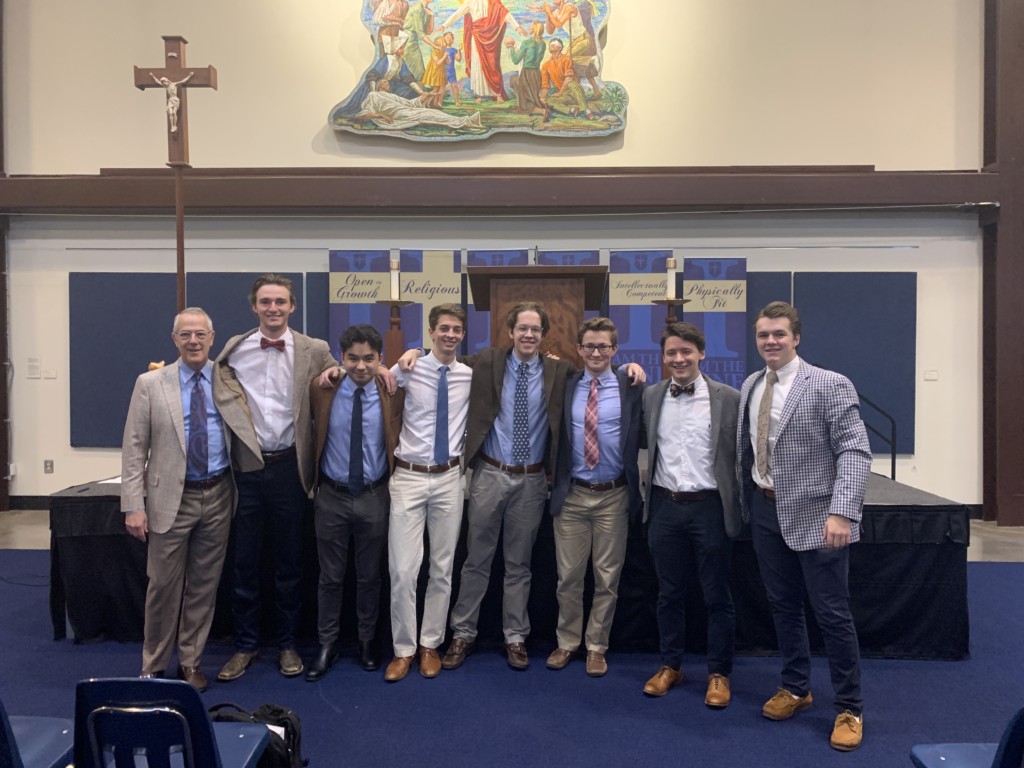 "Everything can be taken from a man but one thing: the last of the human freedoms—to choose one's attitude in any given set of circumstances, to choose one's own way." -Victor Frankel Man's Search For Meaning
Students read this quote as they walked into the Terry Center on Friday, January 17 for prayer service. Wanting to deepen the topics typically discussed during prayer services, the Campus Ministry Prayer Service team decided to put on a prayer service about loneliness.
Preparation
At a meeting back in December, a group of juniors and seniors began planning the first prayer service of the year conducted by the Campus Ministry team. After much discussion, the group decided on the topic of loneliness, a topic they felt would apply to the student body around the time of the prayer service. Sam Levis '21 reflected, "Our goal was to tackle common issues in our student body in an engaging and effective way, and with the help of Mr. Berry, Jack Mandell '20, and Rawley Schott '20, I felt we achieved this goal."
A few meetings later, the day of the prayer service arrived. Speaker, readers, and team members arrived at the Terry Center that mornings to rehearse and add some final touches.
The Prayer Service
Will Nickols '20 opened the prayer service with the usual call to worship, bringing the community into a mindset of prayer. Mr. McDaniel followed Will with a reading from the first letter from Saint Peter.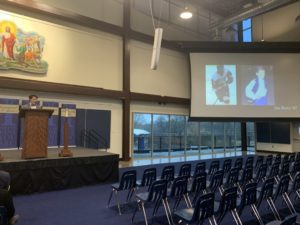 Jack Mandell and Mr. Berry proceeded to explain their encounters with loneliness to the students. Jack and Mr. Berry spoke about the difficulties of making friends and truly connecting with them in the wake of struggles from other areas of life. As mentioned by Mr. Berry, the goal of these reflections was not to provide an easy fix for loneliness. These speakers were chosen and their messages were written with the intention of simply explaining how others were able to move through their difficulties.
Jack Mandell commented, "Writing a reflection and having the opportunity to share it with the entire student body is one of my favorite experiences I've had at Jesuit. It was an experience I'll look back on fondly forever. I hope to have the chance to do it again sometime."
Mr. Berry also noted after the prayer service, "I really enjoyed speaking to the student body at the prayer service last Friday. I think it is important for students to know that teachers understand their experience because they were in high school too, once. I hope that I was able to convey that understanding, and by opening up about my own story, give them an encouraging testimony."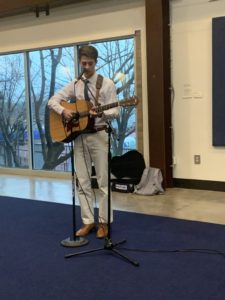 The reflection questions asked students to consider moments in their lives when they have experienced loneliness and then find at least one person they could tell about this experience. As Jack put it, "loneliness comes from this belief that there's nobody like you out there but there is, there always is." 
A big thanks to everyone who had a hand in putting on this prayer service, especially the speakers, Jack Mandell and Mr. Berry, and Rawley Schott who played music during the reflection.
If you want to participate in a prayer service or want to help plan one, please contact Ms. Crowder or Ms. Gerber in the Ministry and Service commons or speak to a student member of the Prayer Service team.
Keep coming back to The Roundup for more Campus Ministry news!