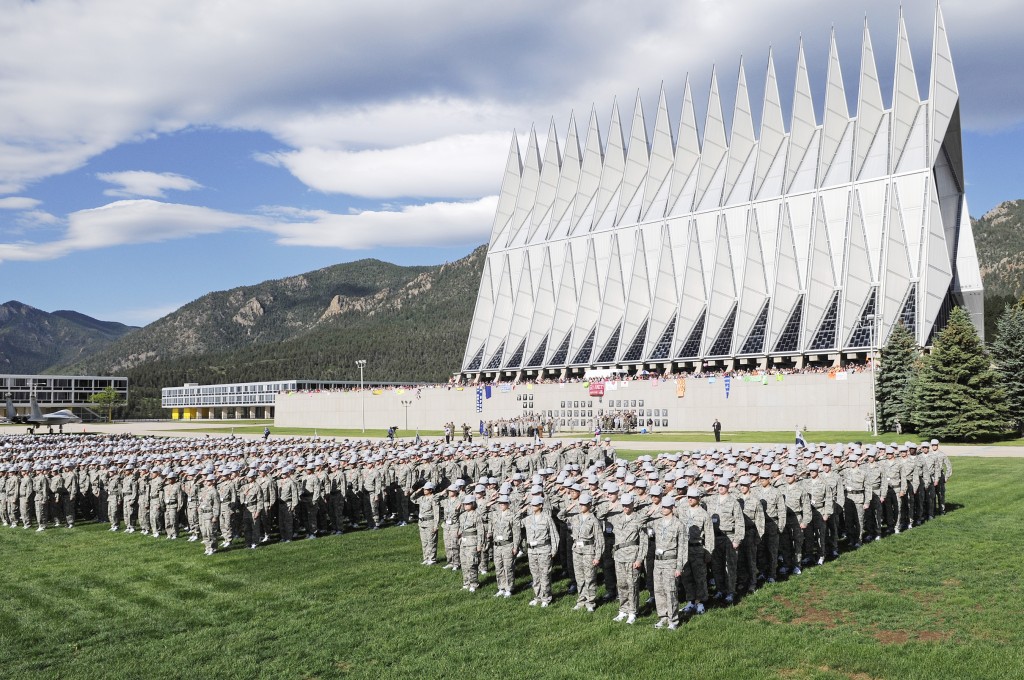 Of all the values that Jesuit attempts to instill into its students, Men for Others is by far the one most emphasized. It signifies service to fellow man, service for the Greater Glory of God.
Four Jesuit seniors have embraced this call to serve, and will continue to do so as they enter military academies next fall. They are Garrett Amy '15 (U.S. Air Force Academy), Nic Ready '15 (U.S. Air Force Academy), Emiliano Gonzalez '15 (U.S. Military Academy at West Point), and Byron Song '15 (U.S. Coast Guard Academy).
All four chose their respective academies for different reasons, but their desire to serve their country is something that unites them all.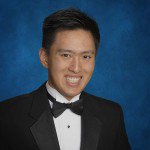 For Song, "Men for Others" played a large part in his decision. "I think service in the Coast Guard is all about serving the citizens of America. I think the higher standard for morals held at Jesuit contribute to my character and integrity. So, when placed in tough situations, I can rely on what Jesuit has taught me. Also, the teachers at Jesuit have always taught me to seek the higher truth and reality. In other words, learning is never over. I think being committed to justice will help guide my future guardsmen. Lastly, work ethic is one thing I will definitely take away from Jesuit."
Overall, the values taught at Jesuit strongly parallel those of the military, from commitment to justice to being physically fit.
One of Jesuit's own faculty members, Vice Principal Mr. Fred Donahue, served in the Marines for years and also worked as a Drill Sergeant. Having experienced military life, he pointed out that the most prevalent sentiment in service is the "sense of community. You come back down to brotherhood, commitment, and integrity—those are the same things that are going to be taught at the academies. Those are going to transfer over very easily from Jesuit."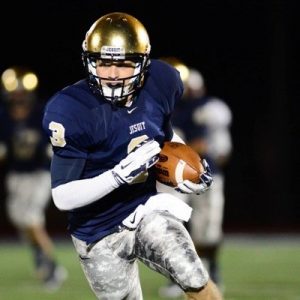 Amy sees the "striving for excellence" aspect of Jesuit as a key component of the military, along with the "trust, honesty, and development of the entire person aspect of it all, in line with the profile of the Jesuit graduate at graduation." He sees the Air Force Academy as "just a bigger Jesuit."
Gonzalez added that "the emphasis we place, especially senior year, on community service and on striving for the more [Magis] are all things integral to success as an Army officer."
To be admitted into these prestigious academies, Gonzalez and his fellow military seniors had to earn a Congressional nomination, pass a rigorous physical fitness exam, and undergo an intense interview process. Additionally, they had to hold high academic and athletic standards, as well as demonstrate leadership potential.
Two of the seniors, Nic Ready and Garrett Amy, will continue in varsity athletics at the Air Force Academy.
Ready, a baseball star, was specifically recruited by Air Force coaches. Though Air Force is not typically considered a baseball powerhouse due to its high academic standards and required service commitment, it is still a Division I team in the Mountain West Conference.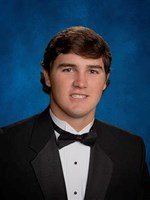 There are some perks of playing at an institution with some of the top military technology in the world. For instance, "all the eyesight training  and reaction testing that they do with the pilots, the baseball coach also has the baseball players do," noted Ready. "Because one of the hardest things to do is to hit a baseball. You can't hit what you can't see."
And though the Air Force Academy is not known as the top program in the country, they do "play a bunch of really good teams. It's not always who you play for, it's who you play against," explained Ready. "If a scout goes and watches someone you're playing against and you go 3 for 3 off him, he's gonna write your name down. It's about where you're gonna play and how much you can play and how much you can improve."
"Being a baseball player, all my classes are earlier in the day. I have 4-5 classes a day, but I'm done by 12:30 or so. With all my classes done in the morning, I get to eat lunch then an hour off then practice starts then I'm at practice for 4-5 hours a day. After that I'll go back to my living area and do homework and stuff. If anything I have less time than a regular student. With those 4-5 hours they can do extracurriculars and stuff. In the spring, it will pick up more because we'll be traveling and playing."
Ready hopes to be drafted after his career playing at the Academy. With his service commitment, teams can buy him out of service for $300,000, depending on how much they want him.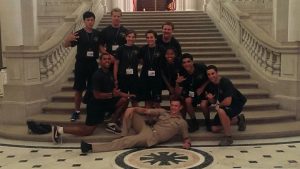 Along with Ready, Garrett Amy will be playing a sport at Air Force: football. Though not recruited by Air Force Academy coaches, he "got in academically and proceeded to get in touch with the football coaches up there to see if I could walk on, and sure enough, the opportunity is there, and I'm taking it."
It will definitely be difficult for Amy and Ready, with their athletic practices adding to their already hectic training and class schedule. Yet even a normal student such as Gonzalez or Song will have a tough transition and an important lesson in time management.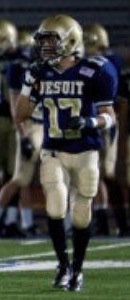 Mr. Donahue's advice is to "make sure you're mentally prepared for the summer. This summer they're gonna give you their version of basic training, so you have to be prepared mentally. You're going to be put under stress. They're gonna yell at you and scream at you and make you do some uncomfortable and unpleasant things. They're gonna put some physical demands on them, but they've already taken the physical PT test so they know what they're getting into. So go with the right attitude and be ready to work."
The college experience that Jesuit's four future officers will go through starkly contrasts with the typical college lifestyle that most members of the class of 2015 will experience.
First of all, "There's no frats at Air Force, I can tell you that," joked Ready. In reality, "all that other college stuff that you hear about like partying can be a waste of time and it's not the best thing to be doing. I didn't really want a traditional college experience – lounging around and partying didn't sound too appealing. Don't get me wrong, it's gonna be a hard four years. But the benefits are way more than any traditional experience that I could really want. It's not all hard, it's gonna be fun. I'm not missing out on too much."
According to these guys, the traditional college experience is simply overrated. Amy points out that Academy life is "completely different from regular college life. I could go on for hours about it, but let's just say that by the time regular college guys wake up around noon or 1 PM, I will have already had 5-6 hours of military training, classes, meals, and practice, which won't stop until somewhere in between 11pm-2am and will be on repeat for the rest of the time I'm there at the academy. So it's a big, challenging commitment!"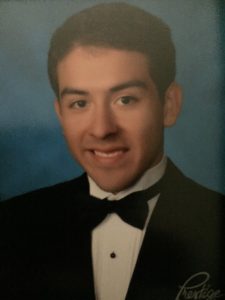 For most of these guys, they are not the first in their families to undertake this commitment. Three out of the four have military service somewhere in their family trees.
Gonzalez, for instance, explained that "my family brought me up to value serving others and so for me West Point is a means to achieving that end of service to the nation and to the people of whom our nation is comprised. I was lucky enough to have a brother who went to the Air Force Academy and later set a great example for me as a leader of character in his adult life."
Garrett's family had a similar influence on his decision to attend Air Force: "What drew me to the service academies was my dad and my brother. My dad first sparked the interest when he first found out about the academies and then made a decision to make sure he told his kids about the institutions and careers following. Parker, my brother, during his admissions process, had a time where he was really looking at the Air Force Academy."
Parker went on to attend the Merchant Marine Academy, and continues to serve today.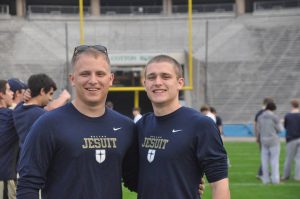 For Song, military service doesn't just run through his family. It's part of his heritage. "All males in Korea are required to do mandatory service," he explained. "My cousin enlisted in the Navy a while back, and I was fascinated by his transformation after boot camp."
Understandably, Byron, Nic, Emiliano, and Garrett are not completely positive about what they want to do upon graduation from the academies and completion of their required years of service.
Nic, of course, ultimately would like to play in the MLB. However, he knows that "the chances are very small, so you always need a really good backup plan. You're not gonna get one much better than what you've got at Air Force. Graduating from an academy, which is so prestigious to get into, I can take my job application anywhere and it says Air Force Academy on it and I've pretty much got a job. The opportunities that are going to be opened up to me after going to the academy are nearly unlimited."
Byron, on the other hand, has post-military "goals in the private sector/retail industry," but he also realizes "the importance/financial safety of staying in the Coast Guard or of getting a federal career."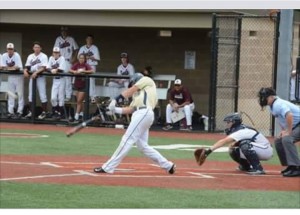 Garrett's objectives are a little more concrete: "I am planning to be a pilot. In all honesty, I can see only so far into the future but I foresee the next 10 years of my life in the military, and right now I tending toward being in the military years after the required are completed."
Finally, Emiliano explained that "all I can hope for myself is that after nine years of service that I can have the opportunity to build upon the skills and experiences that lead up to that point in my life. The Army would be a great place to optimize that potential but I would be open to other things as well."
It will definitely be interesting to see where Emiliano, Nic, Garrett, and Byron end up in ten years. For now, they will strive to gain the skills necessary to lead the future of our nation's armed forces. As commissioned officers, they will risk their lives for America, serving both God and country in the global fight for freedom.