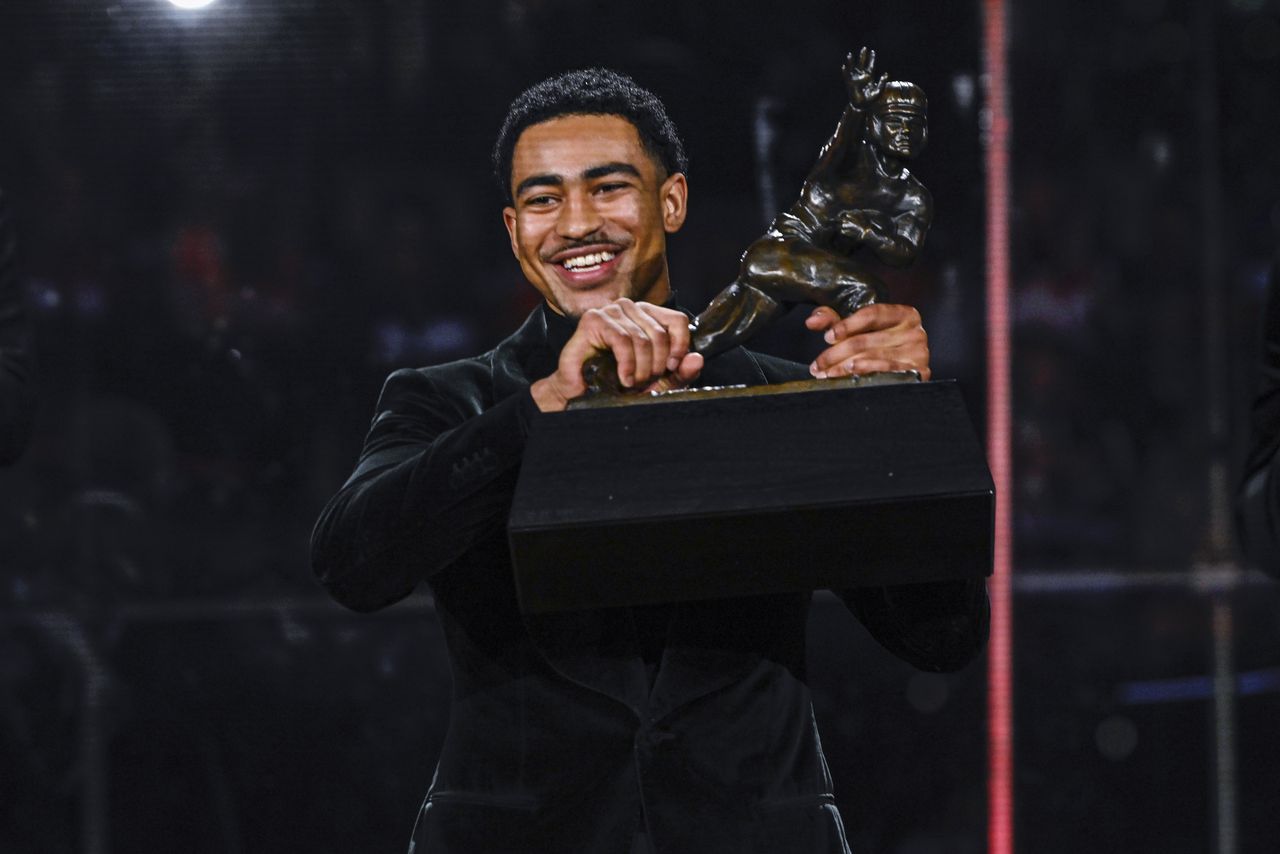 Overview
On Saturday Night, Bryce Young won the Heisman as expected. Following his monster performance against Georgia last week, Young not only solidified a spot in the College Football Playoff, but also secured the number one seed. While Young and Alabama received criticism throughout the season for some close calls and subpar performances, Nick Saban managed to end up right where he usually does, atop the college football hierarchy. Young's Heisman victory made him the first Alabama quarterback to win the award and the fourth player from Alabama to win it in twelve years under Saban.
Young's defining Heisman moment comes from his last-minute drive in the fourth quarter of the Iron Bowl in which Young and Alabama marched 97 yards down the field, sealed by a 28-yard touchdown pass to Ja'Corey Brooks in the final thirty seconds of the game. This game-tying touchdown allowed Alabama to rise victorious after four periods of overtime. However, some will argue that Young's position down 10-3 to a bad 6-6 Auburn team without their starting quarterback Bo Nix is nothing to applaud. Nonetheless, Young's monster performance against the formerly undisputed #1 team in the nation, the Georgia Bulldogs, essentially sealed the Heisman in Young's favor. Against a team that has only allowed a single-digit average of points per game to opponents, Young threw for over 400 yards and 3 touchdowns to contribute to a 41-24 whooping of Georgia.
Finalist Runner-Ups
Aidan Hutchinson –
Last year, Hutchinson suffered a season-ending ankle injury and opted to return to Michigan football for a final year. He did this in hopes of sealing his legacy by defeating Ohio State for the first time in a decade and winning the Big Ten Championship Game, a feat Michigan had not accomplished in almost two decades. However, the odds were heavily stacked against Michigan. Coming off of a terrible 2-4 season, Michigan did little to reassure the public and had 2% odds of winning the Big Ten Championship. It was almost certain that Jim Harbaugh, with his massive pay cut and weak contract extension, would be on his way out following another disappointing season.
Michigan's season opener was a time of mixed emotions for the team as they had a strong win against Western Michigan but faced a catastrophic loss in losing star wide receiver Ronnie Bell to a torn ACL. Hutchinson also emerged as a superstar in the game with 4 tackles, a sack, tackle for loss, and quarter backpressure. Thus, Michigan's slow and steady ascent to the top of college football began, and Aidan Hutchinson's Heisman contending season played out in the shadows. By the end of October, No. 6 Michigan had established itself as a contender with a looming showdown against the eighth-ranked Spartans. However, following a questionable reversal of a Hutchinson strip-sack touchdown, and a blown 30-14 lead, the Michigan Wolverines prepared for the matchup that would truly decide their fate.
Redemption
Following a strong November, Michigan worked its way back up to five in preparation for the Michigan Ohio State Game. Despite being ranked 5th, Michigan was a heavy underdog against Heisman hopeful C.J. Stroud and the number two ranked College Football Playoff-bound Buckeyes. But, Aidan Hutchinson and the Wolverines shocked the Buckeyes and the world when they handily defeated the Buckeyes 42-27, sealing a bid of their own for the Playoffs and crushing the hopes of Ohio State. The monstrous win served as Hutchinson's Heisman showing as he had 7 tackles and 3 sacks against a phenomenal Ohio State offense.
Despite this, Hutchinson fell short of the Heisman trophy but managed to be the runner-up for the prestigious award. To many, Hutchinson's appeal came not only from a pure numbers standpoint, with his Big Ten breaking 14.5 sacks on the season, but from a more holistic view. The leadership from Hutchinson and others on the seemingly fledgling program helped lead one of the most Cindarela-Esc. stories in college football history. In fact, Hutchinson still has the chance to lead his team to victory in the College Football Championship.
Kenny Pickett –
In a similar fashion to Hutchinson, Pittsburgh quarterback Kenny Pickett led his unranked team all the way to the ACC championship, handily defeating a great Wake Forest team. Pickett made his senior year count with over 4,300 passing yards and a whopping 42 touchdowns. Because of this impressive stat line, Pickett came in third for the reward. The quarterback also captured the eyes of the college football world with his fake slide, a slide both praised as clever and as unfair due to protective rules for quarterbacks. In fact, the slide was so impactful that it prompted a rare midseason rule change outlawing the loophole.
C.J. Stroud –
With his incredible season, Stroud was neck and neck with Young in the race for the Heisman this year. However, Stroud's loss to Michigan in late November gravely hurt his chances at coming in first for the award as it destroyed their hopes of winning the Big 10 Championship Game and entering the Playoffs as a major contender. Coincidentally, Stroud's demise came largely at the hands of Hutchinson's defining performance with three sacks on the sophomore quarterback.
Finalist Snubs
Alabama linebacker Will Anderson, Michigan State running back Kenneth Walker, and Ole Miss Quarterback Matt Corell are largely regarded to be the biggest finalist snubs of this year's awards. Often compared to Hutchinson's stat sheet, critics point to Anderson's higher sack count at 15.5 and other metrics to argue for his cause. Kenneth Walker had an amazing season at running back for Michigan State but fell out of the race due to Michigan State's disappointing end to the season. Finally, Corell put up fantastic stats and led Ole Miss up the ladder but fell short of finalist recognition. Luckily for Anderson and Walker, they have two and one more years respectively to get another crack at the award. And, in Corell's case, it appears he will have the final laugh as he is expected to be the first quarterback off the board in the 2022 NFL Draft.