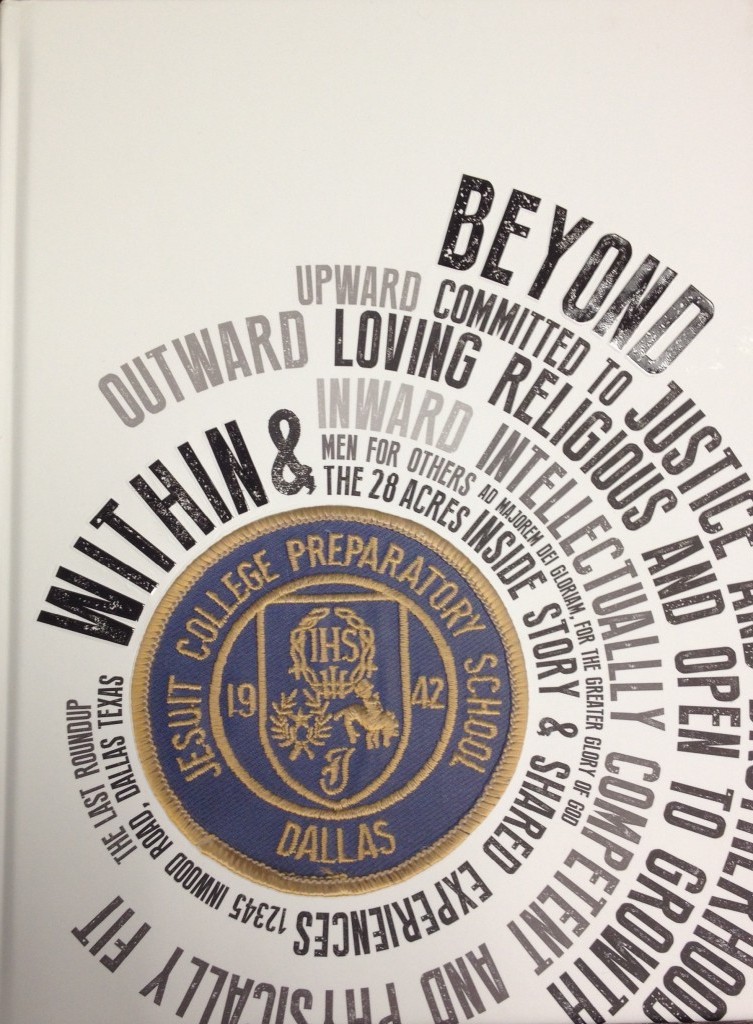 If last year's yearbook "Suit Up" was any indication on how advanced and sophisticated the Jesuit yearbook staff has become, then this year's "Beyond" puts an exclamation point on what has to be one of the most original and influential yearbooks ever made by a group of Jesuit students. "Beyond" doesn't just go beyond expectations, in the famous words of Buzz Lightyear, it goes "to infinity and beyond" with its originality and implication of new and innovative style.
Let's start with this year's theme, the most obvious new change made to this years yearbook. Photographer Blake Buell '16 emphasizes that this year's theme of "Beyond", "represents completely what Jesuit truly is and what we as a school stand for, making it stand out from any other yearbook." There are no words to really capture the sense of entitlement that encompasses this year's yearbook theme because it's so diverse and able to touch upon so many themes of student life, indicating what it really means to call yourself a proud member of the Jesuit community.
The book showcases not only the students' daily lives, but also shows their activities and talents that extend beyond the classroom in ways that are hard to comprehend. Editor-in-chief Pryor Miller'16 states that, "the theme of 'Beyond' is very vague and ambiguous at first however, upon making the book nuances and key aspects that help define Jesuit began to burgeon through making the book something that every student can feel proud of."
Another aspect of "Beyond" that is perfectly portrayed in the yearbook is the amount of variety that the book contains. You will not find one page in "Beyond" that looks anything like the previous page. It really showcases the care and consideration that the Jesuit yearbook staff has put into making this book. Their effort not only makes the yearbook stand out, but also showcases the strenuous amount of time and effort that went into constructing the book. The term "book" really doesn't encompass what a true piece of art it is, a piece of art that implements so many techniques, such as the expert writing that accompanies each picture along with the gorgeous photography that is exhibited throughout the entirety of the book. The book also has a long reaching, "flexibility that enables it to reach out to every Jesuit student," says portraits and reference editor Thomas Cochran'16.
This flexibility is evident throughout the multitude of different Jesuit activities exhibited throughout the book. Everything from different clubs to school functions gets their place in the book. That brings up another highlight of the book: how no one activity ever feels left out or unimportant. They all have their place with a special section dedicated to them. "We definitely wanted the appeal of the book to be widespread and that is evident through the amount of time and effort we put into making each page its own unique piece of literature and art" commented Blake Buell '16.
Last year in my "Suit Up" yearbook review, I stated that I thought the yearbook not only had the potential to make next year's yearbook better than the excellent "Suit Up", but that they were competent enough to do so and done so they have in spades. This year's yearbook is something that all the student body of Jesuit will remember and cherish. The yearbook staff has truly been able to capture all that it means to be a Jesuit student through the excellently crafted piece of artwork that is "Beyond".