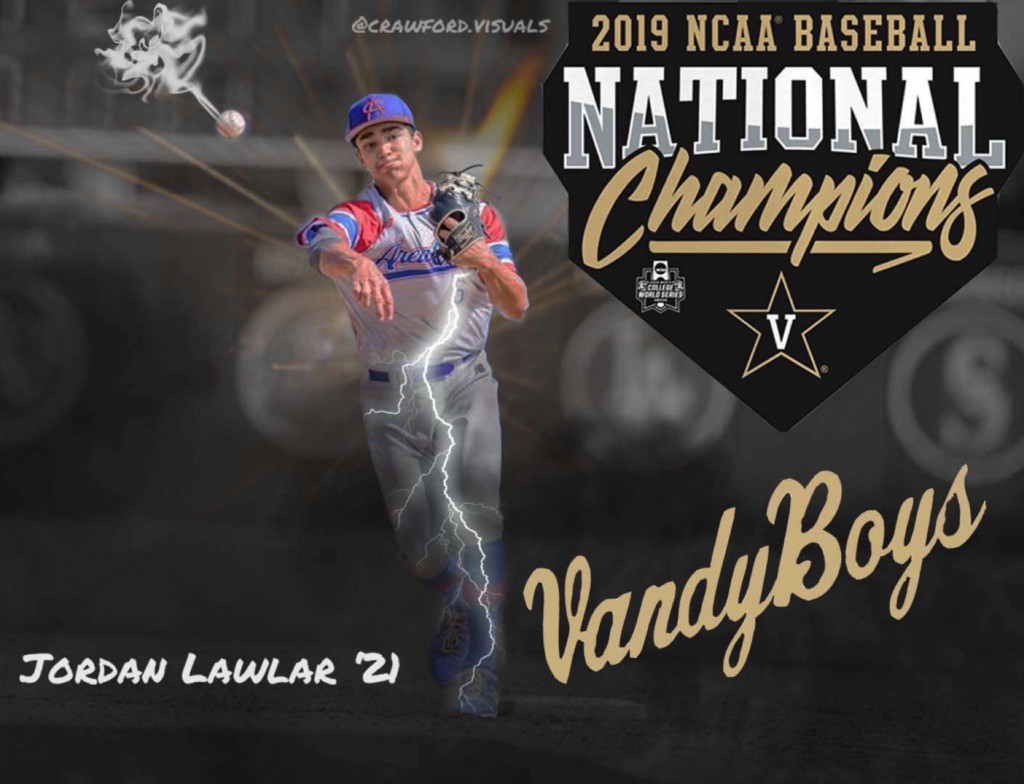 You can hear the ball being hit from across the street. The ball speeds through the air, hits the net, and falls back to the ground as junior, Jordan Lawlar, takes his swings in the batting cage. Jordan has had a great start to his Jesuit career. He has already been granted an offer and is now committed to Vanderbilt University in Tennessee, a school that just last year won the national championship in baseball. He doesn't just work hard on the field. He had a minor setback when he injured his shoulder last year, and made it back to overcome this adversity. Let's take a look on what Jordan has to say about his setback and more:
What age did you start playing baseball and why?
"I think [I] was 5 or 6. I was really playing a lot of sports. My parents had me in like everything: football, track, and basketball. So just every season I'd be playing something and [baseball] just kinda stuck. I ended up playing basketball and baseball and I continued that here until sophomore year. This is my first year not playing both sports."
What is your favorite game or best game you've played in?
"So when I was 14 I was selected to the PG National, which is the top 40 [U-14 and U-15] players. It was pretty good, kinda like an all-star game. I got a bunch of real cool stuff. It was like my real first all star game.

What was your hardest game you played?
"I would say last year, the Allen game. We were playing here [at Jesuit] and that was the game I hurt my shoulder. So I hurt it in warm ups, I dove behind second base and messed it up and actually partially dislocated it. I ended up playing the whole game, a 90 minute game."
What was going through your mind after you got injured and what kept you going during the recovery process?
"It was like right before the game. Before the game, we do in-and-out, which is like infield-outfield. I dove for it and felt it and was like "Oh, that's not good." I played through the rest of in-and-out warm ups and then went into the dug-out and Coach Pointer was trying do some test on me, and I instantly knew that something was wrong. So, I took some Advil and went back out there and played the game. I was confident that, you know, I just had to do it for my team. Through the recovery process, I just had that wanting to go back out there. I was trying to come back to playoffs and got hurt halfway through districts and was trying to make the push towards playoffs but I wasn't able. I was probably going to come back 4th round, but we got out on the second round. It was just that [desire to] go back out there and play that got me through."
What is your motivation to work your hardest inside and outside of baseball?
"Just never sell myself short. I want to do the best I can because any second the game can be taken from you like last year getting hurt and it was taken away for a couple of months. Just always trying to do my best and take advantage of any opportunity."
Any pre-game routine or post-game routine?
"Pre-game, I'd say going in and doing T-work and soft toss. If  a coach is throwing, I'd take that. Just kinda talking to my team, stay[ing] loose, not being too serious about it, but also lock[ing] in. Then, I do my my band routine to warm up shoulder and get into throwing, running and stretching. Post-game not much. Just ice and heat my arm that's it."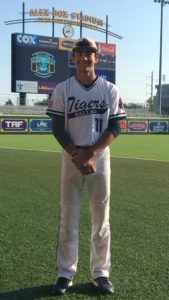 What does a typical day look like?
"I have first period off, so I wake up depending on lift. On Mondays and Wednesdays, we have lift at 6:45, so I'm up probably at 5:45 and drive for 15-20 min. After that, I have just a normal school day. Eat breakfast, go to homeroom, then second period. Try to work hard in all of my classes, do everything I can. During lunch, I have fun with my friends, just a little time to decompress. Then, I finish the school day, and after school, we'll have practice till about 6:00. Then, I go home, get my homework done, eat, all that."
What is something most people might not know about you?

"I actually played the trumpet in middle school. That's a little proud thing I have. Not many people know that I'm a musician. I was pretty good at it in 8th grade. But I had to leave that behind and get into the atmosphere of baseball and basketball because I was going to do two sports here and I did up until this year. So I just wanted to focus on sports and school."
What was it like to be given an offer to play at Vanderbilt and what was your reaction?
"That was insane. I'd been waiting for a while. They were one of the slower teams [since] some coaches were pretty quick about it, but Vanderbilt was like a long drawn out process. I think that was the best way since I got to experience all the colleges and go on visits and just really make sure that [Vanderbilt] was the place I wanted to go. That day was long awaited but it was a great day. The call was the best. I was so surprised."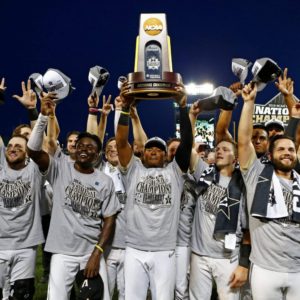 Now that your are committed to Vanderbilt, a team that won the national championship last year, do you feel more pressure when you go on the field?
"Honestly, committing was less pressure cause it took some weight off me for the college process school wise, like how now all the juniors are going through all their stuff I kinda already know. So now it's go to school, do baseball, have fun. So I'd say it's less pressure. On the other hand, you get hazed by the team. If you mess up they'd be on you even more since you're supposed to be going to Vanderbilt, but I'd say it just a little easier on me."
Plans at Vanderbilt and after that?
"Hopefully, I can have 2 or 3 good years and play well enough on the baseball field to get drafted after Vanderbilt. While I'm there [I'll cherish] the time because I heard it's a great time out there especially with my college coach and college teammates. So just making the most of it and hopefully I'll be  blessed enough to go to the MLB and get drafted high and just go on from there."
Who is your favorite player or idol you look up to?
"Derek Jeter. He was the reason I got on the Yankees ever since I was young. When he retired in, I think, 2015 or 2016, it was a heartbreaker especially when he got hurt in the playoffs. He is the reason why I got into the Yankees and into baseball because I just watched baseball for him pretty much. He [led] me to knowing the game a little bit better and know some more players on that team and that started to get me into MLB. So I'd say he's the player I look up to the most. And he's just the GOAT, the legend, and just got inducted into the Hall of Fame."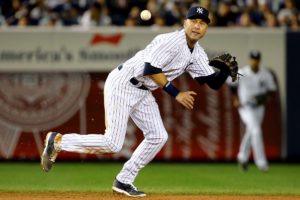 What are five things you need to have to survive the day; your essentials?
"That's a tough one. I'd say baseball is an obvious one. Snacks, I need snacks. You can see me in class just sneaking in a snack. Having some free time I guess, just getting away from school sometimes, so lunch is a big time for me. I'd say my phone because its how I talk to everybody. I'd say my mom."
What is your advice to anyone who wants to preform at a high level in baseball?
"In baseball, there is going to be failure, so be able to cope with failure and rebound from that, not shutting down and not getting mad at yourself too much. Being critical on yourself, but knowing when enough is enough. Continue to work hard and get better any time that you have. Know the balance between working and overdoing, but you still want to be committed to it and know that next day you're going to get better."
Catch Jordan and the rest of the baseball team on Wright Field as they kick off their season with Pre-Season starting later this month, and make sure to stay tuned to The Roundup for baseball and other sports coverage!