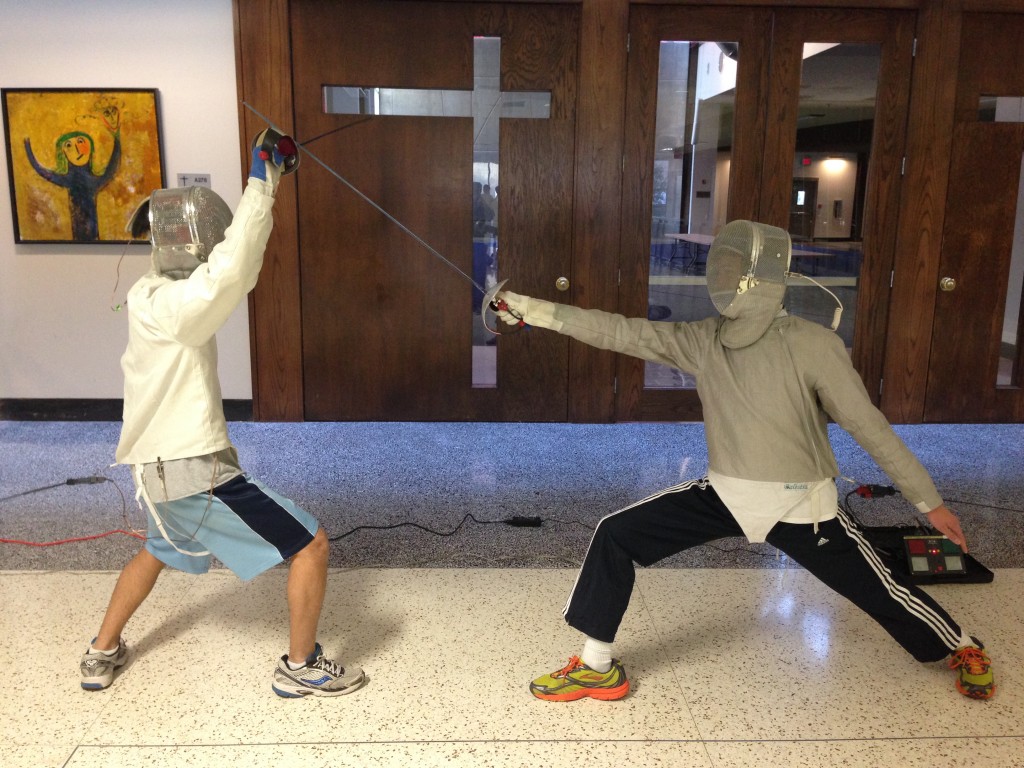 Masked men, dressed all in white, come through the Terry Center, lunging at each other, as the tips of swords thrust through the air and impale each masked man. But their pure white suits do not taint with red, as they back up and try again. Only one group of people at Jesuit does this four times a week, and it is the Jesuit fencing team.
Even though fencing, at first glance. may look like two individuals swinging swords at each other, it requires a wide variety of skills and an innumerable amount of techniques to achieve even the least amount of success in the sport. No one knows this more than Jesuit's own head coach, Mohamed Elsakhawy.
Coach Elsakhawy has been involved with fencing since he was 13 years old and ended his fencing career d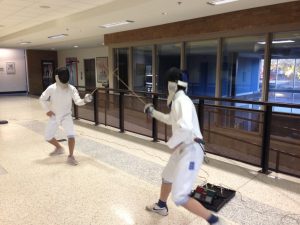 ue to knee problems at the age of 23. Ever since then, he has been coaching for a total of 37 years and a total of 10 years with Jesuit, even interacting with fencers who have become nationally ranked in the top ten at a junior level.
Taking his experience to Jesuit, Coach Elsakhway has always believed in consistent practice as he makes perfectly clear that "[they] have to build up first before we go to tournaments in the winter or we are never going to get results."
The Jesuit fencing team practices two of the three categories (and swords) of fencing, "epee" and "saber."
While using an epee, a stiffer swordweighing around 27 ounces with a large guard on the handle, the fencer is allowed to target the entire body of his opponent with only the tip of his blade, using patience and strategy to probe their opponent for weaknesses. Senior Bryan Lee '14 expresses this as he says, "You have to know your enemy and counter them by thoroughly recognizing their bad habits and patterns."
A saber, which more resembles a slashing cavalry sword, proves to be the polar opposite of  an epee. The saber user  takes more of an aggressive approach to his attack, and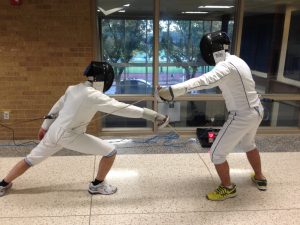 is only allowed to aim from the hips to the head, which are covered in a lamé (a metallic jacket).
Most of the fencers on the team practice using epees, for next semester's tournaments.
Next semester, Coach Elsakhawy projects that "at least four athletes on the team will be top 16 in the tournaments" based on the skills he has seen during practice. From all the years of experience he has with fencers, he can "know the level and…can tell exactly what [the fencers] have through the practices" and improve them in order to prepare for the three tournaments: one at a local level, one at a regional level, and one at a national level.
Even though it is a very competitive sport, Jesuit fencing involves more than just winning awards, but also the priceless experiences that accompany each fencing practice. This year, the fencing team at Jesuit consists of 16 athletes, who each demonstrate the sense of brotherhood, resilience, and agility needed in the clashing of swords.
Coach Elsakhway explains, "Everyone is like one man here. Everyone supports each other, athletically and academically, always helping out." Xavier Lao '15, a junior fencer shares the same idea as he simply states,  "I like hanging out with the other fencers, they are some pretty cool guys." He says that the practices "are really funny, and since [the teams] shows up regularly, it is very brotherly."
After all, what is better than getting "competitive and slashing your friends with swords?" asks Peter Park '14.
With the support of this brotherhood, the fencers can always rely on each other through the frequency of its practices. Sophomore fencer William Chu '16 says, "The consistency in sparring and practicing is the best part about it, even though you feel rusty, in a week you can still get your game back on through sparring with the other guys."
He also expresses this persistence in practice as he say, "You have to be determined to get better. You can't get defeated after one round of losing, which the other guys on the team can help with."
Not only does being a fencer require persistence in athletics, but it is also demands a balance between fencing and academics. "You have to persevere not only in your athletics, but also in your schoolwork because people sometimes don't show up because they are too busy doing homework. You've just got to work hard," says Xavier.
Coach Elsakhway expects everyone on the team to retain this standard: "Everyone has to keep up his academics. I don't like anyone failing my team. Everyone has to have at least a 'B'. School always comes first. Just like you work hard in school, you also have to work hard in practice, this is what I expect from everyone."
Lastly, Peter Park '14 also reveals the agility you need, both physically and mentally, as he says, "You have to be quick and smart because there are a lot of actions that you can do, but I think the most important thing to have is creativity. There is not one set routine or one set skill. You can do many things, you can hit the toe, you can hit the head. You can do whatever, but it has to be fast."
For those interested in joining the fencing team, Coach Elsahkway has some words for you: "Fencing is welcome to anyone. Anyone can join the team with no problem, and you are never going to feel lost because the guys will make you feel like you've been a part of the team for a long time."
Even William Chu '16, along with some other of the fencing guys who agree they had a similar experience, says, "I saw that there was a club that you could poke people with sword so I said, 'Hey that looks pretty interesting.' " Plus, Peter Park '14 now has the qualifications to say, "Oh ya, I think I'd make a pretty mean pirate."