If you are reading this, you are most likely a student at Jesuit. By that same logic, I can assume that if you are a student at Jesuit, you are a teenage boy aging anywhere from 13 to 18 years old. Now I have to make a logical leap, but I still think it's safe to say that at this age, you are most likely entering the stage of your life when stubbly beards and awkward mustaches are becoming more and more prevalent on your face.
Unfortunately, the Jesuit Dress Code finds fault with this exciting development in every young man's life, creating something of a problem for many Jesuit students. What's more, the absurd prices on go-to Gillette razors are financially irresponsible and not a viable option for the beginning shaver who simply needs a solid, reliable razor for those Friday mornings before Prayer Services when Mr. Civello prowls around the hallways, sniping bearded-out students with frightening precision. S/O to Mr. Civello – I've had my fair share of school shavings with those single-blade razors and suffice it to say that I will no longer be leaving my beard to its own devices on Friday mornings. In fact, those Friday mornings spent shaving in the crowded school bathroom have influenced me to change my shaving habits.
I decided to test out a couple of the monthly razor subscription services, specifically Harry's and the Dollar Shave Club, to see how well the razors held up against the Gillette razors that I've used since I started shaving. For each razor, I chose the standard, middle-of-the-road option that costs $6 for 4 new blades a month. I evaluated these razors based on three main categories: "Appearance / Style," "Shaving Cream / Post-Shave," and "Quality of Shave." I'll start with my review of Harry's Razors.
Harry's Razors: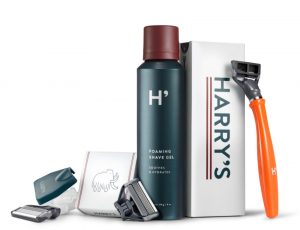 Appearance / Style – Harry's had me excited before I had even opened the box. Their entire model is based on sleekness and stylishness, an emphasis that shines through remarkably in the product. Every component of the shave has a minimalist appearance that looks very cool and futuristic. The bottles for shaving cream and post-shave cream are solid and clean, and the razor itself is a pleasure to look at. With a sleek, brightly colored handle that is heavy enough to feel expensive and to have a toned set of blades, the razor is magnificent. As I was beginning to shave, I thought to myself that Harry's was far and away the more attractive razor, that I would like this one the most without a doubt. Unfortunately, I couldn't have been more wrong.
Shaving Cream / Post-Shave – Harry's shaving cream is actually very strong, and on par with the excellence that is the sleek design. It is thick enough to feel very comfortable when lathering over the face and doesn't irritate the skin at all, a very solid cream that does the job. The post-shave lotion that also came in the box is also a pleasure. One complaint I usually have about after-shave lotions is what I call "the liquidity factor." Basically, lotions with a troubling liquidity factor are too slick and watery and give the face an uncomfortable feeling of sliminess for some time after the shave. Harry's post-shave has a very favorable liquidity factor, in that it is thicker than most, eliminating the possibility for sliminess, and actually has a very nice, oaky smell that lingers. However, the pros end here for Harry's.
Quality of Shave – For as polished as the rest of the shaving components are, the actual shave itself is remarkably shoddy, and one of the poorest shaves I've ever had. The razor, while stylish and modernistic, is very stiff and user-unfriendly. When I tried to draw the razor over my jawbone and chin, areas with contours and edges, it was decidedly stuck, and would not bend to shave over the uneven parts of my face. This unfortunate drawback actually made me appreciate the Gillette razors, which are much more flexible and user-friendly. In addition, the Harry's blades are dull and inefficient. While shaving, I found myself scraping the same areas of my face over and over again in order to clear out all the hairs. I was hugely disappointed that Harry's could not fulfill the bare minimum of providing a blade to sufficiently shave my facial hair. Needless to say, the Harry's shaving experience was lackluster and inadequate and was made all the worse because of my huge expectations going into it. Thankfully, the Dollar Shave Club proved a much more successful outing.
The Dollar Shave Club: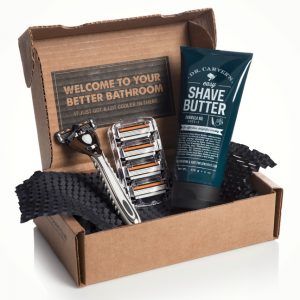 Appearance / Style – Because the Harry's design was so impressive, I found myself disappointed upon opening the Dollar Shave Club box. To their credit, the guys over at Dollar Shave Club have created a pretty funny scheme, which revolves around marketing their product as a "man's product," using hilarious commercials and witty quotes on the box to craft an inclusive and welcoming shaving experience for the beginning and experienced shaver. However, I was still let down when I saw the shaving equipment, which was quite reminiscent of the Gillette razors. The Dollar Shave Club razor itself is almost indistinguishable from a traditional Gillette razor, complete with unremarkable colors, rubber grooves on the handle, and a very banal set of blades. The bottles for shaving cream and post-shave lotion were also fairly commonplace, continuing the humorous aesthetic. I found myself wanting something more out of the design upon first glance.
Shaving Cream / Post-Shave – The Dollar Shave Club cream and post-shave were also unpleasant experiences that were easily dominated by Harry's. Unfortunately, both the shaving cream and post-shave had very questionable liquidity factors. Both had very loose, watery consistencies that eliminated that satisfying feel of lathering the face with thick lotion. The shaving cream was even more disappointing because the watery and see-through consistency had me wondering if I had used enough cream for my entire face. The post-shave had an abysmal liquidity factor, and I felt an unsatisfying slime covering my face after the shave.
Quality of Shave – Fortunately, the Dollar Shave Club experience was saved by a more-than-adequate shave. The first thing I noticed about the razor was its flexibility, which was noticeably better than the Harry's razor. I could easily scrape over my jawbone and chin with impressive mobility. Also, the blades were impeccable. It was as clean a shave as I've ever had, and I never found myself scraping over areas multiple times to clean up all the stubble, as I did with Harry's. One thing I caught myself thinking was how similar the razor was to the Gillette razor in quality. I distinctly remember thinking that there was no reason to pay the obscene prices for the name brand when a perfectly suitable option lay here in my hand.
Conclusion:
There is no doubt that I enjoyed the aesthetic and shaving cream of Harry's more than that of the Dollar Shave Club. I still believe that the sleek, futuristic design cannot be beaten. That being said, I would absolutely not sacrifice the quality of a good shave for the minimalist design, and it is with a heavy heart that I do not recommend Harry's razors. On the other hand, the Dollar Shave Club offers a quality, reliable razor for the shaver on a budget. For those who are upset with the price of their Gillette razors, I highly recommend switching over to the Dollar Shave Club's monthly service, since there is no loss in quality whatsoever. But whatever you do, never forget to shave. Mr. Civello is always watching…