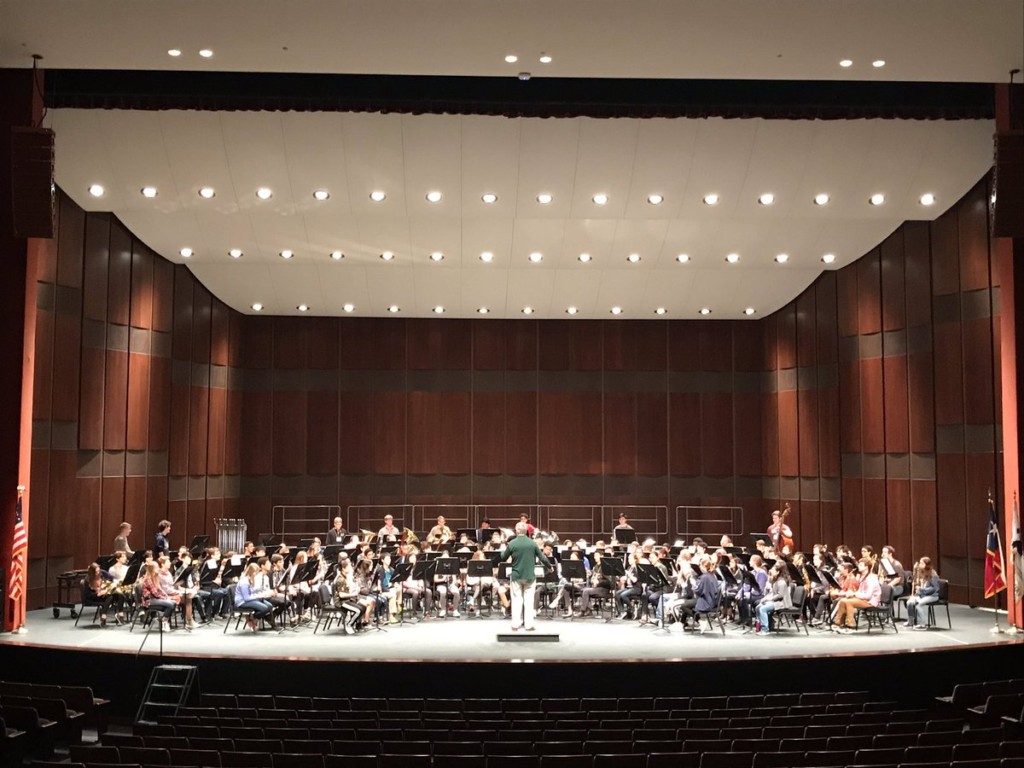 The director steps up to the podium, and silence fills up the room. The band members set a good posture and put their horns up, preparing for the director to start the piece. The director signals and the band begins to play. The director signals for dynamics and the elite band members follow him. When the players finish the piece, they all stand up, bow towards the audience, sit back down again, and get ready to perform their second piece.
During the last few months, JURB members have gone to showcase their musical talents to others, performing at Solo and Ensemble, the All-Region band and even the All-State band. The band directors were very proud of each student's work and gave a brief description of the musicians' work in an exclusive Roundup interview.
How did each individual player prepare prior to their performances?
Mr. Crownover: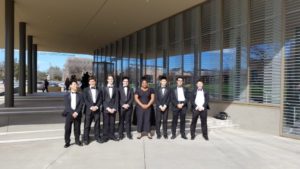 The whole process to get into all-region and all-state starts early in the fall for most of the students, the events happen in the springtime. However, the work that actually gets them into the group actually begins September, October, sometimes even August. They start working on two performance A tunes, they have to play a fast and technical piece and a slower, more lyrical piece to showcase the musicians' abilities. We record those auditions here at the band hall in November, and we send them off to the state board to be judged, and all the directors from all the private schools of the state get together and we judge the auditions, in a blind audition process, where we hear the recordings but we don't know the names of the students, and then we rank them all. The top, the best of the best, make it to all-region, and the best of those make it to all-state.
How did you help the students' improve their performance?
Mr. Crownover:
A lot of it is done with private lesson teachers, most students will meet with their lesson teacher at least once a week, sometimes more, to work on their music with them and help them develop their skills. Some people come in and ask for help directly from me and Mr. Putnam, and we'll help coach them on their issues, to help them master the skills they need or work on the tricky passages. Once recording starts, we usually have students make more than one appointment for recordings so that they can come in for a first recording, record them a couple of times, and point out their good sections and tell them where they need more improvement. After that, they'll come in for a final recording which we'll send to the state board.
What was your favorite music piece the band played?
Mr. Crownover:
This year, there were several pieces, but I think my favorite was a piece that we might do next year here. The all-region band performed a piece called Salvation, which is based on a piece written by a Russian composer named Chesnokov named Salvation is Created. The band played a shorter piece, a hymn, but it was a very powerful, very challenging piece. The arranger of Salvation takes that melody from it and flushes it out and makes a variation out of it. It's a really cool piece and I think our band could do that next year in the spring.
How did you feel about JURB's overall performance in all these events?
Mr. Crownover: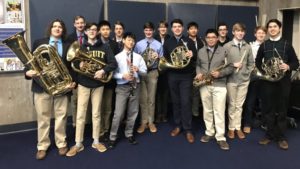 I think JURB have done a great job. It's a really good challenge, not only for the upperclassmen but the young members to get a chance to really improve their skills and step up and shine to be showcased. I'm really proud of the work the kids put in.
Mr. Putnam:
I would concur with Mr. Crownover, it's a great opportunity for individuals in the band to step out of their comfort zone and shine and show off their talents.
Honorable JURB Mentions:

Not everyone got to participate in the All-State and All-Region band, as only the most elite musical players are accepted. Therefore, JURB musicians worked extra hard before and after school to perfect their musical audition so the band directors would choose them to join the elite band. For the All-Region band, Jack Martin '21, Noble Allen '19, Reed Zimmerman '19, Sang Fessenden '19, Ricky Ponte '20, Alex Gibson, Derek Zhang '22, Brendan Shorey '22, and Marie Claire Inniss '19. However, for the All-State band only Jack Martin '21, Noble Allen '19, Reed Zimmerman '19, Sang Fessenden '19, and Ricky Ponte '20 made the cuts, having the skills required to participate in the state's most elite band.
For Solo and Ensemble, more musicians were able to participate, working with their private lesson teacher and in their free time to practice and improve their musical piece. These musicians worked extra to perform their musical piece successfully in front of judges, and most of them received superior ratings. The JURB members who participated in Solo and Ensemble were: Jacob Neiman '22, Matthew Casey '22, Jackson Richard '22, Derek Zhang '22, Patrick Keyes '19, Sang Fessenden '19, Charlie Adam '22, Alex Gibson '21, Giovannie Ferrer-Falto '19, Imjai Utailawon '22, Sam Parker '22, Landon Grazer '20, Mason Lee '22, Gabe De Conto '20, Trevlan MacGregor '20, Ruthie Keyes '21, Rachel Pierce '19, Winston Myers '22, Haley Kang '22, and Meghan Mulcahey '22, and Marie Claire Inniss '19.
Make sure to congratulate these guys next time you see them walking down the hallway!