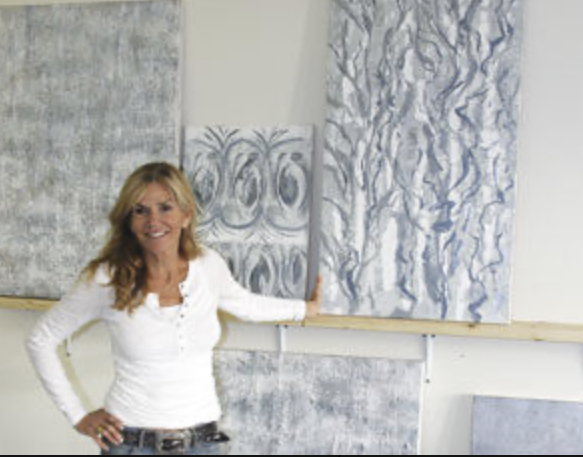 Last Thursday on January 16th, Jesuit was extremely blessed and lucky to be able to host the Laura Roosevelt and her new "Historic American Pop" collection. Laura Roosevelt, the great granddaughter of Franklin and Eleanor Roosevelt, has spent 6 years creating this project filled with iconic historical photographs with textured and abstract backgrounds, adding a new meaning to some of these photos. The collection and exhibit includes words from Franklin and Eleanor Roosevelt chosen by Laura's sister Elizabeth Roosevelt Kelley.
Laura is an American painter who was born in Fort Worth, and grew up in Dallas. She specializes in abstract mixed media painting and is known for her layering technique, which leads the observer deeper into the piece. She received her Bachelor of Arts in Studio Art and Art History from Dennison University and her Master of Arts from New York University. Roosevelt's work is in collections across the United States, London, the Bahamas and St. Barthlemy.
As Laura came to Jesuit for her collection in the historical library, she was able to spare some of her time for a little interview.
Q: If possible, could you choose what is your favorite painting you have worked on?
A: "No, of course not, it is like asking if your parent has a favorite child, but I would say that my favorite piece is always the one that I am currently working on."
Q: When did your interest for art begin, or what was that moment when you knew you wanted to continue your life with art?
A: "I went to Ursuline and I graduated in 1979 and when I was in the 7th grade (when they used to have a middle school) I took an art history course and art course and from then on I knew I was going to be an artist."
Q: How would you describe your art?
A: "I have lots of different styles, but in all of my work I want people to have fun with history and want to make it alive, and want it to be with you.
Q: What is your most difficult work?
A: "My hardest work is definitely my abstract paintings, they take years and years to do sometimes 6-8 years."
Q: Is there any advice you would give to an aspiring young artist?
A: "Persevere, keep it up, work your tail off and never give up because anything that is worth while take a long time."
I hope all you go and check out the pieces created by Laura Roosevelt in the Historical Library now and see the wonderful paintings that she has been working on. A huge thanks to Mrs. Hunt-Blanc who put on and ran the event, and thanks to Laura Roosevelt for taking her time and coming! If you have any questions about the Museum please contact the director Mrs. Hunt-Blanc at EHuntBlanc@jesuitcp.org.
Check back soon with The Roundup for more news about the museum!