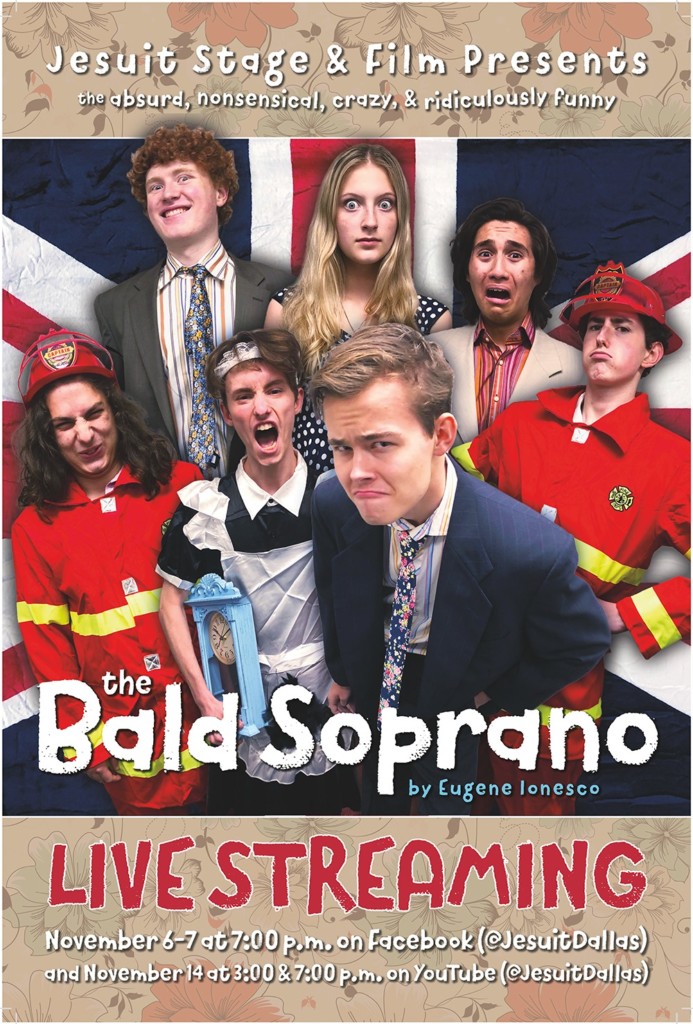 Cast:
SMITH: Jet Beck  /  Joseph Perdue
MRS. SMITH:  Elena Velazquez  /  Ella Hudson
MARTIN:  Mario Lopez  / Bennett Barron
MRS. MARTIN:  Ellie Mentgen  /  Katherine Weber
MARY:  Tyler Pruitt
FIRE CHIEF:  Nate Carley  /  Matthew Kucera
Due to obvious circumstances, many changes within the school are present, including theatre productions. This is not only due to the pandemic, but also the renovations of the theatre. The theatre team needed to find a way to adapt to such circumstances, resulting in an "e-play".
I asked Mr. Acevedo a few questions to see his input on this unique approach to a play.
Outside of the pandemic, what gave you the idea for an "e-play"?
"When the pandemic started in March we were rehearsing the spring play. Everything went down…and we were waiting, thinking it would be over in a month. We kept on delaying…So now we'll begin again April fifth, now April fifteenth. It came to May and boom, we couldn't do it. I then started rehearsing a play for my theatre arts class, and right there I decided I wanted to do an experiment with an e-play. I was gonna record the video, and then I was gonna edit everything and turn it into a play. It was called the WhoDunnit and it was a lot of fun, really a lot of fun.
So then, during the summer, I started thinking, what if in the fall if we're still in the pandemic, we can't be on stage. Then after that, there was a construction period, there still is a construction period. I assumed it might not be finished by August or September, so, I  decided not to take any chances and do an e-play again. This time, however, I want to do it live. I want to have the actors do it without me editing and telling them, 'record in your house and send me the videos.'
I wanted all of them together on teams. So I started looking for a play that would be practical for the purpose, and it was so so hard. Because if we were doing Romeo and Juliet I can't do that online with all of them separate, none of them together. So I came up with this play that I really really like, I thought it was perfect for this experiment online…We started production on it and that's how the process came.
When I came here in August, I was still hopeful of doing a regular stage play. And then I heard the theatre project would take so much time. So right there I said there's no chance of doing the stage, so I decided on an e-play. It worked out well because the pandemic is still going on."
How did the production itself go?
"So there are two interesting things there, these are theatre actors, they're used to the stage and seeing each other…It was very strange for them, not for me that much, but for the actors, it was very different and strange. In the beginning, maybe, some were reluctant of doing this, because they didn't have any idea of how it's going to come out.
Of course, I'm the director I have it in my head, I'm thinking of ways it's going to be. To submit yourself to a process you don't know how it's going to work is hard for them, but thankfully they all trust me, we've worked together before, they know me. They know if I tell them this is going to work, they will.
The other thing that is very interesting, nobody has any idea how difficult it is to be acting in a room by yourself, and pretend other people are with you. That means you have to move to the side, and be talking, if you were talking to someone on the side of the screen, nobody is there. If you see the play, they do that all the time. I told them several times that 'you have to look to the side, you have to look up or down,' depending on where the other person is… That's the only way we can connect with each other, instead of just talking into the camera…They went along with it and that's the thing I enjoy most about the play, how well they pretended to talk to others on the side, even when they aren't there.
It's really enjoyable, the play, and yeah the whole result is that we enjoyed the process, a lot, really really joyful. In the end, they were very, very excited about the play, the recording, it was a lot of fun. Still, it was different, of course, but we enjoyed the process and put everything in it… It's been very very good, a lot of fun."
How did the video streaming/presentation go?
"So we kept the concept of doing it live. So we have performances at specific times, instead of just recording a video and putting it there, so you can watch it any time. We really wanted to give the experience of watching it live, so we did that last weekend… We kept that, we kept doing the shows live. If you don't have the chance to watch it there, you missed it, like going to a theatre. I got the help from the whole school administration… the video office, Griffin Miller, James Kramer, and Selina [Estrada].
We have all their support, they're one hundred percent behind it, they really like the idea of us doing this. It's not the same as the actual theatre. We get two, two hundred fifty people in that theatre, every night. But still, you know, it's a lot better than not doing anything, it's the whole thing, different things to do, plus we get the video forever. We have it in the archives of the school, you can always use it for whatever purpose later. It's a good thing to have, you know. I feel really proud about it, the project, the actors, about the whole support of the school, I'm very happy with it."
Mr. Acevedo was not the only person who had to say things about this peculiar production. Nate Carley '22 said, "[It] came with challenges, but overall [a] good experience."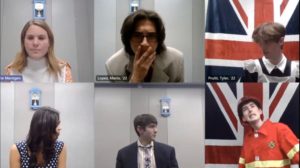 Final Thoughts
"The Bald Soprano" was a unique production, in a format I've never seen done in a play. I kept comparing this production to films like Searching or Host, films that use the computer screen as a means of storytelling. This play fell into many of the trappings that an "e-play" would entail, and that's not an insult, but rather a compliment. In my own experience, I noticed some minor buffering and connection issues, some may consider it a flaw, but I think it added a lot to the charm of an "e-play."
Last year, Martin Scorsese sparked controversy by calling superhero movies "not cinema", however, that wasn't an insult, because he called it a "new art form". Mr. Acevedo said this wasn't the same as normal theatre, and he's right. I do not think Jesuit's production of "The Bald Soprano" is theatre, but rather a new art form, and that's a beautiful thing.
(Note: I am nowhere close to as qualified as Scorsese to make claims like these, these comments are just my opinion.)
Tune into the Roundup for more news on Jesuit's future stage productions.