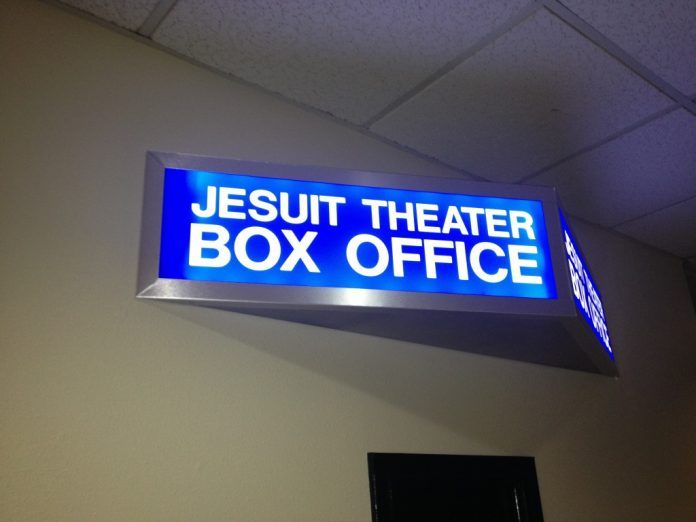 Waiting anxiously outside the Jesuit Lecture Hall, nearly sixty actors line up for the auditions. Each has to wait through the weekend until the callback list is published, followed by the second round the following Monday.
Garnished with the largest set in Jesuit Stage and Film history, the Jesuit Spring Production of Arsenic and Old Lace has proven to mark several different firsts. Not only is this the largest set, with two floors of a set, but it is also the first show in the past decade to use callbacks for the casting.
Mr. Christopher Patterson '08, the head director of the show, said that he thought the callbacks "went really well, there are always kinks to work out but I think we got a much clearer view of who should definitely be in a specific role." He called the entire experience "enlightening with what it could offer, I wish we had done it earlier."
Cameron Schutze '17 said that it "was definitely an interesting new way to run the auditions." He continued that he thought it added to the overall placement of actors, noting "The callbacks really allow the directors to figure out who would be best [for each place]."
When asked about how the rehearsals were going, Schutze responded: "it's a little stressful thinking we have one fewer week to put it on and it's a much longer show than what we had last spring or fall." He ended by saying that "we've been going at a rather breakneck speed, but it's good, I'm very confident in all the actors I don't see any weak spots in the cast."
Cameron again chimed in about the rehearsal cycle thus far. "It really has been smooth so far, everyone clicks together and we've come so far in such a short amount of time," he added. Schutze also believes that "this show is really chugging along and it will be great when we finally get fully ready."
Be sure to see The Jesuit Stage and Film production of Arsenic and Old Lace April 8th, 9th, 15th, and 16th!