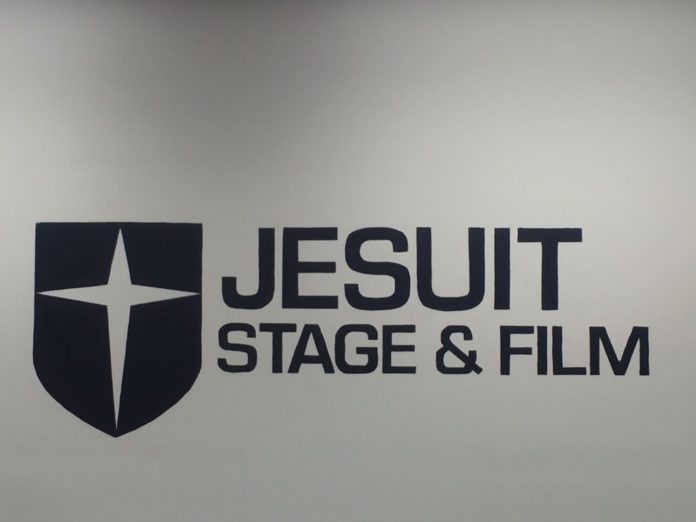 As a result of the dreadful coronavirus, many large gatherings have been canceled. One of Jesuit's most prominent gatherings was its theatre. With lots of changes in place as a result of COVID-19, Jesuit's Stage and Film department is going through a peculiar time.
The coronavirus has halted our way of life, and, as a result, I asked Mr. Acevedo what Jesuit Stage and Film is doing to handle this situation.
How is Jesuit Stage and Film handling the pandemic, specifically with productions and construction?
"There are two things to mention. One of them is that last year the school decided to do some construction work on the theatre area. They wanted to redo the box office area and work on the workshop and all the backstage areas. They've started working on that from I think May. So in the midst of the pandemic, they've been working in my area, within all the different areas, my office, the classroom, the workshop, and the storage. So that means right now even if we weren't in a pandemic we'd still be going through a construction period. It's gonna take some time, might be in October or November, but I don't know. This means we've had to get creative, not only because of the pandemic but also because the area is closed…Even without the virus, we have no way to perform.
So what I came to during the summer, and thinking of the pandemic too, of course, I had to think of a way to keep the theatre group and stage and film department keep going, you know. The same as everyone else around the world is doing, in terms of theater, is to go online to develop and perform products online. For example, at the end of last semester, I did something I called an E play. It's an online play I did with my acting class, it was called The Whodunnit. It was awesome and [we] had a lot of fun with that. [But,] I wanted to something different, something closer to the experience of watching actual theatre. So the theatre group is putting up a play that is going to be live-streamed…Everything is going on but it's going to be streamed live. And I think to the benefit of the audience it is going to be free of charge…One acts is going to be different. So what we're doing for that, I didn't want the directing students to be on a risk of not getting a chance to perform their plays, because they're going to be working on the plays for the whole semester. I didn't want to come in December and say we aren't gonna be able to make it in January. I would be crushing their hearts you know. So we're going to be performing outdoors… It's a specific area by the stadium and athletics building. We're gonna put up a set and chairs and platforms, and we're gonna develop the One Acts show right there outside. So that's a new thing, and I think it's gonna be super interesting, and I'm really excited. I've done outside shows in the past and they're really really fun. Like Shakespeare in the Park, things like that. We're doing our own One Acts in the Park. It's gonna be exciting because it's gonna be different. So that'll be a lot of fun, hopefully, we don't get a lot of rain or too cold weather. So besides that, every semester I do a prayer service play with my theatre arts class. We're not gonna be able to do that… But I am doing an end of semester play with my theatre art students, it's just, we're gonna be doing it online too. With the theatre arts class it's gonna be an online play, with the theatre group it's gonna be an online play, and with the One Acts it's gonna be in person outdoors."
What would you tell anyone who's interested in joining the Jesuit Stage and Film Club?
"Under the times we live in right now it's difficult to be promoting theatre. But at the same time this is an excellent time to begin again. To stop whatever we were doing and have a new beginning, bring new blood. I will say this is an excellent time to explore the theatre world because you don't have to go all the way in… If you were going to the beach and putting your feet in the water and testing the waters, you can develop your taste in theatre. As you go along with the group and see what's going on. We're gonna be having teams meetings, if you're new you're gonna be meeting everybody step by step, not all at the same time. So it's not going to be overwhelming… We are all under the same process. Whoever is interested in theatre can find out what theatre means, what you can get out of theatre, you can start socializing, and remember this is a time when students are looking for a way to socialize… You get to see the same six people every day, hang out with them, practice with them, all of that. For now, we're doing teams because we're not allowed to gather such a large group, eventually, we will. So it's very cool, if you start off… you don't have to compromise a lot of time, and you can see if you like it. If we go back to all in person, the stage, and start having rehearsals then you're gonna be more prepared, know more people, and see if this is something you want to do for your high school life."
Conclusion
Despite the drawbacks inherent with the pandemic, Jesuit Stage and Film is on track to persevere through these crazy times. Hopefully, when things get closer to normalcy we can see what they have to offer in person. However, for now, Jesuit Stage and Film has made the best of a bad situation.
Stay tuned to The Roundup for updates on Jesuit's theatre productions.