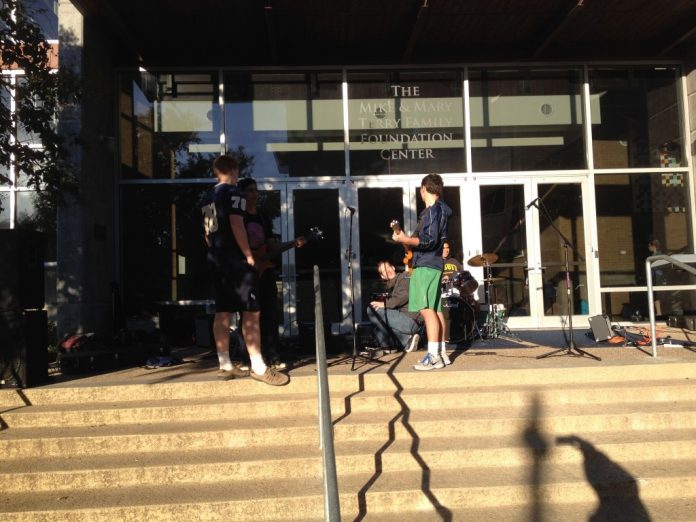 Ah, Ranger Day, the most anticipated day of the Jesuit school year. As always, Ranger Day presents an opportunity for Jesuit students to showcase their musical skills and talents. This year, there were five performances: The Undecided, Martin Flores, The Water Coolers, Benito Buksh, and Inwood. These DJs and bands made it worthwhile for the students to endure the cold front and enjoy socializing outside on the Jesuit campus.
THE UNDECIDED
The Undecided opened up the show at 9am for Jesuit, while students scrambled to grab a couple of donuts and egg tacos for breakfast. The band consists of four juniors: Jimmy Patterson '16 (keyboard), Bruno Brenes '16 (bass), Sean Rilley '16 (guitar), and John Gallindo '16 (drums). The band first came together last spring when they performed together at the sophomore retreat, and later added Jimmy on the keyboard to bring it to completion. John Gallindo explained that he and his band like playing "alternative rock the most." The band, like most, was inspired to play out of the members' love for music.
The Undecided opened up their set with "Teenage Wristband" by the Twilight Singers. The alternative style of music woke the Jesuit community up, and gave a good vibe to start off Ranger Day. Tucker Roemer '16 thought, "They had a great show that I myself and other students enjoyed." Gallindo, who has been playing the drums since he was in second grade, said, "We will try to play again at Ranger Day next year, and any other Jesuit events."
MARTIN FLORES
Martin Flores '17 was the second performance on Ranger Day and changed up the atmosphere by DJing for the school. Martin was first exposed to the DJ style of music in sixth grade, when he started to listen to electronic music. Martin said "I can actually remember my first exposure to this type of music: it was a VMA awards performance by deadmau5 in 2011." Martin explained that "At first, I wasn't too keen on this genre." But Martin started listening to the music more and more, and it grew on him. As Martin grew more in love with the music, he decided he wanted to produce some of his own, so he downloaded some DJ software onto his computer and started his DJing journey. Martin said his DJing role models were not necessarily the most popular, but those who "innovate and actually play live." Some of these artists are M Machine, Porter Robinson, and Robert DeLong. Martin said, "Those guys are fantastic in their own rights and they're doing a lot of cool stuff right now, so check them out."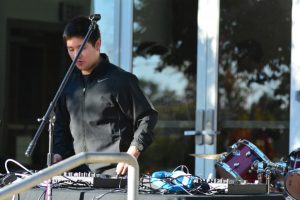 Martin's first real show was at his first Ranger Day last year, where he DJed with Benito Buksh '15. Martin thought that day was exciting, but this year's Ranger Day surely topped it. This year Martin flew solo and really improved on what he did last year. He put on a fantastic performance, and really got the Jesuit community involved while doing it. Martin said that if he can continue to play through high school and college, he would be all for it. Currently, Martin's interest arises out of his passion to DJ, not a desire to make money or play gigs. Next year, Martin plans on changing up the game by playing some music he plans to write himself. The entire Jesuit community (including me) will be looking forward to what he has in store for us next year. If you would like, you can see what Martin played this year at: https://soundcloud.com/martin-flores-29
THE WATERCOOLERS
The Watercoolers (a band name derived from senior Michael White's nickname "Thirsty Mike") followed Martin Flores's performance and picked back up The Undecided's style of play with some classic rock and alternative songs. The Water Coolers, originally made up of seniors Michael White '15 (guitar), Jon Birondo '15 (drums), Dustin Bagayna '15 (bass), and Drew Curran '15 (vocals), came together just like The Undecided did, at the sophomore retreat. The famed Watercoolers only play twice a year, once at Ranger Day, and once on their retreat, making their performances a rare sight. This past Ranger Day was the band's last appearance ever, entitled "The Farewell Tour,"  making the day memorable for the band as well as for their fans.
As many legendary bands do, the Watercoolers added another member at the end of sophomore year. The band discovered their missing piece: senior Michael Ingram, who was able to play some guitar solos. Their first performance with all members present was at Ranger Day 2013; 50 people and a couple of cheerleaders attended, which Michael White thought was "pretty cool." The band played their third performance that following summer, at a youth group talent show/fundraiser. Unfortunately, only three members where able to attend: Michael, Jon, and Dustin.
The Watercoolers' fourth and last performance was by far their greatest ever. With a record number of students watching, the band put on a great show. The set list, consisting of songs selected by each member, was as follows: 'Thunderstruck' by AC/DC, 'Can't Stop' by The Red Hot Chili Peppers, 'Party Hard' by Andrew W. K., 'Basket Case' by Green Day, 'Semi-Charmed Life' by Third Eye Blind, and 'Blitzkrieg Bop' by the Ramones. With passionate sing-alongs and an abrupt storming of the stage by the band's fans, the Watercoolers went out with a bang.
BENITO BUKSH
Benito Buksh '15, the fourth performance at Ranger Day, turned up the tempo of the day by DJing for his second Ranger Day at Jesuit. Benito started DJing last year when Martin Flores, a freshman at the time, introduced him to the art. Benito became interested in DJing, so he and Martin decided that they would play at the upcoming Ranger Day. Although Benito did not have any equipment, he was determined to learn how to DJ so he borrowed some equipment from one of his peers. For the two months he had to prepare, Benito said he, "practiced really hard and came up with something decent." The first performance turned out to be a success, and it propelled Benito to become more involved with the art. After that day, Benito decided he wanted to DJ at the next year's Ranger Day as well. When asked what his inspiration for DJing was, Benito said, "I was inspired by Porter Robinson." He went on to say, "I thought it was really cool how you can make 5,000 people drop at one time." Over the course of the year, Benito played at other various events and parties, developing his skills more and more.
This year, Benito played an even better show than last year's, getting the whole Jesuit community involved. Jesuit students went crazy this year, to the point where one student (Mikey Shropshire, '15) crowd-surfed atop his fellow classmates, something that Jesuit has never seen before. Despite the cold, the students danced and moshed at every drop in the songs. Benito was even able to incorporate some school spirit into his music, as he played a remixed alma mater complete with air horns and a bass drop. Benito's last Ranger Day performance was a great one, and he hopes to continue making music in college. You can listen to what Benito played at: https://soundcloud.com/benito-buksh
INWOOD
Inwood, the final band of this year's Ranger Day, is another alternative band much like the Water Coolers and The Undecided. Inwood started off with just Gino Piamonte '15, Patrick Joseph '15, and Alejandro Hippolito '16. The band soon realized they needed more members, so they recruited Brenden Legas '15, Ben Horton '15, and Dylan Roberts '15 to play. Inwood is probably the most experienced band out of the bands that played, totaling about 15 shows thus far. The band started at the end of 2012- 2013 school year, making the band about a year and a half old. Inwood usually plays at Jesuit affiliated events, including some at Ursuline as well. But Inwood has even gone out beyond the walls of the Jesuit community, and has played shows in the Bishop Arts District, an area of Dallas where many aspiring artists start off. Patrick Joseph, who has been playing since he was five years old, explained, "We just love playing music." The band has even gotten to a point where they are producing their own music, some of which they played at this year's Ranger Day.
In addition to their own songs, Inwood also played 'Float On' by Modest Mouse and 'Here it Goes Again' by Ok Go. Even though Inwood's typical playlists may be characterized as alternative or indie, Patrick Joseph describes it as, "what kind of music is our own music." Inwood, the most organized and well-developed band at Jesuit, played a fantastic show as they usually do. Inwood has become a relatively well known band among the halls of Jesuit, and is constantly being asked to play. Joseph explained that they have been playing shows for the past four straight weeks. They hope to continue playing together in the future, even when they end up parting ways at the end of their Jesuit careers.