"Yeah, I'm gonna take my horse to the old town road… I'm gonna ride till I can't no more"- Lil Nas X, 2019
Before Lil Nas X's new single titled "Old Town Road"(a.k.a "I Got the Horses in the Back") hit the No. 1 spot on the Billboard Hot 100, it was first taken off the Billboard country charts for "not being country enough." Using Red Dead Redemption 2 game play as the video visualizer, the single also had a remix featuring country singer Billy Ray Cyrus. The song in general caused some controversy into what makes a song a "country song."
So, what makes a song a country song? Is this song the catalyst for a new genre in music?
What truly makes a country song?

That question is difficult to answer. Some say that it's the lyrics that are written or the story behind the song, whereas others say it's the instrumental beat or how it is arranged. Some even believe that just having a country twang in the voice makes for a country song.
I'd say it is often the lyrics that establish a sense of romanticism of the rural past and can often mix a sense of faith and love into their song. A quality country song often causes listeners to reminisce and often cherish their youth, or sometimes even a blissful present.
For example, look at John Denver's "Take Me Home, Country Roads" or Johnny Cash's "Walk the Line," some of the most popular country songs of all time. John Denver's talk of rural pathways that bring him home, a place of comfort and security, exemplify the hope  of his past. Johnny Cash's song was actually written for his wife, and how he planned to remain loyal to her, because he loved her, despite the distance between them while he was on tour. Thus, he metaphorically walked the line.
Therefore, based on those criteria, I would argue that the song is country. Sure, the instrumental is closer to a hip-hop, trap beat, and its lyrics include some more elements associated with hip-hop such as having Gucci accessories. However, the majority of its lyrics set the stage for living a country-themed lifestyle and it has a country twang. A yes for me.
Could this song create a new genre in music?
This song is considered to be at the forefront of a new genre in music, country rap, and classifying the song as one genre or another takes our focus on enjoying the song. If anything, the heated debate over which genre to put it in caused it to become more popular, and the song is more fluid than strictly country or strictly hip-hop.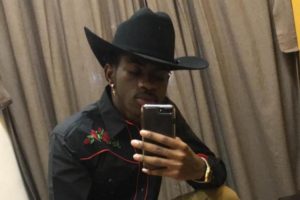 Genres, like many other forms of classification, refer to the style that a piece of art, literature, or music has. It is good for figuring out what music an individual likes, but eliminating a song's credibility on the charts because it is not purely one genre, but rather a blending of two genres, is not right.
Besides, it is not like there are specific rules for which song is a certain genre, and we, the listeners, have a huge impact on what genre it is.
I think it should have stayed on the country charts, but regardless, its success doesn't focus on genre.
What is your personal opinion?
I've never been a huge fan of country music, and if I even hear one second of country, I will sincerely (but not quietly) request that you change the song. However, after hearing this song, I have changed my harsh opinion of country music, and am willing to look into more country music. I like the remix a little more, because of the harmony created by Billy Ray Cyrus and Lil Nas X towards the end.
While I'm not sure it will lead to a new genre, I think that this song will change the general public's opinion of country music. While we've seen similar songs with country lyrics, not-so-country instrumentals such as Florida Georgia Line's "Cruise," it hasn't started a new genre, despite its prominence towards the top of the Billboard Charts during 2012.
If you want, come find me and have a friendly debate with me over this song. Anyways, thanks for reading and stay tuned to The Roundup for more culture insight!