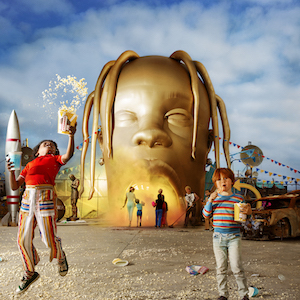 Caution: Spotify content may include explicit lyrics. The Roundup neither endorses nor promotes any of the songs in this article. Readers under the age of 18 must receive parents' permission before proceeding.
Travis Scott is currently one of the hottest rappers in the game right now. His new single Highest in the Room lamenting his breakup with girlfriend Kylie Jenner just reached the Billboard top ten 10 charts for this week. He just released a series of 15 unofficial tracks under the name Rager Universe, which could be hinting at a new album, and his Netflix documentary Look Mom: I Can Fly also just released. In this article, I will be taking a look at his newest single and analyzing his last two albums, providing my own community in the process.
Highest in the Room
Solid. It is a good song, and deserves most of the recognition. I'm somewhat surprised that the song did not have any features, but that is his choice. I like his lyrics, and it seems ambiguous in terms of whether they relate to his relationship with Kylie or something else.  It s getting overhyped as it is quite short and the beat is just solid. The song has good flow and lyrics, along with its solid beat. The song did its part in getting us interested after Astroworld's release. Nice one, Travis. Parker Leathers '21 thought that the single "br[ought] back the iconic sound of Astroworld"
Birds in the Trap Sing McKnight
Birds in the Trap is a good album following his unforseen return from Rodeo in 2014. Most people gravitate towards goosebumps featuring Kendrick Lamar, which is in fact one of my personal Travis favorites, but there are other good songs on there. He really made some serious songs that seemed consise and striaght to the point, unlike his longer songs in Rodeo. While the beats he uses are magnificent as usual, his lyrics don't stand out as much. Yes, he has overall flow, but the lyrics themselves are not as spectacular, and so that the album is lacking. I am listening only to his main radio bangers such as pick up the phone, beibs in the trap, and way back honestly, I don't feel like spending the time to look through the rest. Good album in terms of his development as a rapper, but not lived up to his potential. Interesting how most of his songs are in lower case. Does this allude to the album's melodramatic, lowkey vibes?
Astroworld
2018 Album of the Year. I'm calling it right now. Cardi B snubbed him. It took him a while to release the highly-anticipated Astroworld, but it was definitely worth the wait. The album really amplified his growth and created a broader community of fans that we've never seen before. At this very moment, I find myself relistening to songs on the album that I hadn't kept on repeat before such as 5% Tint, CAN'T SAY, NO BYSTANDERS, and WHO? WHAT?!. The beats his producers manufacture are so mesmerizing that they cause the listener to ignore the lyrics and just listen to the background rythm. While fans say that beats often carry songs, it is also the lyrics in Scott's songs that make them out of this world, making allusions about everything from his childhood in Houston to other artists' lyrics.
What really stands out to me is probably the switch-up of beats, especially emulated in STARGAZING and SICKO MODE. Beat switch-ups are often a risky strategy to grab the listener's attention, as they can ruin the track's energy and liveliness or distract from the actual song. However, listeners on this album hear the opposite effect. For example, Scott's switch-up in STARGAZING increases the intensity of the song, using a more fast-paced, animated beat, almost taking them to a new time and place. It creates a new vibe when you listen, instantly grabbing the listener's attention. There are plenty more elements of the album that I could go over, but we already know how great the album is. Also interesting how most of his songs are in upper case this time. Does this serve emphasize the songs' upbeat, high-intensity vibes?
Conclusion
Travis Scott has and is going to do big things in the rap game. We have to see what he comes up with next. He's been starring in a bunch of features and remixes such as Young Thug's Hot Remix and Hop Off A Jet, but it seems as if a new album may be in the mix. He may just be taking his time to produce a quality album or just some time off in general, but all I can say is that Scott is ready for this new decade.
Leathers remarked on his rapid rise to the top, commenting, "Travis Scott emerged from seemingly nowhere, but his debut album, Rodeo, and his second album, Birds in the Trap Sing McKnight, were hits. Antidote from Rodeo was his breakout song that kick-started his career, and goosebumps from Birds in the Trap pushed him even further. His next solo album, Astroworld, was hyped up for a long time and did not disappoint."
Stay tuned to The Roundup for more artist spotlights!