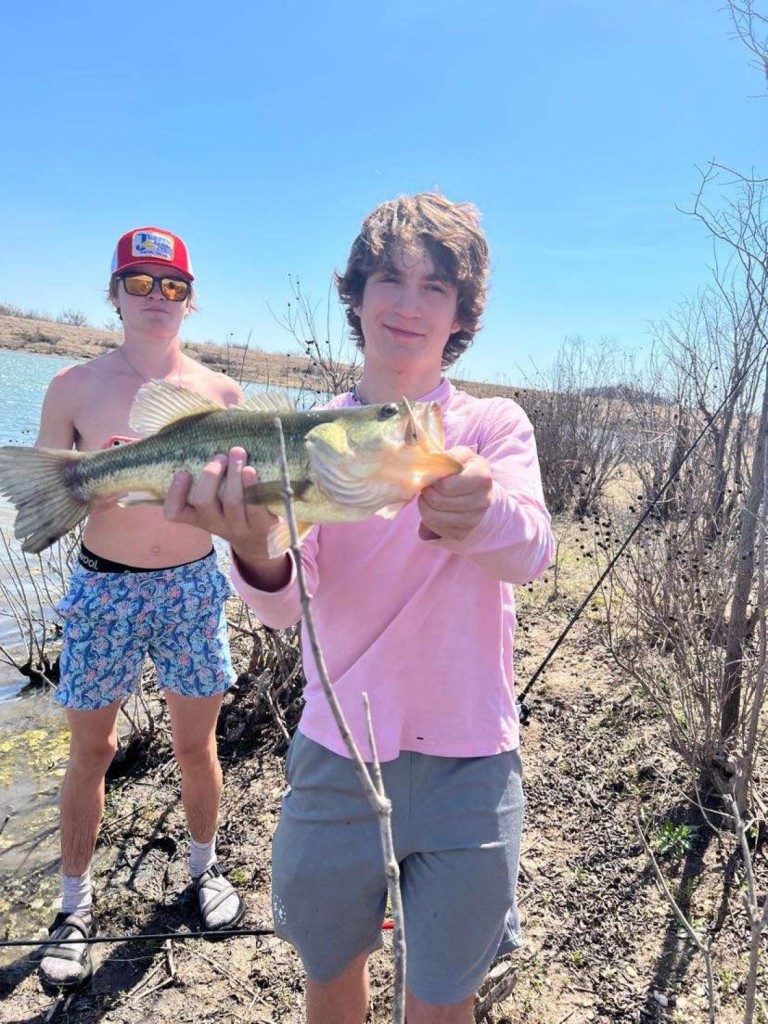 In general, fishing as a sport has become more competitive in recent years especially in the Dallas metroplex, whether it be a tournament or just as a time to spend with family or friends on the water. Fishing tournaments have continued to grow and expand throughout Dallas metroplex lakes, that participate in bass fishing and even bow fishing.
Recently, I had the privilege and honor to interview members of the new Fishing Club of Jesuit, monitored by Mr. Menard, head coach of Wrestling. I met leader Henry Beckman '24, and member Troy Menard '24 over both of their thoughts and what the goal of the club is.
Interview with Troy Menard '24:
Who created the Fishing Club? What is the overall goal as a club?   
"It was Henry Beckman's idea to create it. It is privately owned land that Henry's family owns and we also go to other ponds too. The goal of the club is to fish with your community and create relationships out of it of something that you like to do and learn something that people do not know how to do. We have been on two trips now, and they have been both successful. In a sense, this club is competitive through learning from each other and utilizing different tactics to catch fish."
How long has the club been around?
"The club has been around for about a month or 6 weeks."
What method of fishing do you do? 
"Some people use baitcasters and use open real rods too. There are a variety of plastic worms and crankbaits, that we use as bait and lures."
Do you compete in any tournaments or have plans to?
"We do not plan to go into a tournament anytime soon, but plan on fishing as a group and getting to know each other to cherish moments with one another. The club is set to not be competitive. The main idea is to gather as a community and share each other's company while fishing and having a good time!"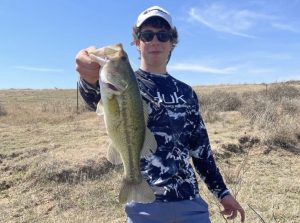 Picture: Bobby Musso '24 with a nice bass (via Jesuit Fishing Club's Instagram)
Where do you guys generally fish? 
"Looming to go to a variety of different locations both familiar and new. On our first two trips, we went to private farm ponds/lakes and along the Brazos River just west of Dallas.
How many times do you meet as a club at Jesuit, and how many times a month do you fish?
So far, we try to fish once or twice a month, but we meet as a club on Thursdays during community time.
Do you have many new members, that are developing or are new to fishing?
"We currently have around 32 members, that have mostly fished before and a few that are beginners and just started.
Who can I contact about joining the Fishing Club?
You can contact Mr. Menard if you see him in the hallways, Henry Beckman '24 the leader, and myself if you are interested. We normally and occasionally meet in B113 on Thursdays, but not always in the same room.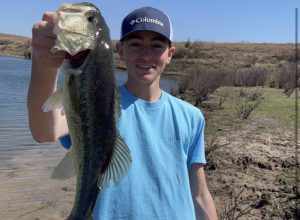 (Myles Vinyard '25 Picture via Jesuit Fishing Club's Instagram)
I also conducted an interview with the leader and founder of the fishing club Henry Beckman '24 on his thoughts of the development of the club and his goals for the club.
What has been the best memory so far on any of your fishing trips?
"So far my favorite memory on any of the fishing trips is definitely seeing a smile on people's faces that rarely go fishing, it brings me joy to realize sharing something I love for fellow students at Jesuit. For example, Matthew Toker '24 caught one of his first fish, and went crazy and was surprised."
Did you expect a large turnout starting this club?
"So, I expected a large turn out I asked a lot of friends about joining. And I think the news got passed around eventually."
What really helped you come up with the idea of the Fishing Club in the first place?
"I wanted to join the Fishing Club originally when I was viewing clubs on the Jesuit website researching for clubs. In my freshman year, I decided that I wanted to restart it and make one for everyone to enjoy fishing.
Do you expect more underclassmen (class of 2026) to join next year?
"I do we already have a lot of freshmen already that have joined. So I expect the same thing for the class of 2026, many freshmen have siblings, and that will help. There are many members, that have siblings in the class of 2026 as well and I have a sibling. So that is exciting."
Do you plan on fishing in the month of May and even in the summer months as a club?
"We definitely do. And have some things planned, and even have a trip in the summer in Oklahoma to fish the Blue River just east of Lake Texoma probably around June during a weekend for summer school."
Now, I decided to ask Henry some more interesting questions about his preferences and personal opinion questions.
Bass Pro Shop or Cabela's?
"Definitely Bass Pro for fishing."
What is the biggest fish you have caught?
"I have caught a 40-pound red-fish off a fly rod. I caught it in Louisiana."
If you would like to learn more about the fishing club, contact Mr. Menard or Henry Beckman '24. His email is 24021@jcpstudents.org.
Stay tuned to The Roundup for more club information and profiles!