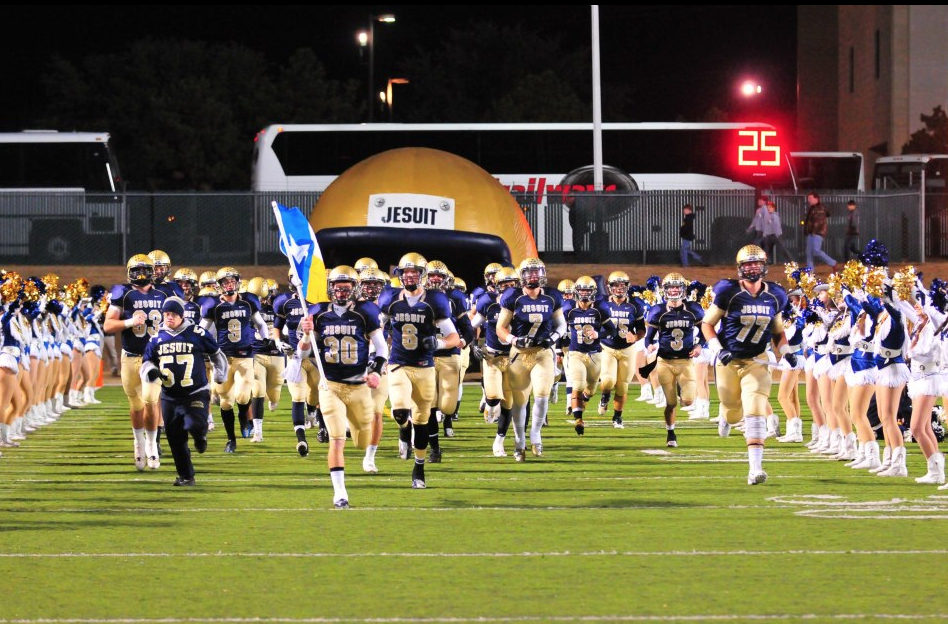 Coach Brandon Hickman, head coach of the Rangers, told his players Wednesday before Thanksgiving, "When I think of Thanksgiving, two things come to mind – family and football."  For the first time in a long time, your Rangers were playing Thanksgiving weekend.  With alumni, out-of-town relatives, and friends travelling for the holiday back to Dallas, more eyes were on Jesuit football than ever before.  On Saturday, November 24, Wildcat-Ram Stadium in Richardson was packed as Jesuit, coming off a win against McKinney Boyd, took on the Longview Lobos.
A highly anticipated matchup, Round 2 of the playoffs put more pressure on the Rangers to win.  Jesuit started the game slow and could never really get the ball rolling.   Kicker Cody Wicker '13 gave Jesuit an early 3-0 lead, but Longview responded with a touchdown.   QB Jack Brezette '13 then led Jesuit down the field to connect with WR John Berend '13 for a touchdown to regain the lead, snapping Longview's streak of 16 straight quarters without allowing an offensive touchdown.   Then Longview got things going offensively after RB Tory White broke an impressive touchdown run down the Longview sideline 99 yards.  Wicker added a field goal right before the end of the 1st Quarter, but Jesuit was still down by 1.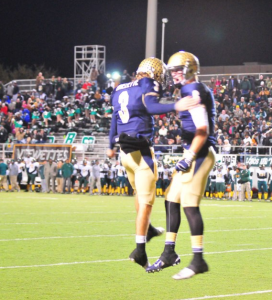 The Rangers responded with a quick strike in the 2nd Quarter to get a 19-14 lead, as WR Jake Oliver '13 hauled in a 20-yard pass for a score.  This was the last time they would lead as the Lobos never looked back.  All before halftime, Longview scored three touchdowns by way of WR Dorian Leonard catching a pass, Tory White pounding in another, and Andres Perez booting a field goal as the clock expired.
Down 31-19 at halftime, things did look bleak for Jesuit, but the players never lost their composure.  Words of encouragement uttered from players mouths, such as, "Remember Ireland," and "Do it for each other. Fight."  In the locker room, coaches reinsured that coming back was a possibility and to never quit, because if any team could do it, it would be this one.
Coming out of the helmet tunnel at halftime, Brezette poured out his heart through his words, saying, "We've come too far to fall apart now.  This is our moment.  Do it for the man standing next to you."  Nonetheless, the ground game of Longview was nearly impossible to stop, as the running backs for the Lobos ran like bulls and couldn't be brought down.  Longview unleashed even more in the 3rd Quarter as RB Jamycal Hasty punched in a score and WR Colin Jeter made an impressive snag for a touchdown.  Jesuit was scoreless in the quarter.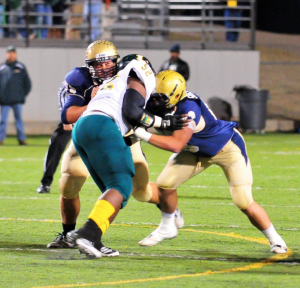 At the start of the 4th Quarter, down 44-19, Jesuit needed more time and more execution to slim the margin.  To open the quarter, Oliver caught his second touchdown on the day, to move into second place on the state list for career touchdown receptions with 56.  UT standout, Jordan Shipley, who played for Burnet and Rotan from 2000-03, holds the record with 73.  That was it for Jesuit.  The Lobos went on to score two more to make the final 57-25, racking up a total of 468 rushing yards to get the win.
Stats for the game:
Passing
| | | | | | | |
| --- | --- | --- | --- | --- | --- | --- |
| Name | Comp | Att | Pct | Yds | TD | INT |
| Jack Brezette | 20 | 43 | 46.51 | 261 | 3 | 0 |
Rushing
| | | | | |
| --- | --- | --- | --- | --- |
| Name | Att | Yds | Yds/Att | TD |
| Pierce Durham | 13 | 49 | 3.77 | 0 |
| Orion Salters | 5 | 15 | 3.00 | 0 |
| Preston Young | 5 | 15 | 3.00 | 0 |
| Jack Brezette | 3 | -1 | -0.33 | 0 |
Receiving
| | | | | |
| --- | --- | --- | --- | --- |
| Name | Rec | Yds | Yds/Catch | TD |
| Jake Oliver | 13 | 173 | 13.3 | 2 |
| Taylor Tibbits | 2 | 50 | 25.0 | 0 |
| John Berend | 3 | 24 | 8.0 | 1 |
| Orion Salters | 2 | 14 | 7.0 | 0 |
At the end of the game, tears rained down from seniors who couldn't believe the ride was over.  Despite giving 100% of themselves, the Rangers still couldn't secure the win.   The locker room post game was extremely emotional, and somehow Hickman was able to bring his players together.  "Through it all, you never gave up, never thought we wouldn't win," he said, "I'm so proud of each and every one of you because you all have learned to never quit."
Losing is never easy, especially with so much on the line.  An outpouring of emotion came from players after the game, particularly on Twitter and Facebook:
WR Jake Oliver '13 (@joliver_6):
"That's a wrap, love my jez family you mean the world to me"
DT Paulo Salazar '13 (@PauSal07):
"Love you Jez fam.  Thanks for the memories."
LS Charlie Turano '13:
"Thank you to Jesuit football family for my highschool football career. They have helped me be the man I want to become. I'll never forget it. All in and all out"
WR/DB Orion Salters '14 (@O_Salt2199):
"I'll go to war with y'all boys any day! Great season #jezfootball"
OL Jack Summers '14 (@jsumm63):
"Thanks for an amazing season seniors you guys will always be my family #allinallout"
DT Taylor Stine '15 (@taylor_stine96):
"Love every single guy that was apart of that past year. Y'all are family and I love y'all to death. #allinallout #greatestyear"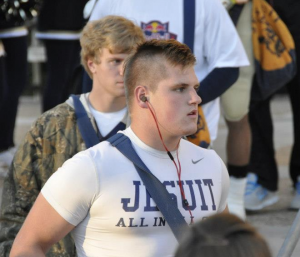 All of these posts by players serve as a testament to the heart and character of every player that made up your Jesuit football team, but in the words of Coach Hickman "All good things come to an end unfortunately."  While the end of a historic and entertaining season is sad and heartbreaking, it is much better to look back on it as a whole – a win in Ireland, a record-breaking wide receiver, a bi-district championship.  The football program has great things ahead of them in the words of Coach Jeremy Weeks (@JesuitIron), strength and conditioning coordinator, at Jesuit:  "Thanks to all the seniors for setting the tone for #jezfootball and the future of the program. #AlwaysGrinding."
Look for great things to come from your Rangers in the future.