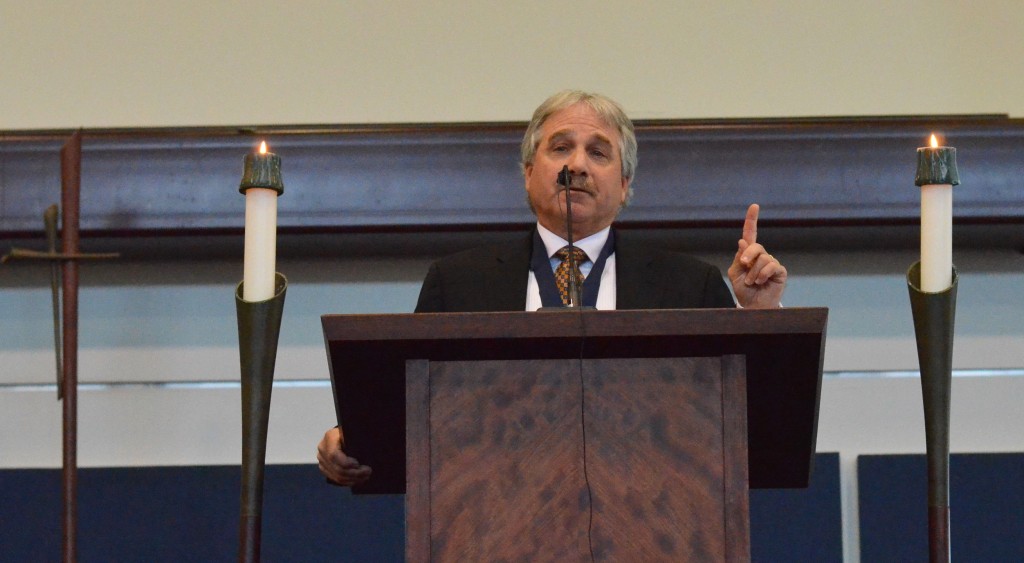 "The Distinguished Alumnus of the Year Award is very special to the school because really it epitomizes a model of what we want our students to aspire to," said President Mike Earsing during the Distinguished Alumnus Prayer Service.
The winner of this year's coveted award is Doug Brooks, Class of 1970.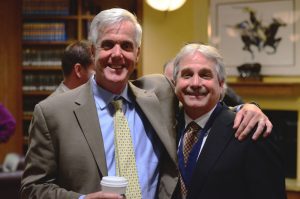 Although Doug wasn't the "best student," he managed to achieve success and become the CEO of Brinker International through hard work and determination, and touched a lot of lives a long the way.
Doug's first job was at Neuhoff Meat Packing Plant with friend John Neuhoff '70. As Neuhoff puts it: "It wasn't too glamorous…I remember looking at Doug as we went through those factory gates and asking him if we could make it one more day loading trucks and sweeping blood off the floor. I like to think those days at the meat packing plant gave Doug his work ethic and made that first day at Chili's paradise."
Doug attended the first 7th grade class at St. Rita's where he was on the first St. Rita's football team in 1964. He played quarterback, and, as fellow classmate and football player Herb Roberts '70 remarked, "We didn't win a lot of games, but we had a lot of fun."
While at Jesuit, Doug was involved in an array of activities, including the newspaper staff, the yearbook staff, the basketball team and the baseball team.
"I think the experience at Jesuit was instrumental at getting Doug started by instilling in him the values of hard work, determination and giving to others," said brother Lewis Brooks '69.
Once Doug graduated from Jesuit he attended the University of Houston where he received his degree in Hotel and Restaurant Management.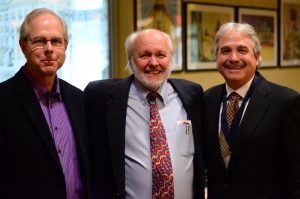 But after graduating from college, Doug was involved in a tragic car accident where he was smashed up against a wall. If the car had come only slightly farther, he would have been killed. However, he was rescued and had to have one of his legs amputated above the knee.
As painful as it was, Doug was able to turn his personal challenges into a motivation to help the community through organizations like Kenny Can Foundation, Limbs for Life, and St. Jude's
"I thought he was a great example. We're all faced with adversity, but what do you do with that, fold like a cheap tent? Or do you work to make that into a positive experience," said President Mike Earsing.
Assistant Principal Fred Donahue remarked: "He understands the obligation to service. For a guy who's been so successful in business, most of the stuff he talked about wasn't about that. I am very pleased to hear his message as someone we picked as Alumnus of the Year."
Kevin Mullan, Director of Alumni Relations, said that "Doug Brooks really stood out not just because of his professional success as the CEO of Brinker International, not just because of his personal success and the example he sets as a father, a brother, and an uncle, but really it's the work he does in the community and how he turned a personal tragedy into such incredible service work with organizations like Kenny Can Foundation, Limbs for Life and St. Jude Children's Hopsital."
In his acceptance speech, Doug Brooks emphasized hard work and the need to keep striving to achieve a higher goal: "While there are good businesses, there are no perfect ones; while there are good husbands, there are no perfect ones; while there are good students, there is no perfect student."