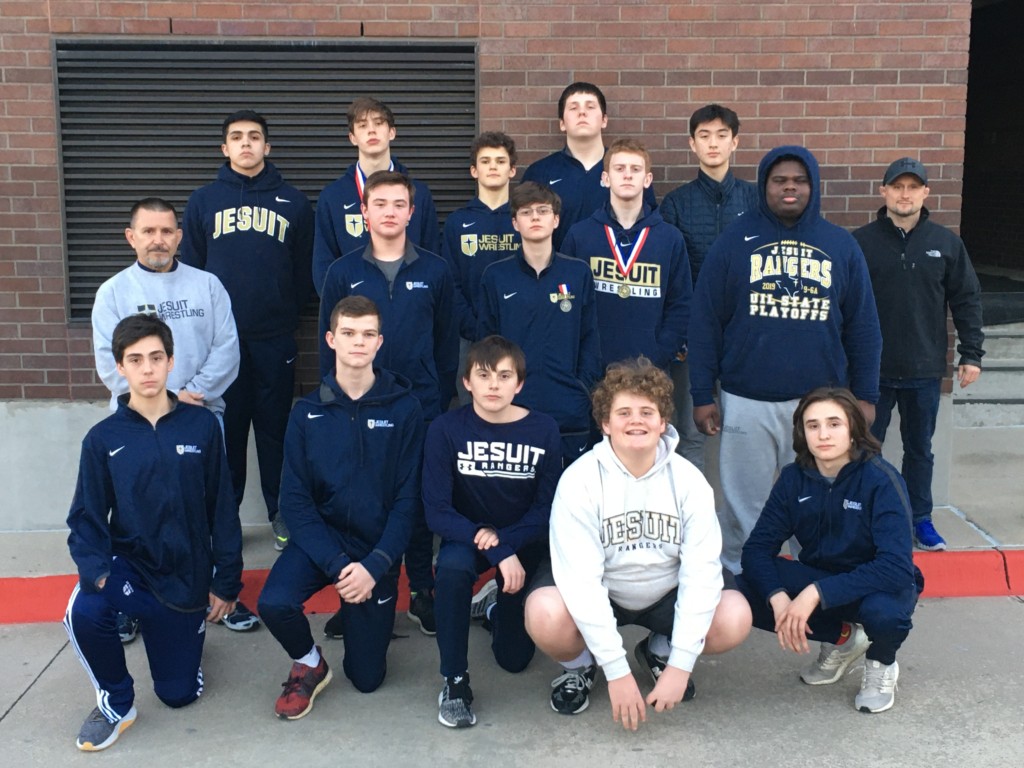 Due to the pandemic, the Jesuit Wrestling Team has just begun practicing. However, they would normally compete during this time of the year. Given these circumstances, I asked Head Wrestling Coach Ryan Menard questions about the team's changes and their response to the virus.
"Could you briefly summarize the offseason so far?"
"We've only been on the mat for 6 days, so obviously, we haven't been practicing for very long. Collectively, the school was waiting for guidance from the UIL before we could actually get into the wrestling room. The wrestlers were really anxious to get on the mat, so it is great that practices have started. These offseason practices are for our boys who aren't in season, as we have a lot of wrestlers who play football. Overall, I think that the practices have been going very well, especially given the current situation with COVID."
"What are the practices like with COVID?"
"Well, the state has given us multiple guidelines. Those guidelines include social distancing and staying masked during technique sessions. Additionally, they want us to be put our wrestlers into groups of four and have them stay in those groups every day so in case one gets infected. That way, there is contact tracing, as they will know who the infected wrestler has been working out with every day."
For more information on the UIL's response to COVID, read here.
"How can the team improve?"
"For starters, we're always looking for more boys to get involved, so an increase in numbers always helps. Ironically, despite being in a COVID year, a year where you'd expect us to lose participants, our numbers have actually increased quite a bit. There are 30 boys on the roster who plan to participate during the full season, so we're pretty happy with the turnout.
Right now, it's pretty hard to determine where everyone is at skill-wise, but I can tell that a lot of the veterans are rusty. Until we get to physically compete, it will be tough to evaluate where everyone is at. However, I am confident that the guys will be ready if we are to have tournaments. The practices are going well, as all the guys have been really enthusiastic. Subsequent to our return from Christmas Break, we will plan to practice every day after school during the regular season."
"How will this upcoming season compare to previous seasons?"
"The UIL keeps postponing their decision on whether or not we'll get to compete in tournaments. The thing is, in wrestling, there are 14 weight classes and roughly 26 teams per tournament, so I doubt they'd put that many people into a gym during the pandemic. I think the UIL is just waiting to see what happens with COVID. The latest update we have received is that they will release their decision following Thanksgiving.
In terms of the time frame for our season, they have released set dates from start to finish. The season got cut from 3 and 1/2 months to two months, so we are working with a much smaller timeframe. Thankfully, we do have a lot of duels scheduled, so this season will most likely be focused on duels unless the UIL permits tournaments."
"Finally, do you have any wrestlers you'd like to acknowledge for their hard work?"
"I think that this year, we really have a strong group of leaders. Specifically, Jack Mcclure, Oscar Jarmon, and Josh Montemayor have been really consistent with their work ethic and passion, both on the mat and in the weight room. They all lead by example and have improved tremendously with each season."
Even with the pandemic hurting many sports, the Jesuit Wrestling team made the most out of the rough situation. Jack Mcclure '22 stated that "the wrestling team is committed to working hard and preparing for the new season." I'd advise anyone interested in wrestling to have a chat with Coach Menard. He "encourages anyone with a remote interest in the sport to talk to [him]."
Remember to check back to The Roundup for more Jesuit Wrestling updates!