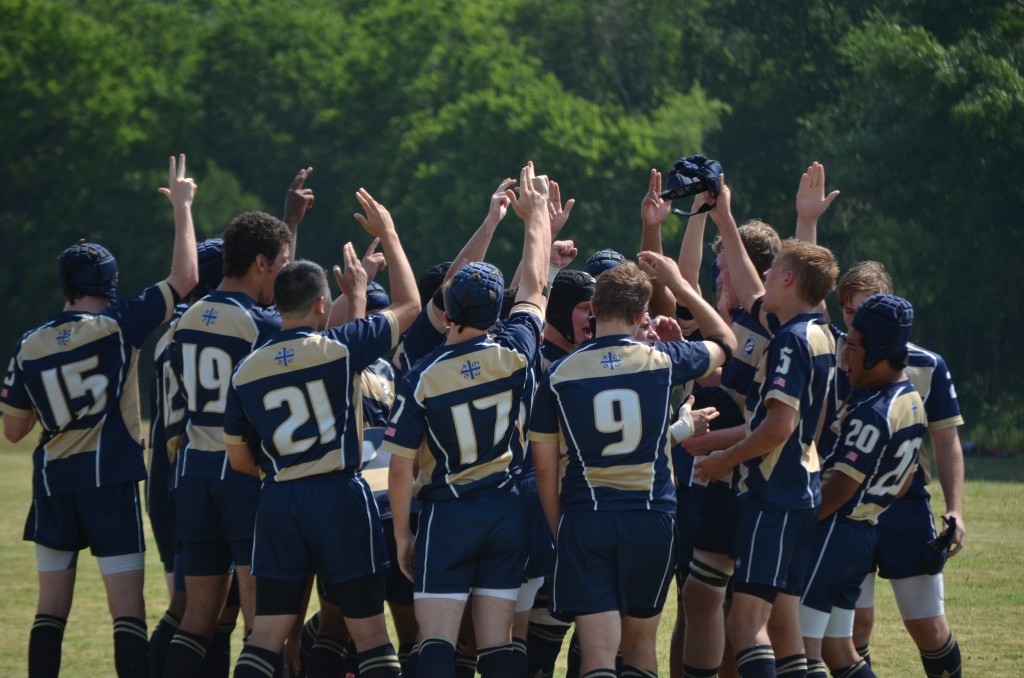 "Congratulations.  You are the Texas State Champions."
Any Jesuit athlete, from any sport, from any background, and from any year in high school, yearns to hear these words.  Ultimately, this phrase inspires our Jesuit Ranger athletes to work their hardest every day.  Nonetheless, this phrase can come after a season of dominance or a season of luck.  This phrase, to some players, means the end of their competitive athletic career or the start of a brand new one.  This phrase makes the year, if not four, of hard work worth every bit of it.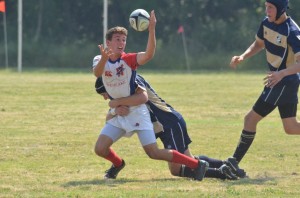 This season for the Jesuit Rangers Rugby team has been no easy campaign.  After graduating seventeen Seniors, twelve of them starters, with the 2011 class, Coach Anthony Mattacchione, a Texas legend of a coach, did not know what to expect this year.  With only three returning starters this year, Mattacchione feared it might have been a rebuilding year; however, this team was special.  The coaches began the year believing the team would struggle to find their rhythm, find their chemistry, and find that special winning formula.  Yet, this team was able to find all these fairly quickly.  Soon enough the returning Seniors, Juniors, and Sophomores were becoming the tightly knit squad they were all of the 2012 season.
Regarding the philosophy of his program, Coach Mattacchione explains, "We try to tell the kids it's their program. The more stuff they do outside of practice, the better for them."
Summer practices were a big piece of this team.  With a very young team, camaraderie would play a big piece in the team's success both on and off the field.  As the Seniors left, their places were filled with eager freshmen willing and ready to sacrifice their summers to be welcomed into the squad.  For many of the summer practices, most of which were touch-rugby, the seven freshmen were willing participants and showed bright patches.
The final roster was announced and the team was comprised of seventeen seniors, eleven juniors, fifteen sophomores, and eight freshmen.  This team would not be categorized by their number of upperclassmen and intimidation factor, but rather by their willingness to unite as a team.
The Rangers ended their season with an overall record of 9-3 with some memories and legends along the way.  Their opening game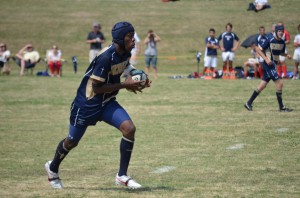 against Coppell saw the Rangers put up 53 points to Coppell's 0.  Sophomore Austin Gustafson '14 described the game as "insanely exciting" and "hopeful for a great season."  However, the highlights did not end there.  The last game of the regular season saw Jesuit line up opposite the Allen Eagles.  The Rangers charged to victory as they demolished the Eagles an astonishing 87 to 0.  Nevertheless, the accolades did not end there.  A playoff berth was inevitable for a team that never had the same fifteen players starting.  Through skill, injury, and academic ineligibility, this team wasn't able to always play the same style of Rugby, but these obstacles didn't matter to them.  Even the seniors were prepared to sacrifice by playing only five minutes if that helped their team to a victory.  This season was certainly a special one.   "It's been great," said Cody Gee '14.  "We feel like we are living a dream."
The team was not yet satisfied, as they looked toward that coveted phrase, a matchup with a talented and well coached Austin Westlake team stood in their way.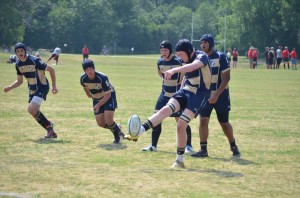 On Saturday May 5, the Rangers lined up against the Westlake Chaparrals.  After a tremendously exciting game, the Rangers emerged as the losers.  The Chaparrals won 20-12 in one of the most exciting games of the 2012 Texas Rugby Season.  In a show of how resilient the team's spirit was, the next day the Jesuit Rangers crushed El Paso Cathedral 54-5, to finish 3rd place in the state of Texas.
This season was nothing short of brilliance – brilliance in the coaching, brilliance in their playing, and brilliance in their effort.  Ultimately they came up just short but not before showing Jesuit fans what being a Ranger athlete is all about.  Their demeanor, skill, honor, and unity will probably never be matched by another team.  It's fair to say that this team not only exceeded their own expectations, but they set a mark that teams will try to match every year.  They may not have been able to be crowned Texas State Champions but their team will live forever in Jesuit Rugby History.
Junior Garrett Stanford sums up the season as "a year of [his] life [that he] will never forget."  He added, "Being able to have this much fun and be this successful is a great feeling.  It didn't end the way we wanted it to, but there's always next year."
Congratulations to the 2012 Jesuit Rangers Rugby team on their 3rd place finish, and good luck to the graduating seniors.  Great things are to come from Jesuit Rugby in the future.