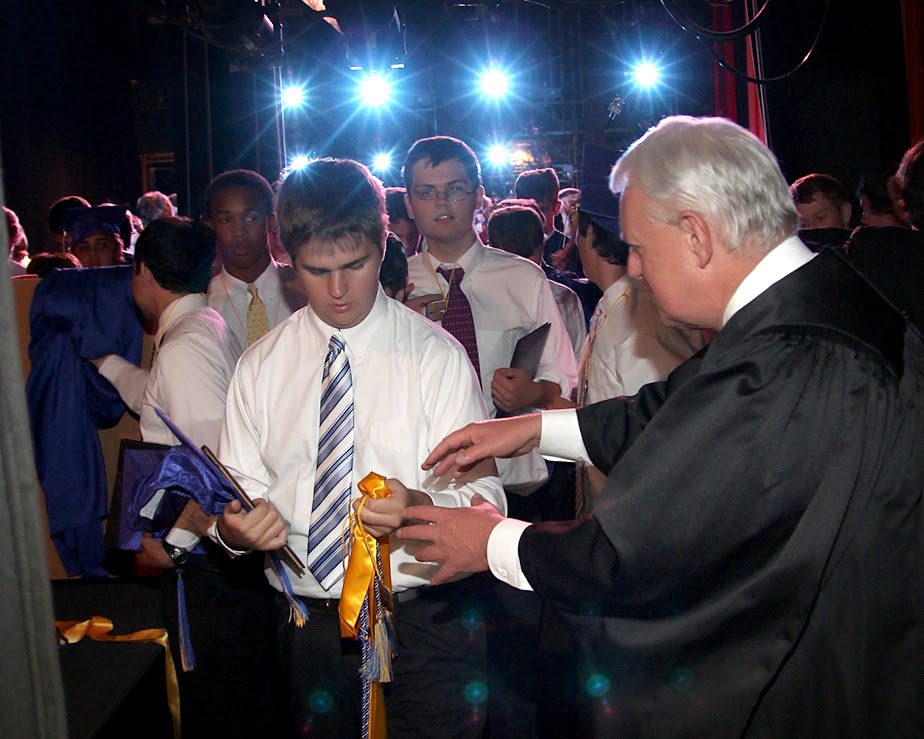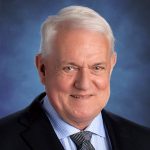 It's a rare instance. The door to the office is open, and no one else is inside. You enter the room, taking a seat in one of the plush, high-backed chairs. You fish a piece of paper out from your backpack, an essay that has taken you hours to write. Mr. Oglesby, seated at his computer, swivels his rolling chair around and accepts the paper, slowly donning his black, thick-rimmed reading glasses to study the page.
How will the "college guru" like your essay? Will he love it? Or will he discard it in the wastebasket? It's the moment of truth, the moment that will decide whether or not your hours of writing have been in vain.
For 35 years, Oglesby has been helping Jesuit students find and get accepted into their dream colleges, from state schools like as Texas A&M, Texas, Arkansas, and Oklahoma to private schools such as Rice, Notre Dame, Duke, and the prestigious Ivy Leagues. He has written thousands of recommendation letters, edited first and second and third drafts of essays, befriended countless college admission agents at various universities, and given advice to Jesuit seniors for as long as anyone currently at Jesuit can remember.
However, this year will mark a significant turning point in Oglesby's 44-year tenure at Jesuit. As one of several distinguished faculty who will be moving on after this year, including Mr. Bob Lanier, Ms. Jan Jones, and Assistant Principal Mr. Fred Donahue, Oglesby has counselled his last class of students.
According to Mr. Matt Shoemaker, Oglesby's partner in the College Counseling Department, the official title of Oglesby's leave is actually a "transition," not an official retirement. "You will still see him around campus from time to time," explained Shoemaker, "but it will be in a different role. I think that's because the Jesuit community can't stand to think of him not being here. And I don't think there will ever be a time when he won't be here. And that's a good thing."
Oglesby took a very unique path to Jesuit before his eventual arrival in 1971. "It took me a long time to figure out what I wanted to do," said Oglesby. "I went to college thinking I wanted to be a doctor because that was what everyone said that's what I'd be good at. But I very quickly realized freshman year of college that I didn't like biology, I didn't like chemistry. Being a doctor was something I thought I wanted to do—it just sounded good."
Instead, Oglesby ended up majoring in Economics and English, thinking that he wanted to go to Law School. However, as he started Law School, the Vietnam War had just begun and many of his best friends were being sent over to fight. Though he had exempt status in Law School and his parents "begged him not to go," Oglesby realized he "didn't like Law School," and thought, "I don't want to do this."
"I kept thinking about the fact that most of the people I knew and went to college with were all being trained to go to Vietnam. I quit Law School and went to the military. Ironically, when I went to the military they trained me to be a medic."
Wounded in Vietnam, Oglesby went to Japan to recover, living there for a year. After finishing his military commitment in Washington D.C., he was offered a job with a stockbroker, but once again realized that this wasn't the career he wanted.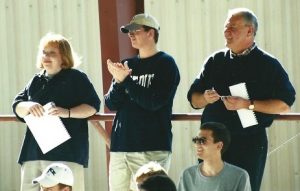 That's when Jesuit came calling: "I was getting my Ph.D. in English when I was told there was a job at Jesuit because someone had quit a week before school started. They just needed a body with a degree. They hired me on Friday and I went into work on Monday. When I walked in the door a priest named Father Kitten handed me the book that I would be teaching from, a key, and a roll book and said, 'Go teach in that room.'"
"After I taught the very first week, I was like, 'This is fun. I like this. This is what I think I want to do,'" said Oglesby. "I woke up and I'm here, and 44 years later I'm done. I still know the kids from that very first class. They are about 60 now."
Even current students realize Oglesby's loyalty to alumni. Nico Rodriguez '15 emphasized that "Mr. Oglesby has become a part of Jesuit. He still helps hundreds of alumni that are in need of guidance and advice. He is always willing to answer any question [anyone] may have and somehow remains calm after hearing the same questions asked a million times. He will be greatly missed."
Mr. McGowan best described Mr. Oglesby's teaching methods as "Unconventional. And the students loved him. They loved being in his class. He taught less English and more life lessons; that was the impression I got. He was very concerned with the whole student and turning boys into men and maybe less concerned with writing and English."
Oglesby eventually switched from English teacher to counselor nine years into his Jesuit career. Having served as chair of the English department, worked with speech and debate, and run the yearbook and newspaper, Oglesby was approached by a member of Jesuit's first graduating class, Father Pat Koch.
"He was a phenomenal person," said Oglesby," and following Jesuit "he became a priest, came back, worked as a counselor, a teacher, ended up being principal, president, and went on to be alumni chaplain. He was my great mentor."
Koch asked Oglesby to make the switch to counselor. "At that time, there was an elderly priest who was doing counseling. His focus was to see if people had a vocation–to talk about ministry and all that. No one had really done much true college placement," explained Oglesby.
In fact, college counseling in general was a relatively new concept at high schools across the country. "College placement as it exists now did not exist until about 1975. Up until a certain time, you simply went to college by writing for a catalogue, writing to colleges that you wanted to attend. It wasn't until the mid to late 70s that the concept of college counseling began to evolve. With the advent of air travel, it became a much more mobile country, so for the first time, we could go away quicker. For a person in 1920 to go to college in the east it was a train journey, but by the 70s it was an airplane flight. That really changed things."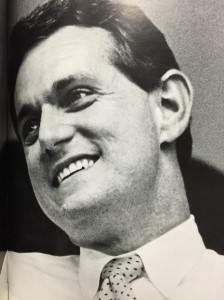 After training with the newly-established National Association of College Counselors and the College Board, along with taking classes in psychology, statistics, learning to retest, and others, Oglesby became an expert in counseling. Plus, he had nine years of teaching experience.
"That was invaluable because I already knew how Jesuit kids thought. We were really creating a whole new concept of college placement and the counseling office. We went from 2 people to 3 and now we're at 9."
Oglesby has helped hundreds of students through the daunting process that is college placement.
Even past students of Oglesby's remember the impact that he had on their college application process. Jesuit Principal Mr. Tom Garrison '92 remembered Oglesby fondly from when he was in school. "He was my senior guidance counselor and my college placement counselor. He was wonderful. We all looked up to him. We all loved him. Each grade level counselor had their own office with a common area next to it. We'd sit back there and talk about colleges [with him]. He was always around and helpful. That was our hangout back there."
Current students express the same sentiment. Zander Enturkner '15, the 2014-2015 Student Body President, highlighted that "Mr. Oglesby's honest guidance to me throughout my college process truly helped me to gauge what I wanted in a university. Furthermore, Mr. Oglesby's openness and availability allowed me to become a better student and man. I will always remember the impact Mr. Oglesby made on me in my time at Jesuit."
Over the years, Oglesby has served as a mentor to many of the faculty, from teachers to counselors. However, he will never force mentorship upon any of them. "He has mentored so many people," said Mr. Shoemaker, "but I appreciate and respect him more because he didn't act like a mentor. He just is that. He didn't try and take me under his wing. He's always there for guidance and support. So it's naturally mentoring but I wouldn't identify it as that. He didn't force that on me."
Long-time English teacher Mr. David McGowan '69 noted that Oglesby has "mentored us including me when I first started here." Particularly, McGowan was aided by Mr. Oglesby's psychological knowledge of the adolescent male. "He explained the psychology of teenage boys. He was always interested in the psychology of teenagers and development. He's been very useful to me and a number of faculty members over the years and could explain 'Why did this kid do that?' He'd always have a good explanation. He'd say, 'Don't take it personally. It doesn't have anything to do with you; this is what he's dealing with.' He always helped me put everything into perspective."
After investing so much into the school, its students, and its faculty, Oglesby has decided that the time has come to conclude his journey at Jesuit. One year of teaching turned to five, then five to ten, and so on. Forty-four years later, he points out that "I just thought as long as I'm having fun and I enjoy the kids, I'll stay. I stayed because of the students."
When asked what he will miss most about Jesuit, Oglesby repeated without hesitation, "The students. Students. Students. Students."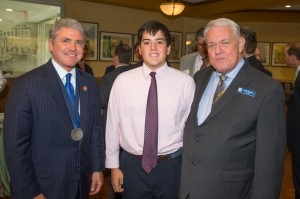 The reason for his transition is not the students, however. "The kids are still great," he promised, "and I still love parts of the job." He made the analogy that in the same way that "it would be wrong for an 18-year old senior not to go away, it's wrong for this senior citizen to not go away."
At age 70, Oglesby cited "the weariness of age" as the primary reason for his decision to move on. "I've had a lot of fun. It's been a huge joy," he asserted. "But I told myself that some time between 65 and 70 I would retire. Because I knew from experience and looking around and seeing things that there comes a point when you've stayed long enough. You've done your job, and it's time for younger, other people to do it. You just know—it's time to move on."
Mr. Oglesby really is a legend. "I feel like I got to be Steve Young watching Joe Montana in his last year," said Mr. Shoemaker. "I was sitting on the bench watching the best ever. That's what it was like."
Oglesby has experienced "generations of success," explained Shoemaker. "Jesuit is now at the point where any young man whose father went to Jesuit also knew David Oglesby."
Yet now that Oglesby's time at Jesuit is coming to a close, what comes next?
First of all, Oglesby will be going on a sabbatical. He'll travel to Northern California in the Bay Area to visit family and friends, and then he's visiting New York and New England for the fall. In the middle of winter, he plans to return to Jesuit to help out.
"I'm always available, of course, if they need me for something," stressed Oglesby. "The thing I want to focus on is that for 44 years I've got up every day at 4:30 in the morning and been at work by 6, and worked until I was done for the day. For the first time I'm looking forward to no schedule. That's the big thing—I will not have a schedule. That's why I'm going away."
When he returns, he "will not do college counseling. I will not be doing any counseling per se. I will primarily be focusing on alumni relations and helping [President] Mr. [Mike] Earsing in whatever tasks he assigns to me," along with fellow retiree, Biology Instructor Mr. Bob Lanier. The two will "help out and just be generally available," said Oglesby.
Mr. Garrison discussed Oglesby's sabbatical: "I think when you put in over 40 years at a place and you want to get some rest and travel a little bit you deserve that. I want him to be able to do that and enjoy it, but I know we'll miss him a lot."
Because Oglesby is the Director of Counseling and has been a mainstay in the College Counseling department for so long, the department will undergo somewhat of a makeover for this next school year.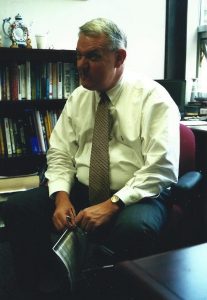 The counseling department has always used a "team approach," according to Oglesby. This year, the senior counseling team consisted of Mr. Shoemaker and Mr. Oglesby primarily doing college placement, and Mr. Fitzsimmons and Mr. Oglesby doing academic and personal advice.
In the fall, Mr. Fitzsimmons will provide academic, personal, and some college placement advising as the new Director of Counseling and Guidance. Mr. Shoemaker will focus on college placement like he's done this past year. Mr. Mark Knize will continue to serve as Assistant Principal of Student Affairs as well as advise 20-25 kids.
There will also be one new addition to the senior counseling team: Mr. Colin Hanley. Hanley, who has worked as an English teacher, will primarily handle academic and personal counseling.
Even though someone new will be sitting in his office and his counseling duties will be shifted to others this upcoming school year, Oglesby's impact and legacy at Jesuit can never be replaced.
"I'm happy for him and sad for us," lamented Mr. Garrison. "Sad because we'll miss him. There's several generations of Jesuit grads, including me, who remember him fondly and look up to him."
Though the Class of 2015 will be the last of many such generations, it has certainly been a year to remember, and this year's seniors will keep Oglesby's memory alive for decades to come. "He has been the calm both before and during the storm, of school and the college process," explained senior Jack Kelley '15. "When everything seemed hectic and stressful, he would offer peace of mind to all of the students about the future. He has been a true blessing, and I am extremely thankful for everything that he has done not only for me but also for my fellow classmates."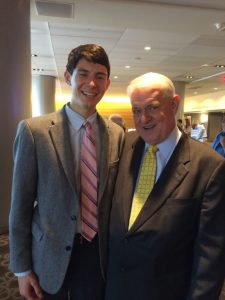 Personally, Mr. Oglesby was my closest advisor throughout senior year. He was instrumental in my college decision-making process. Mr. Oglesby was always honest with me and shared many pieces of valuable wisdom along the way. Through he was incredibly busy, he always had time to talk. I will miss our frequent discussions, but I'm so glad that I had the privilege to get to know him during his final year.
His career is coming to a close, but Mr. Oglesby is ready. It has been a fun ride, but all good things must come to an end. As Peter Pan once said, "Never say goodbye, because saying goodbye means going away and going away means forgetting." In this case, Jesuit's not ready to say goodbye.
For now, we'll just say see you later, Mr. Oglesby.