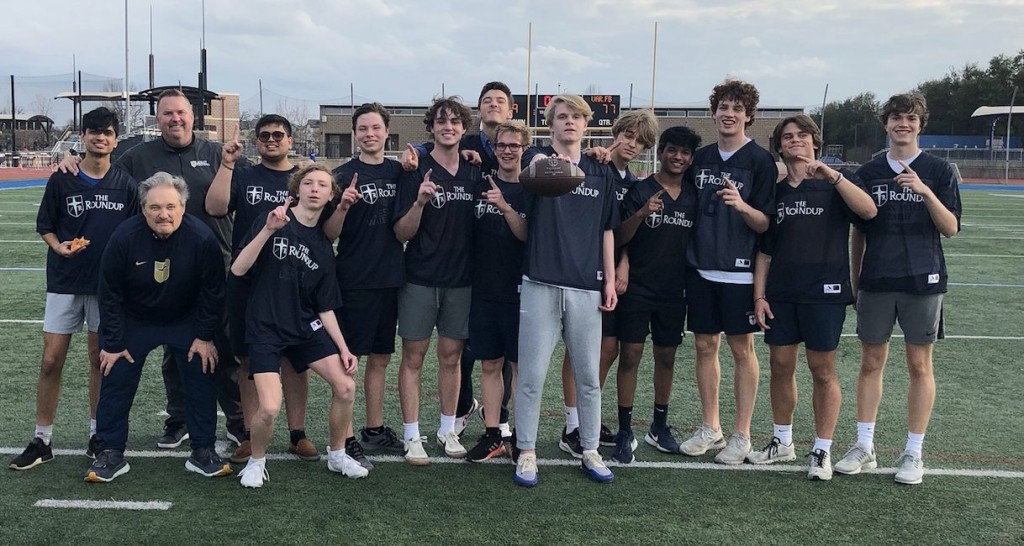 Every year when the Expository Bowl comes around, students scoff at the prospects of the blessed Roundup writers beating the varsity football team. "You've got no chance." "It's gonna be a blow out." "Can you guys even throw a football?" Such comments carry a snide cockiness to them that revels in the misfortune of others. However, this year such comments were proven wrong as the Jesuit Roundup beat the varsity football team 79-77, an accomplishment matched only once in 2014.
The game itself was a masterpiece in thoughtful execution of plays on both offensive and defensive fronts. Our own Chief Associate Editor, Logan Thompson '24, showcased marvelous leadership as our quarterback. His passes stripped the varsity football team of their spirits, making the Roundup a formidable opponent.
The Roundup's wonderful Managing Editor, Ajay Bhavan '22, showcased a true talent for the game of football. (He should honestly be starting on our varsity team.) We could not have won the game if it weren't for his many touchdowns and numerous defensive saves that kept the game so competitive.
A major shoutout must go to News Editor Grant Kostos '22. So many plays I heard players and coaches yell, "Look out for Kostos!" The Ginger Giant used his stature to score many touchdowns as well as block many passes.
No player brought as much energy to the field as Sports Editor Joe "Elm Tree" Elms. Joe's energy boosted our team's morale enough that we were able to turn a 63-77 score into 79-77 within 90 seconds.
While all of the aforementioned players showcased phenomenal performances, none of them compared to MVP Aarin Jain '22. His Herculean athleticism was no shocker. Aarin is one of the few athletes who can speak as fast as he runs (and he speaks pretty fast.) Aarin was easily the most feared player on the field, and next year's team will struggle without his contributions.
A truly accomplished feat came at the end. The Roundup was down 63-77 with two minutes left. We managed to score a touchdown, bringing the score to 70-77. Then with 90 seconds left, I witnessed some truly accomplished athleticism. The varsity football team had possession, and they came incredibly close to scoring another touchdown. However, the Roundup's defense was too strong, giving the Roundup possession once again with only one minute left.
Logan Thompson '24 passed the ball to Ajay Bhavan '22 to the tie the game 77-77. Everyone gets incredibly excited. With 30 seconds to go, the Roundup needed to score a two-point conversion to win, and we did it. Logan Thompson '24 passed the ball to Connor McSorely '22 and we won the game. It was an incredible sight to see. It was probably the greatest athletic feat in Jesuit history.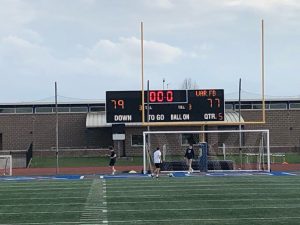 All of the players showed tremendous skill on the field, here are their thoughts.
Viewpoint Editor Tyler Gazzam '22: "Although I was not there in person- I am confident my spiritual presence helped ensure victory."
Sports Editor Joe Elms '22: "Every time the football team threw a punch, it seemed like we always had a way to punch back. I thought that when we had our backs against the wall, we never gave up and that determination helped propel us to the win."
News Editor Grant Kostos '22: "We want Bama."
Managing Editor Ajay Bhavan '22: "The Roundup vs. Jesuit's Varsity Football team may be the greatest rivalry in football history. Not even Michigan vs. Ohio State or the Iron Bowl come close. Winning this game is a higher honor than receiving an Olympic Gold Medal."
Special thanks to Jesuit Varsity Football Team for participating in this event with us, as well as our friends at JURB. Here's to playing y'all next year.