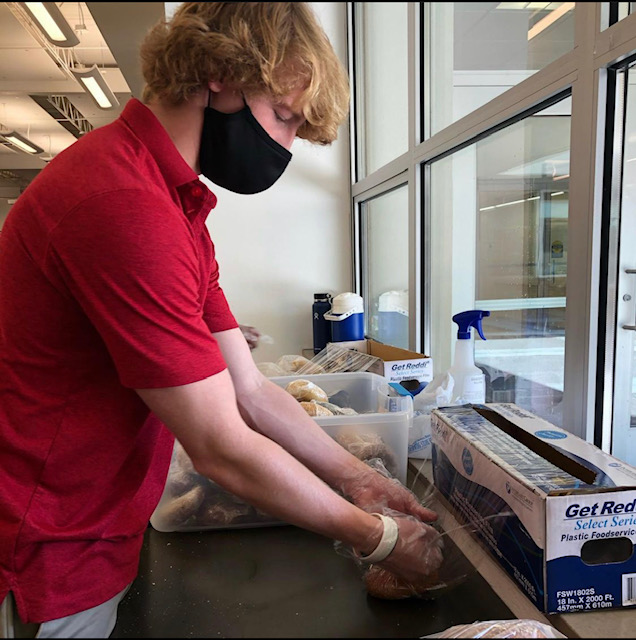 In spring 2020, the Jesuit Food Justice Initiative was established. Their goal: using the excess food prepared by Jesuit's food service vendor Sage to create meals for those in need. 
How does it work?
Every day, members of the Ignatian Service Corps or employees of SAGE package that day's excess food into to-go meals to donate to various agencies. The program has the ability to get creative with the meals. The Ignatian Service Corps uses the ingredients Sage provides to create meals containing a healthy mix of starches, proteins, and vegetables. The Initiative has also partnered with the Einstein Bros Bagels on Inwood Road to redistribute that restaurant's daily excess bagels day as part of the program. Each day, the Jesuit Food Justice Initiative sends out 10-12 trays of food in addition to 100-150 bagels. 
The program delivers the food to a rotating group of organizations each week.  The program's donation rotation schedule is:
Monday – All meals are donated to the Resource Center of Dallas. 

Tuesday – All meals are donated to the Stew Pot. This is a food service organization partnered with the Bridge, another local homeless recovery center. 

Wednesday – Because Jesuit holds only virtual classes on Wednesdays and has no food service, the program does not send food out on Wednesdays. However, all excess bagels from Einsteins are recovered, wrapped, stored, and sent out the next day. 

Thursday – The organization sends approximately 80 meals to the St. Judes Center, and 60-80 meals are sent to AIDS Services of Dallas. 

Friday – All meals are donated to the Stew Pot.
The program is currently working toward developing more local restaurant partners in addition to Einsteins. However, COVID-19's effects on transportation and local restaurant operations have posed obstacles to creating new partnerships. Despite the challenges, those in the program believe that their desire to create new partnerships and for the community to be a part of it too will soon lead to new restaurant program partners.
Remember to check back to The Roundup for more community service coverage!