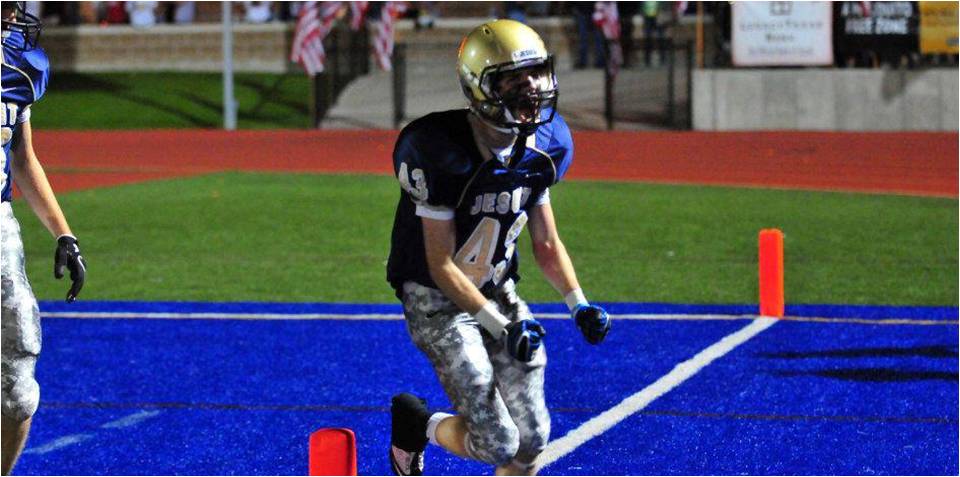 My dearest Jesuit Brothers,
As the summer begins to call the names of upwards of 1,200 students that attend Jesuit, that can only mean one thing – the school year is dwindling.  As for myself, that means my time at Jesuit is coming to an end.  Beginning May 25, 2013, my tenure as a Jesuit Ranger will, regretfully, be terminated as I walk across the stage at SMU and receive that coveted diploma.
As a co-sports editor of this wonderful publication – the other being my beloved colleague Davis Bittner '13 – I got thinking about this year in sports.  Even more specifically, I got thinking about the past four years that I and 260 other young men have spent both playing for and supporting Jez Nation.
This idea of Jez Nation, to the best of my knowledge, was not existent when I came to 12345 Inwood Road in an August many moons ago in 2009.  "Jez Nation," as we have come to know and love it, has evolved to be something bigger than it may have ever even been intended.  What may have started as a silly Twitter hashtag has exploded into a phenomena known all around the DFW metroplex.
Nonetheless, Jez Nation has become a figurative safe haven for thousands of young men.  To be part of Jez Nation is to be part of something bigger than you, something that stands for achieving excellence and success.  Jez Nation means so much to so many people that are associated with the Jesuit community.
I think, nay, I know, I speak on the behalf of my brothers of the Class of 2013, when I say it truly has been an honor to be a part of Jez Nation.
This year in sports brought expectations on expectations for all varsity level sports, as it was the Class of 2013, if I remember correctly, that didn't lose a freshmen level sporting event until like the tenth baseball game in spring of 2010 (or something absurd like that).  This is the football team that went 10-0, the basketball team that dominated on the court, the crew team that wowed on the water, the cyclist that brought home the Texas state championship.  This class was expected to do BIG things the 2012-2013 school year.
In many aspects of sports, the Class of 2013 did exactly that.
Let's go through this year in sports in a nutshell.
The football team opened the year in Ireland – yes, Ireland.  They pulled off a comeback for the ages, as Cody Wicker '13 chipped in the last minute field goal to knock off Loyola Academy (IL).  They made the playoffs for another consecutive season, exhibiting a dominant performance against McKinney Boyd to garner only the school's second UIL playoff win.  Not to mention, the team has nine players going to compete collegiately.
Swimming scored 86.5 points to finish in 4th in the District Meet, only 1 point away from 2nd Place. The Rangers had 3 silver medal 2nd Place finishes and 4 bronze medal 3rd Place finishes and sending eight swimmers to Regionals in nine events.  Also, Eric Futscher '13 signed to swim at Xavier.
The bowling team backed up their 2011-12 District Championship by repeating in this year's campaign.  In the past four years, the Class of 2013 seniors – David Portner and Jason Wolf – established a foundation for Jesuit Bowling to become a force to be reckoned with in Texas.
Our powerlifting team, which has exploded since Coach Jeremy Weeks arrived at Jesuit, sent two seniors, Preston Young and Matt Cortez, to Regionals.  Jesuit's powerlifting team is improving year in and year out.
The wrestling team, as well, had an outstanding year led by the admirable Coach Ryan Menard.  Two Rangers competed at State in Austin.  Nick Barker '14 and Shane Ross '15 made Jez Nation Proud as Ross brought home 5th in the whole tournament.
As usual, the Jesuit crew team had an exceptional year, and at this juncture they are still competing.  The team has qualified to participate in the U.S. National Championships this June in Oak Ridge, Tennessee.  Also, four seniors will be continuing their crew careers in college.
The Jesuit Cross Country and Track and Field program enjoyed successful seasons as well.  Cross Country finished ninth place out of 24 teams in the Regional Meet.  The Track and Field team bagged their second straight district crown; furthermore, they placed third in the Area meet.  Ryan Mehl '13 and Paden Gatlin '13, who have both signed to join D-I track and field programs, also qualified to participate in State.
Jesuit Golf also had an exceptional season.  The team dominated at the 9-5A Championship to win district.  Moreover, all five seniors will golf in college.
Led by the man, the myth, the legend, Coach Paul McDaniel, the tennis team, too, had a great season.  Their final record stood at 11-3. Because of their recent success, McDaniel is excited about the direction of his tennis team next season.
Jesuit Hockey had quite possibly the most successful season.  The Rangers ran the table and won the 2013 State Championship.  This season was extremely historic, as the team broke numerous records and qualified for the National Championships in Coral Springs, Florida.  Also, five Rangers and the head coach were selected to the All-Star game.
Rugby had a season of ups and downs.  Nonetheless, the season can be looked at as a success due to the dedication and optimism all the players showed even in the toughest of times.  Sometimes it takes failures to see success, and the rugby team can be a testament to that.
Baseball displayed its diamond dominance once again getting the "fourpeat" as they won their fourth straight district title.  Despite an early playoff exit, the baseball team had an outstandingly successful season.  Five baseball players will play NCAA baseball.
Jez Lax continued their quest for a state championship, and even though they came up short in the semifinals, the season in a nutshell was widely successful.  The lax team cracked the national top-25 and spent the majority of the season as #1 in Texas.  Seven lacrosse players will continue in college.
The Jesuit soccer team, known as one of the best in Texas, again qualified for the playoffs.  The team took down Allen and our friends from Rockwall, but unfortunately fell to McKinney Boyd in a 9-8 shootout loss.  Led by Coach Charlie DeLong, the soccer team should be proud of all its accomplishments.  Two soccer players will play in college.
Finally, basketball had a phenomenal year.  This year's basketball team truly brought the school together, but I'll get to that in a moment.  The boys on the hardwood fought valiantly all year, amassing a 24-9 record before falling to Berkner in the Regional Quarterfinal.  Steven Spieth '13 will play at Brown University for his college career.
All in all, Jesuit Athletics had a widely successful year.  One could claim that this is the best athletic year for Jesuit.  Ever.  Graduates from years and years ago will probably argue against that, but as a member of the Class of 2013, I'm going to say this was the best ever.
I can see it now, fifty years from now with my Jesuit brothers: "I remember when we were in Ireland, and we were down, and Cody nailed that field goal, and we all went crazy," or, "I remember when Hayden Meshell got the empty net goal against HP in the state semifinals," or, "I remember the Lakeview Centennial basketball playoff game."
This year had memories unlike anything I've ever witnessed.
As a senior, I obligated myself to see as many Jesuit sporting events I could, before I couldn't be a part of the senior section anymore.
That was the best choice I could've made.  This year saw so many amazing things happen.  The Brocke Stepteau '14 buzzer beater to this day was one of the most intense experiences of my life.  Honestly, I still can't believe that shot actually went in.  The Jesuit Yell after the hockey team won state is still ringing in my ear.  Witnessing Jake Oliver '13 break a Texas high school football record was a surreal occasion.  These are all examples of such amazing things that happened this school year.
Everything Jesuit sports this year was downright wonderful.  I won't ever forget the sports memories our school got to see this year.  It truly was inspiring.
We saw failures and successes.  We saw dreams come true and dreams shatter.  We saw victory snatched from the jaws of defeat and vice-versa.  We saw it all happen.  In the end, that's what sports are, right?  Successes and failures?
Sports are one of the aspects of Jesuit that bring us together, calling us to become a bigger, stronger community that comes together even off campus to support one another in every single contest.  Thus, Jez Nation truly was born.  This video serves as tangible proof of the bond each and every member of Jez Nation shares with one another (WARNING: This video may or may not give you chills and cause the hairs on your neck to stand up):
https://www.youtube.com/watch?v=mIasVxPteEM
To my peers, I will leave you with one thing: appreciate the sports that you have offered to you and make sure your brothers known your support for them.  To know you have hundreds of true brothers behind you in a dog fight is one of life's greatest feelings.
Feel pride for your school, just like we showed at every sporting event this school year.
And, never forget – I believe that we will win.
Rangers fight and never quit.  Jez Nation until I die.
Yours truly,
Aidan Johnston '13
Co-Sports Editor of The Jesuit Roundup 2012-13