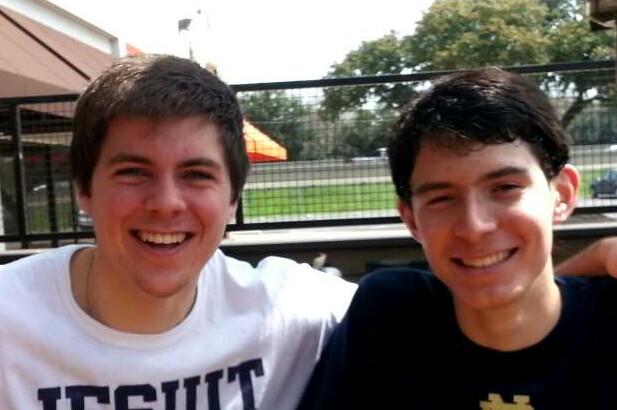 Administration, faculty, students, parents, and friends of Jesuit,
The past year, I have had the privilege of serving as Editor-in-Chief of Jesuit's online newspaper, The Roundup. Without a doubt, holding this position has been one of the most enriching experiences of my time at Jesuit.
When I first joined The Roundup as a sophomore, I only envisioned myself writing one article. The Roundup wasn't something I wanted to commit to as an activity. However, after I wrote one article, our moderator (and my English teacher) Dr. Degen roped me in, and I haven't looked back since.
Forty-six articles later, I look back and see The Roundup as one of the best things that happened to me at Jesuit. During my sophomore year, I met some great upperclassmen on the staff, and was able to follow their example to leadership positions in my junior and senior years.
I was also able to talk with hundreds of Jesuit students and teachers, and learn more about everything that our school has to offer through club profiles and sports pieces. I even had the privilege of speaking to some of Jesuit's most prominent alumni, including Congressmen Michael McCaul '80, and some of Jesuit's best athletes, through the Blue and Gold Hall of Fame inductee features.
I was able to take a trip to Boston as The Roundup's representative at the JEA/NSPA National High School Journalism Convention, which gave me a broad education about news journalism and about running a school paper. Slowly, I moved up the ranks. After serving as a reporter in my sophomore years, I assumed a leadership role as a Junior Associate Editor. Finally, I was elected as the Chief for my senior year.
This year has been a record year for The Roundup. We had over 118,000 views, the most we've ever had in a year. We also had average view records of over 400 views per day. We won silver for Best Website at The Dallas Morning News High School Journalism Contest, and our Managing Editor Michael Lanham had his article on "Mr. Earsing's Ice Bucket Challenge" named as a finalist for Best News Reporting. Additionally, our Arts and Entertainment Editor Jon Birondo took home the top prize in the Best Review category for his piece about Flying Lotus's Album "You're Dead."
We also staged our first ever Expository Bowl, a flag football game that we played against the Varsity football team. The game raised money for the charity HeartGift, an organization that brings individuals from third world countries to the U.S. for surgeries to correct life-threatening heart defects.
I'd like to thank a few people who have made a great impact on The Roundup. First of all, thanks to Mr. Fritz Asche, Mr. Brandon Bub '10, Mrs. Susie Andrews, Mrs. Suzanne Durham, and Mr. Joe Nava '02, who have contributed to the paper in many ways. Mr. Nava particularly has transformed the newspaper's website to one of the best in DFW. Furthermore, Mrs. Andrews, a former reporter for The Associated Press, has been instrumental through her service as volunteer copy editor. Mrs. Suzanne Durham has always planned for and set up various events for us, such as Christmas parties, the Expository Bowl, and The Roundup banquet.
Finally, I'd like to thank Dr. Michael Degen, our moderator, for the countless hours that he has invested into The Roundup. Without his guidance, the paper wouldn't be anything near as successful as it is today. Not only has he taught me lessons in grammar and rhetorical writing, but also he has taught me many lessons in leadership and decision-making. I'll miss our daily conversations, emails, and texts about new pieces, staff members, and future plans. His passion for the newspaper was something that inspired me in my own work, and made The Roundup something that was really enjoyable to be a part of for everyone on the staff.
Throughout the past three years, I have become good friends with many students in The Roundup. John Michael Lucido '14, Aaron Stonecipher '14, and Justin Rubenstein '14 have been great role models for me at Jesuit and beyond. Stonecipher and Rubenstein even came back to attend our banquet last weekend, and I hope to return next year as well. Furthermore, my Managing Editor Michael Lanham '15 has come to be one of my best friends at Jesuit, as we spent countless hours together Facetiming and working on Roundup projects. Thanks Michael for all your hard work and for being my go-to guy for help and advice.
As this year comes to a close, I'm proud to turn over The Roundup to a guy I have been friends with for the last three years, through The Roundup as well as band. He is a diligent, organized, and respected leader who I know will further improve the paper: Blake Delong '16. I can't wait to see how Blake and his Managing Editor Alex Motter '16 lead The Roundup during the 2015-2016 school year, and I look forward to coming back and visiting at next year's banquet.
While it's hard to believe that my time at The Roundup is over, the memories I've made will last a lifetime. In the future, I'm hoping to continue writing as a reporter for Notre Dame's newspaper The Observer next year. Once again, thank you to everyone who made The Roundup such an awesome experience for me; I will genuinely miss the staff, meetings, banquets, late night texts from Dr. Degen, and The Roundup events that have made the past few years so great.
It has been an honor to serve as Editor-in-Chief the past year, and while I will miss The Roundup, I know that Michael and I are leaving the paper in good hands.
Sincerely,
-Dominic Iannelli
The Roundup 2014-2015 Editor-in-Chief