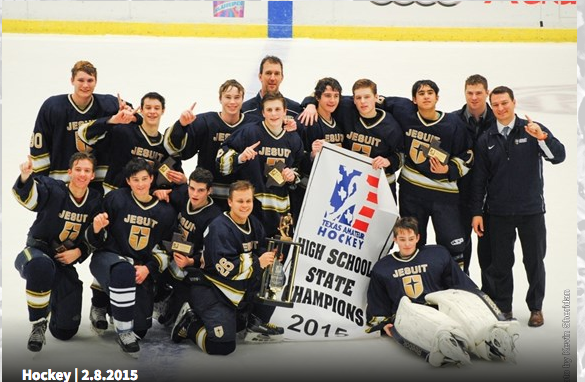 It wasn't easy, and it wasn't without its challenges. It wasn't all skill and it didn't happen overnight. Nonetheless, the Jesuit hockey team, for the second time in three years, is back on top of the mountain as state champions of Texas, and from the looks of it, they may stay there for awhile.
It's important to remember that the team did not have grand expectations at the beginning  the year. However, this didn't stop them as they plowed through the season with fierce perseverance. In order to capture the state title, Jesuit would have to win two games out of a three-game series against long time rival John Paul II High School. According to Nick Mersch '16,  "The mindset was that we had beaten this team before and that we could do it again. Our coach told us to treat the game as if it was against Coppell or Plano West."
The first game was a back-and-forth affair between the two teams. Jesuit's offense couldn't seem to get going at all; however, the stellar goal tending, from the top goaltender in Jesuit hockey history, George McBey, kept them in the game and the score knotted up at 1-1, going into the third period. Then sophomore Carson Platt broke the tie off a rebound shot, making it 2-1 Rangers, with 12 minutes to go. McBey would go on to play at an elite level the rest of the game, giving the Rangers the game and the 1-0 series lead. After the game, McBey '16 said,  "I think after we finished off a close game; it  demoralized JPII and they knew that they would have to win two games in a row against a strong Jesuit team."
Now with only one game left, in order for them to do what no Jesuit hockey team has ever been able to do—winning two state championships in three years—the Rangers would have to defeat JPII one last time. Current all-time leading defensive scorer for Jesuit, Cameron Bartkowski '16, reiterated, "We knew we could close it out in game two and that was our mindset. We, in no way, wanted to take this series to three games".
Jesuit went on to dominate the second game against their opponents, winning handily by a score of 8-4 and capturing the coveted state title. Just like he had done all season, the team received stellar play from their star forward, senior Villi Lappalainen '15.
This season, the Rangers did it their own way and accomplished what no one had ever thought was possible. They overcame and conquered all obstacles and received the ultimate prize for their efforts. It truly was a magnificent season that will not be forgotten by either the team or the school. Congratulations to all the players and coaches and as always, GO RANGERS!!