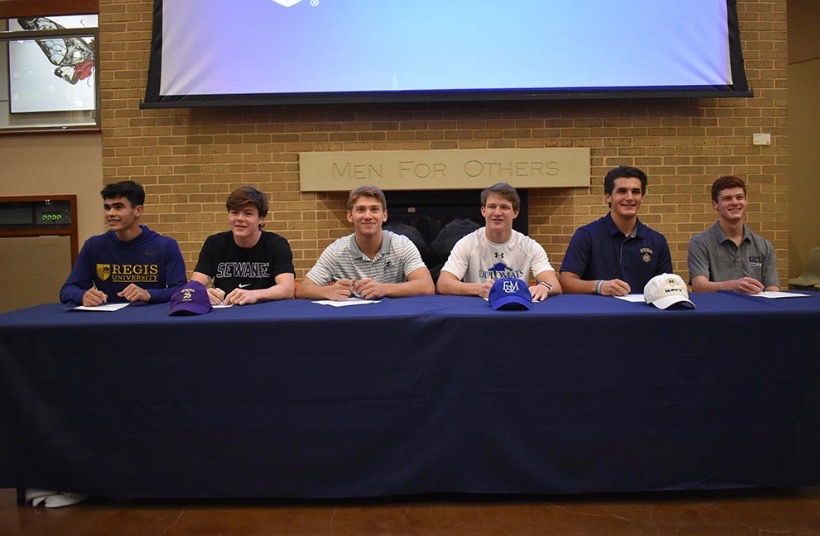 While playing any sport growing up or while in high school, most athletes have heard the common phrase "Only 1% of high school athletes go on to play in college… so you better be working hard and not take anything for granted." While the number is actually closer to 7%, the statistic alone reveals the importance of the message. There is no guarantee of athletics after high school, and even if one wants to pursue a varsity sport in college their chances are slim. This astonishing fact highlights the prominence of the six seniors who signed their letter of intent this past Thursday. They spanned three sports, with one being the first in Jesuit history from his respective sport to sign a LOI. Here's a quick recap of the signees.
Lacrosse
Always producing many of Jesuit's college athletes, Lacrosse didn't fail this year. Already, four seniors have signed, an impressive stat that also displays Lacrosse's talent for the upcoming year. The list includes Jack Selner, who committed to Sewanee University of the South, Tommy Hovivian, who committed to the U.S. Naval Academy, Drew Martin, who committed to Franklin and Marshall College, and Billy Metz, who committed to Providence College. Selner said signing was a "relief because [he] doesn't have to worry about where [he] is going to college… however, it is kind of scary to have made the decision early in [his] senior year. It came up quick but was ultimately a great experience and [he was] super glad [he] did it." Drew Martin reiterated this point as he mentioned how signing early "made [him] excited for [his] last year at Jesuit and pumped for his next four years at F&M." Billy Metz stated a "huge weight was taken off [his] shoulders.. it was very satisfying to see all the hard work finally pay off." Lastly, Navy commit Tommy Hovivian talked about how signing day "was super special to [him] because it was the accumulation of over 10 years of hard work coming to fruition and it was even better knowing that [he] had [his] friends and family there to support" him.
Baseball
The sole signee from his sport, Tino Ramirez signed to Regis University in Colorado. He commented and said "it made [him] feel relieved to know that I finished the college process, and made [him] happy to know how many people support the rest of the signing athletes and [himself]."
Volleyball
To cap an already special day, senior Cooper Herndon added a cherry on top, as he became the first Jesuit Dallas athlete to sign for volleyball, committing to Grand Canyon University.
With plenty of more LOI's to be signed in the coming months at Jesuit, the future looks bright for the athletes in the class of 2020, setting a bar of success that will surely be met by the future classes of Dallas Jesuit.