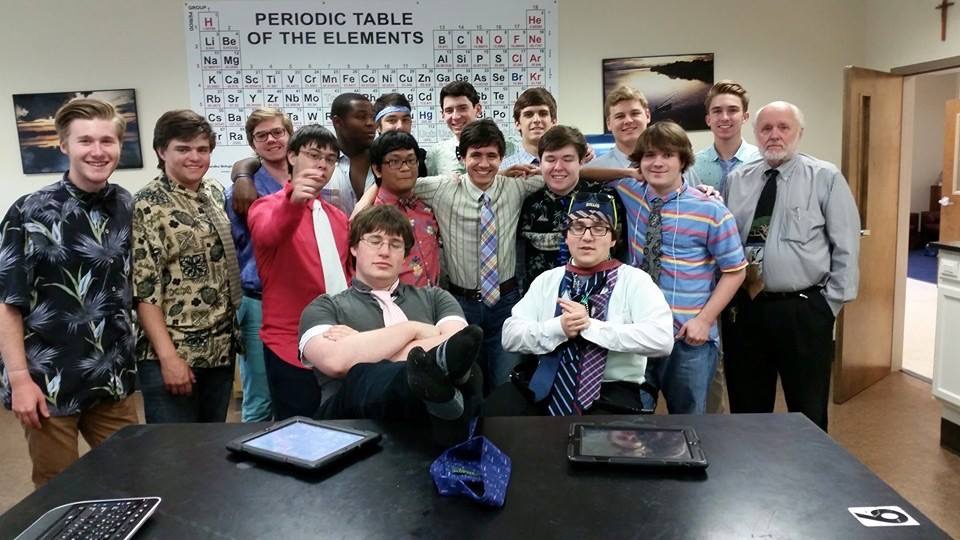 I don't have any regrets on any of it. Could I have done some things different? Maybe. But would I have enjoyed it as much? No. Did I intend to stay here fifty years? No. I told myself when I first came that I'd stay ten and move on. But 10 became 20, 20 became 30, 30 became 40, and by that time, I realized I'm not leaving. Where else can I have fun like this every day? So, I have enjoyed it immensely. And I've enjoyed a lot of the friends I've made.
In fifty years, a lot of things change. From the technology we use to the clothes we wear to the places we spend our time, not much stays the same. However, some things weather the test of time. Mr. Bob Lanier, biology teacher and professor emeritus, has stayed with Jesuit through five decades, and that is one thing that has not changed.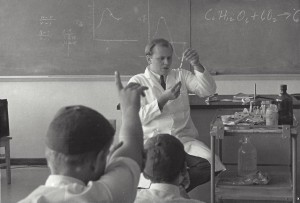 Mr. Lanier will be retiring at the end of this year, marking the completion of an illustrious tenure that will not soon be forgotten. From the students he interacts with to other countless members of the community he influences, Mr. Lanier has left an impact on so many. Teaching generations of students, his career has been nothing short of remarkable.
When he was hired in July of 1965, a gallon of gas cost around $.30. Since then, Jesuit and the rest of the world have transformed. The world from 50 years ago is one much different from today's. Since he was hired, the first Super Bowl was played, men landed on the moon, the Internet came to prominence, and cell phones became a common gadget.
Before any of this, Mr. Lanier was born in Jacksonville, Texas on May 22, 1942. Growing up in the small-town East Texas background, he found a love for biology during his sophomore year of high school under the instruction of Mr. Billy Guinn. "After I had biology as a sophomore, I decided this is what I want to spend my life doing," reflected Lanier. "When I was a junior in college, I wanted to go into research."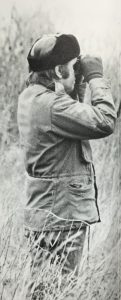 Mr. Guinn then asked Lanier, "why don't you go ahead and get your teaching certificate? It's a real good insurance policy." After thinking about it, Mr. Lanier went to the education department and ensured he could earn the certification and still graduate on time. He then added the required courses and started on his path to eventually becoming a teacher.
Mr. Lanier wanted to work with his mentor and friend, Billy Guinn. "I said to the education department, 'I wanna go back and do my student teaching with Billy Guinn.' They said, 'we don't normally put people 60 miles away.' I said, 'that's who I wanna do it with. That's the guy who got me into this,'" remembered Lanier. "And we had the best damn time and sometimes we got to laughing so hard at some of the stuff that one of us had done that neither of us could teach our classes. We had a good time."
Despite learning a lot during this time, Mr. Lanier still had his heart set on research. He completed his studies and came to Dallas looking for work. He remembers he "got the job in research I wanted, and found out I didn't like it at all." He had been determined to reach this point, but remarked, "once I actually got into it one year, I found out this is horrible, it's no good." Mr. Lanier did not have the same passion for research that he had anticipated, but he still had a great love for biology.
While this job was not the fit for him, he had a great deal to offer. He noted, "it's a real good thing I had that insurance policy."
Still not sure where he would end up, Mr. Lanier applied at Jesuit. However, he was turned down. But one day, Mr. Lanier received a second chance: "The principal [of Jesuit] called my wife and said, 'does your husband have a job yet?' She said, 'nope.' And he said, 'could you have him come out at 2 o'clock this afternoon?' So I came out at two o'clock that afternoon and he had a contract waiting on me."
Mr. Lanier recalls how he soon earned the name Bob, reflecting "When I went into my first meeting, I was Robert. I did not want to be called Bob. And I introduced myself as Robert and the principal said, 'Bob, how are you? Good to know you.' And at the point, I just gave up." From then on, Bob Lanier would be an integral part of the Jesuit community.
He had many surprises yet to come. He noted, "I came from a small town, small background, went to Stephen F. Austin…and it was small. So I came here and found something unusual: I was the first non-Catholic faculty. I didn't know this until the first meeting. We had our first faculty meeting and it's all 'name of the Father, the Son…' and I got arm paralysis. I looked around and said, 'you've got to be kidding me.'"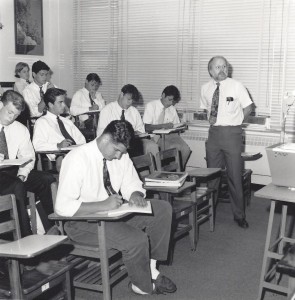 Nonetheless, he led the first biology classes at Jesuit, classes open to juniors and seniors. Building the program up, he played a large role in forming the structure of the class. At 23 years old, he taught students who were only a few years younger than him in his early years, most of them 17 and 18.
Things were a lot different when Mr. Lanier was first hired. "We had no electronic devices [my first year]," said Lanier. "We had telephones that were plugged into the wall with the rotary dial. That was it. And a typewriter." He also remembers the antiquated grading method: "We had a book for the students where you had to go into pencil and put your grades in. Then you gave it to the math teacher for him to do it, and then he gave it to the English teacher, and so on. All hand-written. There were no copy machines, nothing like this."
Even small additions of technology were greatly appreciated. "We came about this gradebook called the Apple Gradebook, and the science department started using it, several of us did, and it was wonderful," beamed Lanier. "We didn't have to use a calculator or adding machines. We didn't have to do any of that stuff. The computer did it all for us. Now was it slow? As mud…But was it nice, oh my God, yes. There was no error, no chance of mistakes anymore."
Furthermore, the look of the classrooms soon began changing, especially with the addition of computers. He recalled, "we had to get rid of chalkboards because we had computers in the classroom. We didn't even know what a whiteboard was…A lot of changes here."
But despite all the changes, Mr. Lanier commented that "The students stay mostly the same" even though times change. "I've had alumni say 'how are they different?' I say, "they're a little different. With the Internet, they've gotta be different. That to me is the biggest change. But are our students essentially the same? Yep. They are part of a very important community and I guess you'd say that community feeling has always been here… You find that what the school stands for generally resonates real well with the students, no matter what decade that they're in."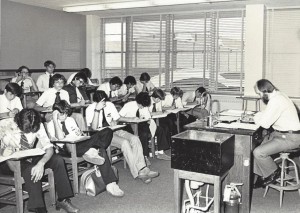 Although the students remain essentially the same, the classes and course materials have shifted greatly. Mr. Lanier commented "[Biology has] changed. The material that used to be common in college is now common in high school." He noted that students always adapted to the new material and always came with a desire to learn.
Mr. Lanier also remembers the consistent spirit of the school through the decades. "We were very open. We tried not to have discrimination," remarked Lanier. "In fact, one of my friends asked me one time, 'do you have black kids?' I said 'yeah.' He said, 'how many do you have?' I said, 'I don't know, I'd have to check.' He said, 'what do you mean you have to check?' I said, 'we don't see kids as black kids or Hispanic kids. We don't see them that way. We were the first school to integrate in 1955. We just don't see it that way.' And he thought I was crazy. But we don't. And we try to teach this same idea to other people. You accept people for who they are, not for what you want them to be." Mr. Lanier provided each and every one of his students with a welcoming presence through his time at Jesuit.
Mr. Lanier played an important role for so many in the classroom and, for many others, he helped form them into young men outside of the the normal school year away from the classroom. He said with pride, "The neatest thing I have ever done here is, for 25 years, I took kids all over the world in the summer time. I've been to Africa two or three times, Borneo, Australia twice, all through Central and South America." As a group, they examined the life forms and ecosystems in these foreign lands. Students learned a great deal and had a fun time doing so.
Reflecting on the wonderful times he had on the trips, Mr. Lanier said, "The place I've been the most is Peru and the Amazon. That's my favorite place in the world, the Amazon River. My favorite thing to do down there is to sit on the boat early in the morning with a cup of coffee before the kids get up when the birds start flying. You're all alone, and you don't hear planes, you don't hear people, you don't hear anything."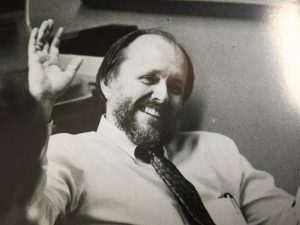 Taking his first trip with Mr. Mike Earsing, now President of Jesuit, Mr. Lanier recalls, "It was a neat, neat, neat experience and the first time I'd been out of the country to that degree." Mr. Lanier enjoyed this time to bond with his fellow teacher and friend: "I hired Earsing to teach chemistry and social studies…and [it was] real good working with him. Real good. We've been friends since he first got here. And then, we became real good friends when he went with me to the Amazon. We stayed in the same room and got to know each other real, real well."
With so many memories behind him and so many good friends made, Mr. Lanier knows a great deal about people from all over the community. To this day, Mr. Lanier maintains close ties with hundreds of alumni. When asked what change he's liked the most since he came to Jesuit, he replied without hesitation, "Facebook. My wife gets on me all the time: 'you spend too much time on Facebook.' But these are the people I know. These are my friends…Most of the people in my life are my ex-students."
As much as he enjoys these relationships, he notes that "It's strange [working with my former students]." But at the same time, he commented, "It's neat to see your ex-students do well." Just in the science department, Mr. Lanier taught Dr. Todd Gruninger '98, Mr. Max von Schlehenried '06, and Mr. Ben Kirby '00. He also taught current principal Mr. Tom Garrison '92.
His students hold him in fondest memory. Dr. Gruninger reflected on his time in Mr. Lanier's class, saying "he was one of the main reasons I wanted to come back [to Jesuit]. I loved his class. I didn't do that well in his class, but he was one of my favorite teachers. He seemed like he really enjoyed his job and really enjoyed being a part of Jesuit and working at Jesuit." Seeing this positive presence, Dr. Gruninger reflected and "thought [teaching at Jesuit] might be a fun career." Ironically, Dr. Gruninger remembers that Mr. Lanier "told me at the end of my senior year not to go into science and then he ended up helping bring me back."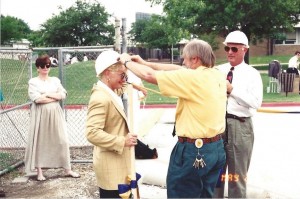 Even though they now teach together, Dr. Gruninger notes that he still learns a lot from Mr. Lanier's example: "I think the one thing he taught me is that nothing else matters unless you develop a relationship with the person first. You have to be able to see your students and your colleagues as people that need to be loved and supported…I think he's really good at that, I think he's one of the best I've ever met at that at forming that relationship and getting people to trust him and actually wanna learn from him."
Mr. Garrison expressed similar appreciation for Mr. Lanier and the influence of his class. "It was a big deal being in Bob's class," he remarked. ""We were excited to be in his class. We called him Dr. Bob." Mr. Garrison "thought that was pretty cool to be learning college level stuff" in Mr. Lanier's class his senior year, learning a great deal.
However, now as a fellow Jesuit faculty member, he notes, "I think the most valuable thing I've learned from him is keeping relationships with alumni. He's got fifty years of relationships with graduates of this place. Any alum I run into asks me about Bob Lanier…He's just present in their experience, which I think is a good lesson for any teacher." Mr. Lanier's friends are many, something that is quite clear in the community.
All who know Mr. Lanier know about his seemingly endless supply of funny stories. Whether at lunch or in the hallway, he seems to always bring a relevant insight or a simple joke to any discussion. Dr. Gruninger commented, "Bob will always surprise you. He's always got a funny story, a funny anecdote. He seems to know everybody in the community." Mr. T.J. Howard '08 share similar sentiments, remarking that "He has lots and lots and lots of stories…and it's fun to hear them."
Mr. Howard, despite never having Mr. Lanier as a teacher, got to hear these stories as a student and gets to enjoy them more now. "As a student I always knew [Mr. Lanier] from all the stories I heard from the other people. Now as a faculty and working with him, it's the other side, I get to hear all of his stories. That gives me the chance to see the two sides: how do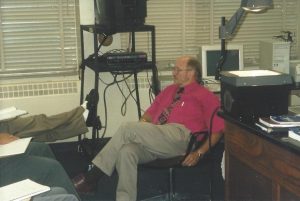 the students perceive him and how does he perceive his interactions with the students. And all together, it's kinda the same thing. Everyone loves him and so seeing how much he loves the students too is cool."
His students today express this same love and respect for him that many others have for five decades. Senior Peyton Arneson commented, "[Mr. Lanier] is full of stories. There hasn't been a class this year in which we have not heard a story, either new or recycled. In class, there is never a dull moment." Senior Dominic Iannelli had a similar experience, saying "When I think back to my years at Jesuit, the class that I will undoubtedly remember the most is Mr. Lanier's class. We all have had tons of fun but at the same time we have learned an extensive amount of biology."
Both students commended his teaching style. Arneson described the class as "very laid back. He seems to let the class happen, never forcing anything." Iannelli said, "The typical class structure is lecture style, but Mr. Lanier also will tell us lots of funny stories from his life, most of which relate to the topic we are learning. He has a great sense of humor in his teaching, and there are lots of inside jokes within the class that make it really entertaining."
However of all the experiences, Iannelli was most shocked by "how many guys come back to Jesuit to visit Mr. Lanier. It shows a lot about the kinds of relationships he has with his students even after graduation." But these strong relationships are not just limited to students.
Mr. Lanier has built strong relationships with countless faculty over the years, particularly Ms. Jones, who has worked with him for over four decades. Ms. Jones could only describe the times they had as "a lot of fun." She reflected on his personality and demeanor: "He is just so fun-loving. He loves his students. He probably is on Facebook with about 500 alumni. And they love him…He's very knowledgeable. Over the years, we've learned a lot."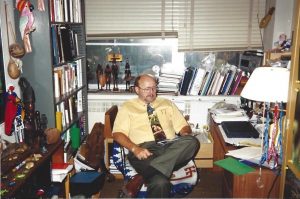 Ms. Jones recalls her early years of working with Mr. Lanier fondly, saying "when I was a young teacher, he let me do some things on my own. In other words, he wasn't a dictator. He didn't control everything that I did. He let me create part of the program. He and I actually built up the program on the freshman level." In closing, she simply said, "It's been a great ride."
Remembering the good times, Mr. Lanier said, "[Ms Jones] is probably one of my best friends in the whole world…We taught together. We messed with each other. We've done horrible things to each other over the year." He also remembers a time when "on my birthday, she and some other people came down the night before and they filled my office up with black balloons, streamers. So I walk in the next morning and I can't even go in because there's so many balloons!" Through the decades, they have always remained close.
When asked what he would miss most, Mr. Lanier said "It's gonna be the students. I really like our kids. And I really like to have that relationship with them. And that's gonna be the hardest thing to have to get used to it. One of them asked me 'why have you been here so long?' I said, 'where else can I have fun like I do here?'
"I've enjoyed every minute of it. But you know, you hit a point where it's time…This place has been unbelievably good to me. And I don't regret it at all. Not one minute of it…The best advice I ever got was to get that teaching certificate all that time ago…it's been a wonderful fifty years."