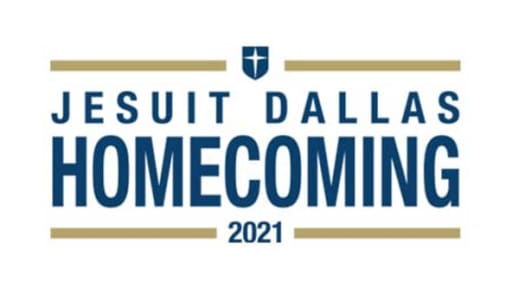 On October 16, 2021, Ursuline Academy of Dallas along with Jesuit College Preparatory School of Dallas hosted its annual homecoming dance. The Freshman/ Sophomore dance was held at Ursuline Academy, while the Junior/Senior dance was held at Jesuit Dallas.
The underclassmen homecoming dance was a night filled with jubilee and excitement, especially for the class of '24, as they missed out on the previous year's homecoming due to COVID-19. Student Councils of both schools provided great sources of entertainment, ranging from spike ball, poker tables, and even a dance floor with a DJ. Light snacks and refreshments were also provided for UA/JCP students.
I had the opportunity to interview Daniel Garcia '24 and Patricio Carrilo '24 on their homecoming experience, and how it reflected the school year's theme of Gathering Your Companions.
Garcia Interview
How do you think the homecoming dance restated Jesuit school year theme of gathering your companions?
"The entirety of last year was kind of all ruined by COVID and the pandemic. I really think that this big social event with Ursuline and Jesuit communities really strengthened the bond between the two schools and also just, it really helped everybody kind of get back into the regular kind of sense of everything, how everybody was able to kind of communicate and talk and kind of be their true social selves again, with all the masks off and everything.
And everybody got the opportunity, you know, to be able to be themselves and not having to really worry about the repercussions of talking to other people, or dancing and stuff. So, I think that the homecoming dance as itself really was a good kind of example of how that this year, I think we can really rebuild our connections and really strengthen our bonds with our brothers and our sisters."
What was your favorite activity in the homecoming dance?
"Well obviously, I'm going to focus on the actual dancing part itself. I think that really being able to dance and, kind of hang out with your friends and new people was really fun, but also besides that, the mosh pit and, other stuff like that."
"I really think though, probably one of the best parts I enjoyed was the little activities outside. Like the poker tables in the corner. The hula hoops, even though they're like kind of childish-fun activities. I think it really was a great experience, it was kind of funny because we all had the opportunity to bond together."
Did you spend any time in any of the other activities such as spikeball, cornhole, or the poker tables? "Yeah, unfortunately, I wasn't really able to go to the poker tables cause those were, those were really busy."
"A lot of people were at those, but, I did get to do corn hole. I did get to take some photos. And, I did get to talk around with some friends at the little tables, so it was really nice.
Overall, how would you rate your homecoming experience?
"I'd say it was probably like, at least, we didn't have it freshman year, obviously, but definitely one of the best nights I've had,  and I just, you know, overall had a good time. So out of 10, I would give it a solid 9.25/10."
All right Daniel, Thanks for your time, Enjoy the rest of your day.
Carrilo Interview
Hello. I'm here with Patricio Carrillo, class of 24 from Jesuit. I'm going to ask him some questions about his homecoming experience.
What was your favorite activity in the homecoming dance?
"So my favorite activity was probably dancing. I think it was really fun and the DJ did a good job and played some good music, and everyone just started having a good time."
Awesome, It sounds like you had a good time.
Did you spend any time playing poker, Spikeball, or any of the of the other games?
"I did not just because there were too many people, I guess, all of my friends and all the people I know were dancing, so I just thought it would be better to stick with them."
Is there any part of the dance they can improve upon for next year?
"Definitely more tables, more games, maybe, maybe have the entrance more organized. Anyone."
Could you go into more details that made your night enjoyable?
"Well dancing, I think also it's like talking to friends, seeing new people,  socializing was a big part of it and yeah, I just had a good time in general."
Good. I'm glad you had a great time.
How do you think the homecoming dance restated Jesuit school year theme of gathering your companions?
"I think we had the opportunity to meet new people and I got to see old people, I already knew and I got to catch up with them. "
Thank you for your time, Patricio.
Conclusion
Overall the homecoming dance provided a great opportunity for UA and JCP students to socialize, enjoy the night, and dance.
Stay tuned to The Roundup for news regarding Student Life!!