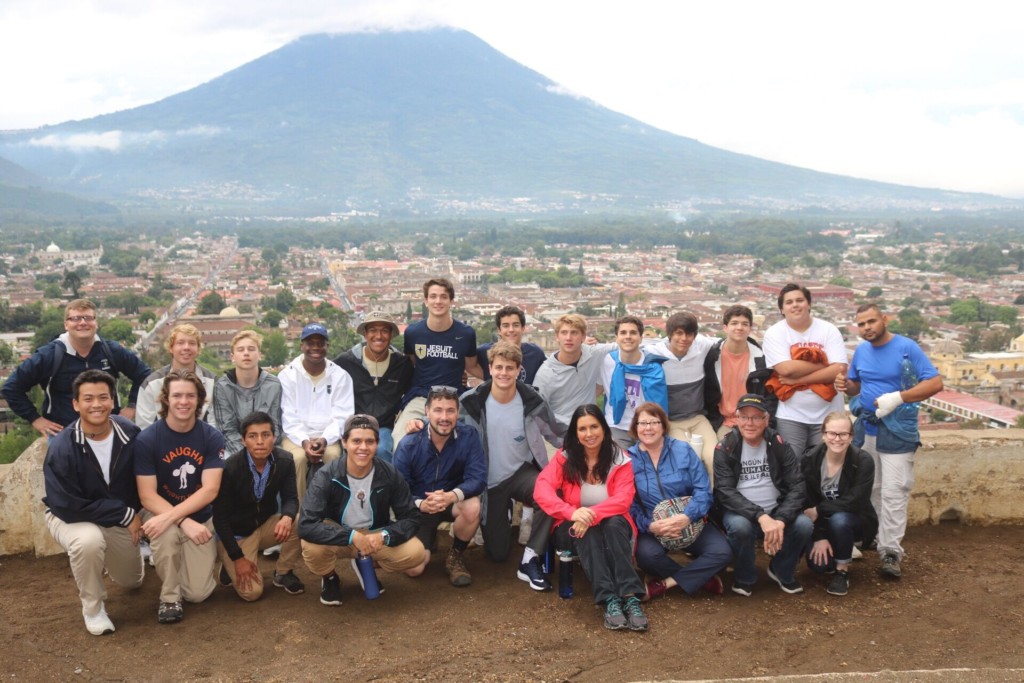 During the summer, I was fortunate enough to travel to Guatemala with 13 other Jesuit seniors, where we plugged ourselves into the culture through learning and experiencing their daily lifestyles. Not only were we fortunate enough to have an amazing faculty team, but we were also able to share our experience with another Jesuit senior from Mexico. The thing that stood out most to the group was the scarce amount of commodities these people had, yet their ability to nevertheless find joy through their daily lives in ways none of us could have imagined.
Our Week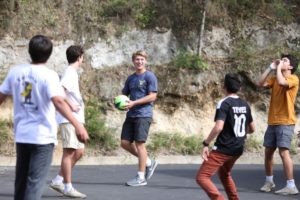 First, we traveled from Guatemala City to Antigua, Guatemala, where we attended our first site: AIDS Kids Shelter. To say this was an easy interaction would be a lie. We were all nervous for what we were about to experience, although we quickly learned there was no need to be. Despite the language barrier, we laughed, we joked, and we had fun with almost all the children. Soon enough, we had already got an intense game of soccer going on, and every kid and student enjoyed every last bit of that game. It wasn't necessarily about the score, but the joy we were able to provide for these kids was astounding. We quickly learned this trip was going to be impactful.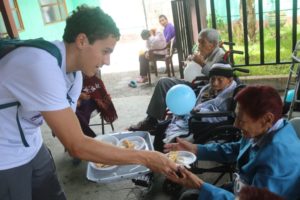 Next, we stayed a few nights in Antigua where we got to eat at an authentic Guatemalan restaurant, but we also got to visit an old-folks homeless shelter. We brought lotion and nail polish with us, not exactly sure what was going to happen, but these people absolutely loved the interactions we had with them. We all got to provide something for them none of them had received in a long time: comfort and joy. Shortly, we were spread out interacting with these people for the first time in nearly a year. I will never forget the smiles we received just from the small interactions and applying lotion on their hands, which they could not get enough of. The connections we built that day will never be forgotten.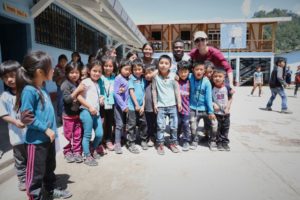 Lastly, we had finished our service in Antigua and traveled to a farm on top of a mountain, where we were able to learn about the agricultural aspect of Guatemala. We were fortunate enough to stay on the farm and continue our service throughout the villages nearby. Eventually, we traveled to a local school where we got to learn and participate in the teaching of Guatemalan children. The kids being in school didn't stop them from having fun and still learn at the same time. Whether it be counting to 10 or finger painting, these kids enjoyed every last second of it. We also got to see how the school is trying to improve the long term health of these kids, through healthy snacks and exercise. To see just how happy these kids are everyday was impactful for all the students, broadening our lens of appreciation for the little things in life.
Student Reflection
Senior Billy Metz '20, thought this trip "was the most impactful trip he has ever been on." Being able to witness firsthand the problems these people face and how they overcome them was "truly life changing."
Senior Christian Allocco '20 believed this trip allowed him to "never judge anyone too early" because you never know what people are going through. He "hopes he can come back [to Guatamala] in the future."
Wrap Up
Overall, every student went into that trip not knowing exactly what was going to come of this adventure, but left with a completely different overview of just how fortunate we all are to be loved and enjoyed by our friends and family. Whether it be the late nights we had out and about, or the impactful reflection time, we all shared crazy, funny, and impactful moments that bettered each and every one of us on this astounding journey.
Stay tuned to The Roundup for more community news.