Throughout February, the Jesuit Rangers Wrestling Team competed in both the UIL District 5-6A Championship on February 6 and the UIL Region 2-6A Championship on February 14th and 15th.
As the Jesuit Wrestling season came to an end, the Rangers competed intensively against several other teams in both the District and Regional Championships. 
The UIL District 5-6A Championship
This year's tournament was an interesting Championship in which the Jesuit Rangers competed in Rockwall, Texas. Freshman Logan Mezger fought a competitive match his first-round against the #1 seed at 152 lbs. Kundae Ange from Skyline, but lost 5-9. He then went on to win his final four matches to finish third. Junior Oscar Jarmon, making his debut as a district and regional competitor, finished second place paving his path to compete in the Regional Championships. Jarmon pinned Alex Conlan of Rockwall in the first period in one minute and nine seconds to reach the semifinals. In the semifinals, Jarmon pinned Dallas Molina's Arza Brown in two minutes and 30 seconds. He reached the finals where he was defeated by Sebastian Martinez from Heath.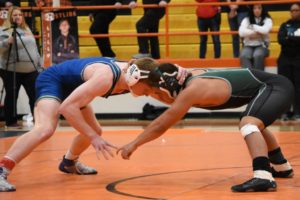 The UIL Region 2-6A Championship
After a strong performance in the District Championship, Jesuit sent 5 Rangers to the Region Championship in Allen, Texas. These competitors were: Liam Leahy, Oscar Jarmon, Jack McClure, Logan Mezger, and Dominic Farrell.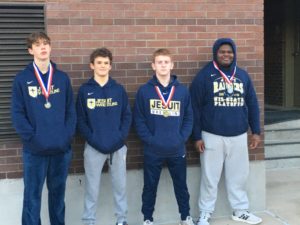 Varsity Captain, Liam Leahy 20', competed very well in the Region Championship. His first match against Joe Hendershot from Conroe Woodlands College Park did not go his way, despite his immense effort and Hendershot took the win with a major decision of 9-1. Leahy bounced back in his second match against Abraham Clinton from Rockwall Heath, wrestling into the 3rd period when, unfortunately, Clinton was injured and had to injury default to Leahy. Liam went on to face Jacob Nakamura from Allen unsuccessfully, losing by a score of 13-4. Leahy showed an intense determination in this competition and ended with a hard-fought record of 1-2 in the tournament. Leahy ended his senior season as the overall team leader in victories with a record of 26-11. 
Oscar Jarmon 21' competed very well throughout this year's wrestling season improving throughout and he showed a strong performance in his two Regional Championship matches.
Sophomore Jack McClure 22' also showed a very strong performance at the competition and ended his sophomore season with a record of 12-17.
Freshman Logan Mezger 23', competing for the first time in the Regional Championship, performed well during the competition. Mezger's injury defaulted to eventual state champion Aaron Lofton from Vista Ridge in the first round. This was a coaching strategy/decision to advance without putting Mezger at risk of further injury. He then continued to compete in his second match against Eric Synatschk from Klein Collins, scoring a 7-2 decision victory. Mezger then faced Emmanuel Ramos from Killeen Ellison where he lost by a fall. Logan ended his first Jesuit wrestling season with a 5-3 record on the varsity mat, becoming the first Jesuit freshman wrestler to compete in a UIL Region tournament.
Unfortunately, Dominic Farrell was physically unable to compete due to an injury.
Thoughts from the Team:
Liam Leahy 20': "This year was my best season yet. I wrestled better than I ever have and witnessed the most improvement I've had throughout my high school career. Although I would rather have qualified for state, it was still a big deal for me to wrestle at regionals. This sport has been an essential part of my life for the past several years. It has taught me discipline, leadership, and persistence. I have come so far through both great successes and great failures. My life and my mindset will forever be altered for the better by wrestling. I couldn't ask for better teammates or coaches and I look forward to seeing how my teammates progress in the future."
Joshua Montemayor 21': "I think the season went pretty good for some, but a little choppy for others. Whether they had a good or bad season, each boy should use this season as a learning experience and come back stronger. I'm excited to see the development of my teammates next year."
Interview with Coach Menard:
Q: How was this year's wrestling season as a whole?
"We finished off with the Region tournament which was exciting because we had five guys that qualified and only one of those is a senior, Liam Leahy. We also have the largest group of young guys returning in a long time including a strong freshman class, which is very promising, so the future's looking very good for Jesuit Wrestling."
Q: Is that it for wrestling this year?
"Not really, after Spring Break we begin our offseason training. I'm really looking forward to the future of the program! We're also celebrating our banquet on Tuesday, March 10th right before break." 
Q: What about off season?
"Now that we are in our off season, we will begin meeting a couple of times a week where the boys practice towards improving their skills for next year. It's a continuous process and the boys are already getting ready for next season."
A final note from Coach Menard- "I am very excited to see how things unfold the next few years with these young guys, it should be great!"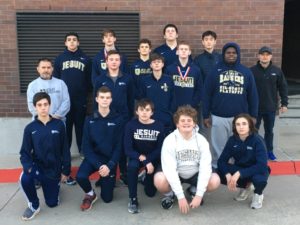 Be sure to tune back into The Roundup next year for more coverage on Jesuit Wrestling!