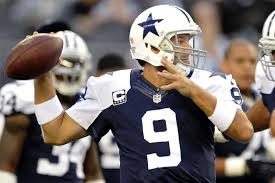 It's that time of year again. The 2015 NFL Season kicked off September 10th with the Pittsburgh Steelers facing off against the New England Patriots. What does this mean? The fantasy football season is officially upon us. Perhaps you are still looking to join a league and prep for a last-minute draft. Perhaps you've already drafted and are looking to rip off your opponents with some devious trades or score an impact player early off the waiver wire. Either way, here's some advice to help improve your team as Week One comes to a close.
Studs:
QB Tony Romo, DAL- Tony Romo is almost always extremely undervalued in fantasy circles each year, but he really is a viable option as a QB1, if not more than that. With the best offensive line in the NFL, Romo should have plenty of time to connect with his solid receiving corps of Dez Bryant, still above-average TE Jason Witten, Terrance Williams, and Cole Beasley. The departure of RB DeMarco Murray means a significantly weaker running attack for the Cowboys, translating to much more activity in the passing game and a higher statistical output for the QB. Expect Romo to attempt somewhere in the neighborhood of 600 attempts this year, creating much more opportunities for passing yards and touchdowns to accumulate. Romo's never been a top-5 fantasy QB and there are certainly better options, but he's an extremely safe bet and will have one of the best seasons of his career this year.

RB Adrian Peterson, MIN- He's back! After sitting out all but one game of the 2014 season, Peterson returns to the gridiron in the best shape of his life. Peterson's consistency is what puts him among the best running backs to go with this year. Peterson has never scored less than ten rushing touchdowns or run for less than 1,100 yards in each season of his career. In Norv Turner's offense, Peterson should flourish obviously as a runner but also as a receiver. He should eclipse his previous career highs of 43 receptions and 436 receiving yards easily, making him extremely valuable as an almost Matt Forte level commodity. Furthermore, it's interesting to note that Peterson's best statistical season came in 2012, the year after he tore his ACL and was out for an extended period of time. Perhaps this bodes well for this season as well.
WR Brandin Cooks, NO- Lost among a stellar rookie wide receiver class with names like Odell Beckham and Mike Evans overshadowing him, Cooks could have gained similar notoriety if not for a season-ending injury last year. Cooks was in the midst of establishing himself as one of Drew Brees' favorite targets, and with Jimmy Graham and Kenny Stills out of the equation and Marques Colston no longer the receiver he once was, Cooks looks to be the head honcho in the receiving corps. In the context of the high-volume passing attack that Brees runs, this is very optimistic for Cooks' fantasy value. Breakaway speed, shifty agility, and superb route running are added benefits.
TE Travis Kelce, KC– The addition of Jeremy Maclin to the Chiefs' roster finally gives Alex Smith an elite WR target to substantially improve a receiving corps that has been subpar for years. While the game plan in Kansas City still heavily revolves around RB Jamaal Charles, who will draw opposing defense's attention at all times while on the field, their aerial attack should be much more dangerous, and Kelce will be a huge beneficiary. The Chiefs' leading receiver last year, Kelce is primed for a monster season. With no opposition at TE (Anthony Fasano was released in the spring), Kelce should put up Tony Gonzalez-like numbers at a minimum.
Players to Avoid:
QB Peyton Manning, DEN– While his career numbers certainly don't lie, it is obvious that Peyton's prime has long since passed. At 39 years old, he's just not a very reliable QB1 option considering the abundance of more youthful talent at the QB position. Furthermore, new head coach Gary Kubiak plays a very run-oriented offense that will look to involve breakout running back CJ Andersen much more. A downgraded offensive line should also hinder Manning's performance as a quarterback lacking mobility in the pocket. While many will waste a very early round pick to snatch him up, smarter drafters will wait until later rounds to pick up a safer and equally talented player.
RB Jonathan Stewart, CAR– With DeAngelo Williams in Pittsburgh, half of the once intimidating Carolina running back tandem is now officially gone, leaving Stewart as the sole starter. However, don't expect him to take immediate advantage of Williams' absence. Stewart has only one 1000 yard campaign in his seven NFL seasons to date and only ten touchdowns over his last five. Furthermore, despite his excellent size, his goal line touchdown conversion rate ranks 24th out of the 30 running backs with seven or more carries inside their opponent's five yard line, an abysmal statistic. To top it all off, Stewart is a gigantic injury risk, not having played a full season since 2011. There are much better RB2 options to go with.
WR Sammy Watkins, BUF– Watkins being put on this list really has nothing to do with his capabilities but rather the capabilities of those surrounding him. As we all know, Buffalo's quarterback scenario has been an absolute mess this offseason with inexperienced Tyrod Taylor, declining EJ Manuel, and resident third-stringer Matt Cassel vying for starting reps. In my opinion, none of these names are starter-quality options, and with LeSean McCoy sure to sap up most of the Bill's offensive production, there simply isn't much value in drafting Watkins as a viable WR2 option.
TE Julius Thomas, JAX– If Thomas had stayed in Denver, perhaps he wouldn't find himself on this list. However, by cashing in and moving to Jacksonville, his fantasy value is about to take a hard hit. Downgrading from Manning to Blake Bortles at the quarterback position, Thomas finds himself in a sticky situation. Furthermore, Thomas' value is largely dependent on his touchdown production, making him a very risky pick. Over the past two seasons, Thomas has amassed 24 touchdowns with Manning at the helm, but only about 1,200 yards, meaning if he doesn't score, he's useless.
Sleepers/Breakout Players:
QB Teddy Bridgewater, MIN– Coming off an impressive rookie season, the second-year quarterback, now properly acclimated to the league, has dangerous breakout potential this season. His weapons at the receiver spot are much improved with the addition of deep threats Mike Wallace and Stefon Diggs and the emergence of Charles Johnson as a go-to pass catcher. Adrian Peterson's return should only aid Bridgewater's performance by putting less pressure on the passing game. With a lightning quick release, high football IQ, and budding dual-threat capabilities, a leap into the position's top ten is in store for him this season.
QB Sam Bradford, PHI– If Bradford can stay healthy, he has a chance to be a top-10 fantasy quarterback this season. While he doesn't have the luxury of retaining last year's top receiving threat in Jeremy Maclin, Bradford comes to Philly surrounded by a ton of pass-catching weapons, including RB Darren Sproles, TE Zach Ertz, and WRs Jordan Matthews and Nelson Agholor. Furthermore, Bradford, while on the field, has shown himself to be a much better quarterback than his predecessors Mark Sanchez and Nick Foles. His mobility and quick release will perfectly suit Chip Kelly's fast-paced offense. He is my prediction to win Comeback Player of the Year and should eclipse 4,500 yards and 30 touchdowns easily.
RB Latavius Murray, OAK– An enticing blend of size and speed (6'3'', 230 lbs, sub 4.4 forty time), Murray showed flashes of brilliance last year after a combination of injury and ineffectiveness allowed him to take over the starting position from Darren McFadden and Maurice Jones-Drew in Week 11. With McFadden gone and Jones-Drew retired, it is Murray's time to shine as the lead back with no legitimate backup on the roster. With a 5.2 career yards-per-carry average, breakaway speed, excellent vision, and high touchdown potential, Murray can become a very reliable RB2 option with crazy upside.
WR Stevie Johnson, SD– Johnson was a consistent fantasy threat during his years in Buffalo, eclipsing the 1000 yard mark and six touchdowns three times as a go-to option. However, his fantasy production tapered off after the 2012 season. With a clean slate in San Diego as one of high-volume passer Philip Rivers' top three targets, Johnson should have no problem getting back into the swing of things. Still under thirty years old with Keenan Allen representing his arguably his only competition for catches, Johnson has too much upside to overlook and should post a solid fantasy season with numbers similar to those he had during his prime.
WR Martavis Bryant, PIT– In just ten games last year in which he posted eight touchdowns, Bryant became one of the more intriguing must adds in most fantasy leagues. With blazing speed and big play potential, Bryant's game is very similar to that of T.Y. Hilton. Where Bryant differs from Hilton, though, is his elite size. At 6'5", he has the height to make some plays on those critical 50/50 balls. And with number one overall WR Antonio Brown lining up on the other side of the field, Bryant should see his fair share of single coverage, and with Ben Roethlisberger at quarterback, Bryant won't see a shortage of balls coming his way.
TE Austin Seferian-Jenkins, TB– Seferian-Jenkins has the supreme size and route-running abilities to become a solid TE1 option. Coming off a year where he didn't reach anywhere close to his full potential on account of injury and didn't have the talented Jameis Winston throwing to him, he should see a steep increase in production this season. With WRs Mike Evans and Vincent Jackson occupying the sidelines, Seferian-Jenkins should have plenty of room to work with in the middle of the field and should see a fair number of targets as a matchup nightmare. His size also makes him an excellent red zone/goal line option.
In fantasy football, you learn to expect the unexpected. While my predictions are far from certain, one thing is for sure: this season will be the most exciting in recent memory. With the right knowledge, anyone can come out of his league victorious. Will it be you?