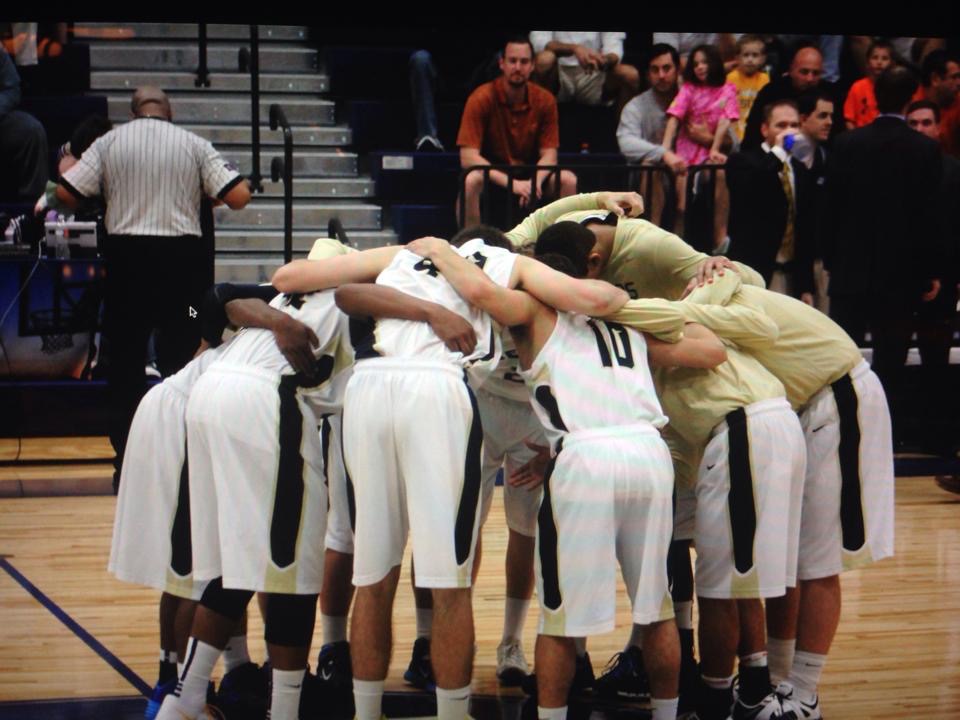 It's that time of year again: basketball season. The season of buzzer beaters, gold outs, cold winter nights, chants, upsets, and victories. The 2014-2015 Jesuit team looks ready to put forth an exciting season, and to put an early playoff loss behind them.
Every year a team loses key starters, and Jesuit's case is no different. With last year's seniors Brocke Stepteau and Matthew Bender now freshmen in college, it is time for the players in the class of 2015 to step up and take starting roles. Last year, the team was inexperienced, the roster filled with a plethora of juniors, but now they have experienced the highs and lows of varsity basketball. They are ready to take Dallas by storm.
Jesuit is known for popping the three ball, playing tough defense, rebounding (despite lack of size), and playing hard. Varsity Coach Chris Hill says this year's philosophy will not be changed "except for some different things here and there on the offensive and defensive end." They will be playing similar defense, but the main modification will be an increased amount of double teams than in previous years. Coach Hill also said they are looking to push the tempo more than in past years.
"We have had some good teams in past years, but this team looks like a team from my earlier years at Jesuit," said Coach Hill. These past teams included star players like Brown's upcoming star Steven Spieth. Looking at this team, I can see them making a playoff run.
Key "Newcomers":
Ben Kunasek '16 – Ben Kunasek may only be a junior, but he will be filling a big role in the lineup. Last year, Christian Chiles '15 was the change of pace junior guard who would create havoc off the bench. Now, Coach Hill is calling on Ben to fill that role. With more weight put on double teams and fast breaks, the Jesuit guards will have to be interchanged often and Ben will have to play well in order for the scheme to be successful. Coach also commented on his versatility and how "he can play the 1 and the 2 rather comfortably," which increases his value to the team.
Christian Chiles, Tyler Schlapkohl, Hank Shotland '15 – Even though these players are not newcomers, they fit in this category because they will be playing completely different roles this season. Christian Chiles, for example, came off the bench and now he finds himself inserted into the starting lineup. Tyler and Hank are going through the same transition and will be playing a lot more minutes compared to last season. For Christian's smaller size and crazy athleticism allow him to set the tempo and make big plays over the course of the game. Tyler plays very scrappy defense that can cause turnovers and spur fast breaks. Lastly, Hank can make any shot that isn't on Willow, which will be a plus for a 'three first' offense.

Key Returners:
Michael McReynolds '15 – Michael is the most impactful returner. Having played varsity basketball since sophomore year, he possesses qualities of a great basketball player as well as leadership ability. He has confidence, and he isn't afraid to let you know about it. He will do anything that is asked of him, whether that be taking over games or getting others involved. His success will, in turn, bring Jesuit basketball success.
Christian Nwosu '15 – Chris's athletic prowess is why he is critical for the team's triumph. As the starting center, he will be in charge of rebounding, a facet that caused the team some trouble last season. Also, he needs to be the rim protector, a job that he can do well because of his size and athleticism. If he excels in these areas, Jesuit will be that much better.
Not only did all these players have good off-seasons, but also they have grown to accept their roles and play crucial parts to help Jesuit win. Players like Tom Weber '15 and Sam Truxal '15 really improved over the summer and in the fall. "You can say a lot of good things about the players on this team," stated Coach Hill.
Projected Starting Lineup:
PG: Christian Chiles '15
SG: Tyler Schlapkohl '15
SF: Hank Shotland '15
PF: Michael McReynolds '15
C: Chris Nwosu '15
Even though Coach Hill prefers a consistent starting lineup and rotation, he said that he changes the lineup "depending on how the game goes, how the kids respond to the intensity of the game." For example, if the opponent is rebounding well, "we might put in taller guys to combat that."

Biggest X-Factors:
Will the seniors step up and meet their potential? It is hard to tell before the season has begun, but by the looks and sounds of practice, it seems as though the returning players are all improving. They are building chemistry off of last year, which is always a good sign.
Rebounding! One of the problems last year was the lack of size and depth at center to combat other teams from bullying Jesuit down low. This year, however, it appears like rebounding will improve. With increased size and flexibility in the paint, rebounding may not be an issue later on in the season. Like everything, rebounding will be rusty during the early part of the season, but when Jesuit is in mid-season form, rebounding might not be an issue.
Key Games:
Mesquite 11/18 @ JCP. This is a big game against a quality opponent. It is the home opener so it is naturally a crucial game. It just feels better to start 1-0.
Highland Park 11/25 @ HP. This rivalry will be a good test for the team. On the road, in a hostile environment, a win or a loss will benefit Jesuit greatly.
Berkner 12/2 @ Berkner. Playing against a regional powerhouse, Jesuit will be looking to test their game against the best. A win would give Jesuit huge momentum and confidence heading into the Knights of Columbus Tournament.
MacArthur 1/12 @ JCP, 2/6 @ MacArthur. MacArthur will be the most competitive team in the district, so a win against them is huge for the standings.
Season Prediction:
Looking at the schedule, I predict that we will be atop the district at the end of the season. This will give Jesuit great position to make a playoff run into regionals. If Jesuit finishes first in the district, I can see them going to the Regional Semifinals; nevertheless, Coach Hill wants "to take it one game at a time. The number one goal is to play hard every game, and hopefully that leads us to a district championship."
The first game is Tuesday November 18th, so be there to cheer on your Rangers!