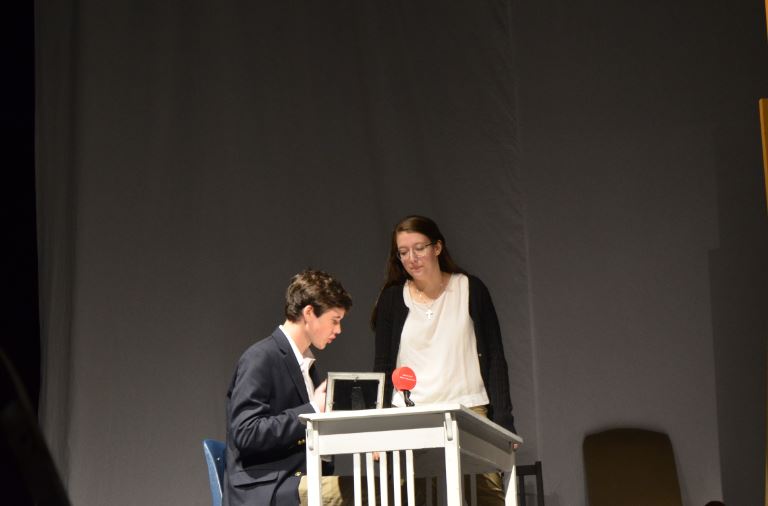 The lights dim. The people hush. The performers take the stage. Everyone waits with bated breath for the first line to be delivered . . . and then all too quickly it ends, and you leave wishing for more—more drama, more comedy, more performances.  Welcome to Jesuit One Acts.
Jesuit Theatre held its fourteenth annual senior directed one-act plays on January 12th-13th and January 19th-20th. Over the course of the production, eleven different students directed a combination of professional and student-written one-act plays. After countless hours of rehearsal, they performed it for an audience.
Students began practicing back in November, working hard and passionately every week to put on a good show.
"I loved getting to work with new student actors and I was fortunate to have such an enthusiastic and hardworking cast" said senior director Santiago Arenas, "Because of that, we were able to use extra time in the rehearsal process to thoroughly develop the characters and polish little moments in the play, which then had a large pay off on opening night."
The hard work the actors put in was truly astounding even to theater director Mr. Carlos Acevedo.
"I am truly so profoundly proud and, I have to admit, surprised of the amazing work and dedication of these eleven Directors/Students." Acevedo continued, "Their committed work, their focused effort, and their talent shined all through the performances."
But it wasn't just all work and no play.
As senior Michael Miramontes said about the rehearsals, "honestly, they were a lot of fun. The majority of rehearsal involved us messing around and making jokes while getting through the script. I enjoyed it."
Being in theater not only gave the students a chance to be on stage but also provided opportunities to develop friendships and build a community. To John Sample '20, this was the most important part: "My favorite parts about doing One acts were all the bonding and joking that my fellow cast members and I shared."
Like any performance, opening night had its challenges.
"The main difficulty I had during the performances was that I was just super nervous," Miramontes noted. However, the actors saw all their preparation come to life.
As put by Arenas "when they finally had an audience to play off of and digest the material, both my cast and I were able to just breathe and have fun."
For students performing in One acts, the performance itself is a rush "The best part is when the first joke is cracked and the crowd laughs, and you know it's gonna work out," said Trevlan MacGregor '20.
For others, the experience is a dream come true. "I have been waiting to direct a one-act since my freshman year so it was such an exciting time to watch it all unfold throughout these past few months," Arenas explained. "I and so thankful for my cast and their hard work."
And for the faculty — the work the theater does is inspiring.
"My favorite thing is seeing the commitment, engagement, and excitement of the students in our large theater club," Mr. Acevedo began. "That is what drives me every day here. That is my biggest reward. It is made by them, for them and for all of us. They take this very seriously. They are so incredibly talented!"
Some theatre students look forward to One acts as a means of artistic expression. "One Acts is my favorite thing about Jesuit Theatre because much of it is controlled by the student body, allowing an opportunity to see new actors and for the senior directors to share their artistic vision," said Arenas.
For others, it's a chance to try something new. "I would say that high school is the place to test your boundaries and try something new. Theater is a great way to make friends and to get comfortable feeling uncomfortable," said Miramontes.
Other students view it as a chance to meet new people "So many people are a part of one-acts that aren't just from Ursuline and Jesuit so you can really meet a lot of new and nice people," said Bailey Uttich, an Ursuline sophomore.
And for anybody considering joining theater, "Ask any student who's in it and just watch their excitement, their drive, their commitment, their passion. See their smiles. Doing theater is allowing you to feel free and be yourself. To create. It is an amazingly powerful feeling." -Mr. Acevedo