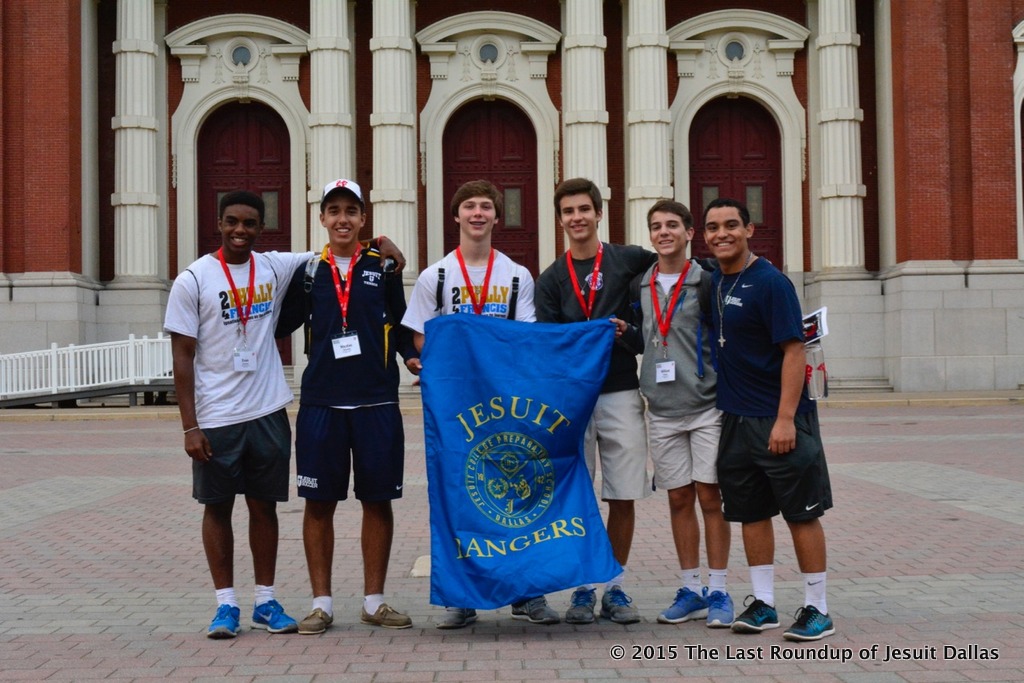 Tabor Jones '16, Jose Rivera '16, Will Naquin '17, and Reid Hatzmann '18 shared the following reflections with the Jesuit Community on the October 16 Friday prayer service that was led by the Jesuit Dallas pilgrims to Philadelphia for Pope Francis's visit to the United States. Evan Jackson '17 and Nicolas Elizondo '18 also made the pilgrimage with two members of our faculty, Mr. Naughton and Fr. Hooks, SJ.
[divider style="normal" top="20″ bottom="20″]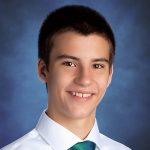 On September 24, I woke up frantic. The day had finally arrived. I tried to calm myself down: "I've been to Nicaragua, Los Angeles and Washington D.C. with Jesuit. Going to Philly is no problem, I've got this traveling thing down." That relative calm lasted until I got to the airport 45 minutes later and I remembered that this wasn't a vacation or an Immersion trip – this was a pilgrimage.
I easily found our group at the airport. Because we were all dressed in the same neon yellow shirts, I saw right away where everyone was. But this meant that other people could also see us. Now whether or not you agree with Jose that the shirts were "flashy yet classy," they served a purpose: beyond helping us identify each other, they also attracted people to us. In Love Field and at Reading Market in Philadelphia, people saw the shirts, approached us, and asked us about what we were doing. We talked to these people about how we were on a pilgrimage, asking them if they wanted us to pray for anything and welcoming further conversation about Jesuit, the Pope or the Cowboys – Eagles game.
As our trip progressed we were given constant reminders that we were on a pilgrimage. Our group of 500 students and faculty from Jesuit schools chanted "This is a pilgrimage, not a vacation" at every large gathering at St. Joe's Prep. And by going to sleep at midnight or later on the floor of a classroom only to be woken up by music blaring from the PA system at 5 in the morning, we were constantly made aware that this was a pilgrimage… NOT a vacation!
Fr. Hooks taught us the 5 rules of a pilgrimage before we left: 1) Don't complain. 2) Don't complain. 3) If you need something, ask for it. 4) If someone offers you something, accept it. 5) If you see a bathroom, use it. At some point, every one of those rules came into play.
Part of being on a pilgrimage is the fluidity of it all. Though we went into every day with a plan, at some point that plan was thrown out. One night our group decided to split off from the main group to see the city and get some food. We noticed a guy holding a box of pizza and asked him where he got it. He told us to go down to Lorenzo's pizza, get a slice (which was about 18 inches long) then go to Jimmy's to get a cheese steak and have a Philly Taco. He explained that a Philly Taco was when you put the cheese steak inside the pizza and eat it like a taco. After a long day of sleeping on the ground and experiencing the Pope, nothing sounded better. It was delicious.
This story seems trivial but to me it's a great representation of what a pilgrimage is. It's unpredictable, you must be willing to rely on the kindness of strangers, and you must be open to the experience, whether that is struggling to finish a Philly Taco or saying the Our Father with a million other people. Thank you.
[divider style="normal" top="20″ bottom="20″]
Walking into a new environment is never easy, especially if it's in a completely different state; however, the students at St. Joe's Prep found a way to turn what a scary, overwhelming atmosphere into a much more personable and comforting one. The energy and enthusiasm that St. Joe's Prep expressed every single day became contagious, often transforming grumpy pilgrims (like Fr.Hooks) into happy pilgrims, (like Mr. Naughton).
In fact, meeting the St. Joe's Prep kids and the Jesuit pilgrims from across the nation proved to be one of my favorite parts of the trip, for I was able to talk openly with them about Ignatian spirituality and how their own prayer life has been formed through such a powerful guide. As I talked with these students, I noticed how each person stressed his or her gratitude towards receiving a Jesuit Education over all others. In fact, within the first few minutes of arriving on the high school campus, I began to see an immediate connection between individuals whose schools could have been over five hundred miles apart.
For example, the first person I talked to, a guy from St. Joe's Prep, began to tell me about the traditions of his school and compared them to the ones we have here in Dallas. Needless to say, our traditions were way better, but this small conversation illustrates that there exists a connection between Jesuit students, a connection that proves how the Jesuit brotherhood and sisterhood exists beyond Jesuit and into the real world.
Realizing the reality of this connection is crucial for every Jesuit student because it shows how we are not alone in the endeavor to become men and women for others. Rather we have friends to lean on and examples to look up to as we continue on our journey to follow in the footsteps of Saint Ignatius.
[divider style="normal" top="20″ bottom="20″]
I have always felt a special bond with Pope Francis because he was elected as the first Jesuit pope only a few days after the Class of 2017 and I received our acceptance letters to Jesuit. On the trip, we were fortunate enough to seem Pope Francis at both his speech that Saturday and his Papal mass that Sunday.
A specific event that has stuck with me, and all eight of us that went on the trip, was the prayer we shared with him at the end of his speech on Saturday. He asked us to pray the Our Father with him, and we all instinctively joined hands as we began to recite the Lord's Prayer with the other thirty thousand people present.
As we prayed, I felt the hair on the back of my neck stand up, caused by my immense feelings of pride and awe. At that moment, I was proud to have the opportunity to simply pray with Pope Francis and share the experience with my Jesuit brothers and in awe of the wider Catholic community as a whole.
I could clearly feel God's presence more than I ever have. I was also moved by the goodness of my Jesuit brothers and the strangers we met, whether it be through the elderly priest who made room for me on a ledge to get a better view of the Pope driving by, the young girl behind us who paid attention and sang loudly throughout mass while her friends slept, or even Evan who let me sit on his shoulders to get a good picture of the Pope during his speech.
These small acts truly reflected Pope Francis' message of compassion and humility and reminded me to find God in all things. I was truly blessed and am extremely thankful to have gone on this trip; it is an experience I will never forget. Thank you.
[divider style="normal" top="20″ bottom="20″]
Although, it is important that we address the social and entertainment aspects of our trip, it is paramount that we address the main reason we went on this trip: to experience a religious journey.
Either as a group or personally, we all experienced a deepening in our faith. From bonding with other students to long periods sleeping on a public street, to the personal growth we all enjoyed from attending the Papal mass, I am able to say that we all truly felt the power of the Holy Spirit among us.  There is something special about taking a religious journey that drives you out of your comfort zone and into an exposed state of confusion and isolation.  Yet, coincidentally enough, it is in this state of confusion and isolation that we feel God's love and power the most.  I know I'm not the only one who went through a spiritual enrichment while we were in Philly.
Each day we came together for a small group sharing and prayer time in the chapel at St. Joseph's.  The group bonding in our small Jesuit Dallas group was a big part of our trip. Every night before bed, we went through a small Examen and reflection led by Father Hooks and then we shared the parts of our day that were special to us.  I believe that these breakout reflections played a tremendous role in bringing us together as a group.
The best part, however, was the silent prayer time we took in the chapel in which we prayed for all you here at the Jesuit community.  Inside of our prayer journals were around 50 specific prayer intentions submitted by Jesuit families. Every night, we brought these journal intentions to silent prayer in St. Joe's chapel.  Other prayers we picked up along the way. When we met people during the trip, we would finish our conversations by asking them if they had any intentions they wished for us to pray. We'd then add these prayers to our journals.  This action alone led us to pray for many people, including the grandmother of one the news reporters who interviewed us.  Throughout our whole Journey we had our school on our mind.  We prayed for all of you daily and constantly you were in our thoughts.
Thank you for giving us this opportunity, it was truly a life changing event.
[divider style="normal" top="20″ bottom="20″]
The pilgrims from @jesuitdallas are ready to roll! @JesuitDallasCM #2P4F #AMDG #PopeInPhilly pic.twitter.com/UeKLekflGe

— 2Philly4Francis (@2philly4francis) September 14, 2015
I ask you to join me in praying for my trip to Cuba and the United States. I need your prayers.

— Pope Francis (@Pontifex) September 18, 2015
Our prayers are with and for our @jesuitdallas pilgrims #2Philly4Francis pic.twitter.com/SXVX1j50XK

— JCP Campus Ministry (@JesuitDallasCM) September 23, 2015
Thank you @NBCDFW and @JeffSmithNBC5 for your coverage of our @jesuitdallas pilgrimage #2Philly4Francis @JayHooks1 http://t.co/LI8W29djkP

— JCP Campus Ministry (@JesuitDallasCM) September 24, 2015
https://twitter.com/Jose_Rivera215/status/647039626834612225
https://instagram.com/p/8HHahaH1mZaKsAU4kRQdqn610xvZVqgPzkrhs0/
We are the Jesuits! #2P4F pic.twitter.com/4IDFPbiDvk

— 2Philly4Francis (@2philly4francis) September 26, 2015
Round 2 with @Pontifex @jesuitdallas pic.twitter.com/WbmkzldoAZ

— Tabor Jones (@TaborJ13) September 27, 2015
https://instagram.com/p/8Hffwmn1mxN5FqXNxutewixW-xjUp5sPLwBN00/
With my heartfelt thanks. May the love of Christ always guide the American people! #GodBlessAmerica

— Pope Francis (@Pontifex) September 28, 2015
Photo Gallery of the @JesuitDallasCM pilgrimmage @2philly4francis – See More at http://t.co/jyB0pvB4Ap #AMDG pic.twitter.com/mbFHf7EPxd

— The Roundup (@JesuitRoundup) October 8, 2015