On Saturday, May 5, Jeff Bartlett '12, among other Jesuit athletes, competed in the UIL Regional Track Meet. Bartlett, placing second in the shot-put and third in the discus, qualified for the UIL State Track Meet, becoming the only Jesuit athlete to qualify this year. His success didn't end at the regional meet, however, as he placed third overall in the discus event at the state meet, a feat never before accomplished by a Jesuit athlete.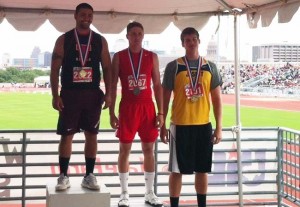 At the state meet, on Saturday, May 12, Bartlett threw in the last discus and shot-put events of his Jesuit career in the UIL State Track Meet. While not placing in the shot-put, Bartlett broke the 170ft. mark in discus and earned a bronze medal.
"Jeff really focused on his footwork and being quick and agile," commented head coach Robert Molyet. "For a guy who is 6'8″ it takes a lot to stay on the balls of your feet, [and] he always has to feel his center of gravity or he will lose his balance."
Aided by a wind that helped lift the discus, Bartlett began throwing consistently at 165ft. "Coach was happy about that," Bartlett said, "but I knew I had to get a better position."
All that was left was Bartlett's final discus throw of his Jesuit career. The plan for his final throw as a Ranger was to "watch [his] technique but really let loose and put some aggression into it."
Sure enough, Bartlett unleashed an outstanding discus throw, clearing the 170 ft. mark. "It was so amazing to actually get there on my lost throw," Bartlett later exclaimed.
Even though he was a top performer at the state meet, Bartlett never believed he would actually get that far. According to Bartlett, "When I first started my junior year, I had no idea this would turn out to be anything, let alone be something that I would go to college to do."
Bartlett added, "It really surprised me this year that I improved as much as I did, and I thank Coach Molyet for that, because he helped me improve so much."
Having received scholarships from UT and A&M, Bartlett knows one thing for sure: he will keep Coach Molyet's advice in his mind wherever he competes. "One thing I'll remember," says Bartlett, "is to be patient, [because] success doesn't come immediately. You have to put time into to."