In the world of sports nothing gets us more excited than a matchup between number-one and number-two ranked teams. The idea that one team will rise up and claim the number-one ranking without debate, in a typically epic battle, brings out the fan in all of us.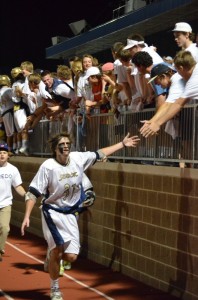 The Jesuit lacrosse team, ranked number-one in the state, experienced one of these epic matchups last Thursday, April 19 in the regular season's final game against the number-two team in the state: the dreaded St. Mark's Lions.
In front of a packed house at Jesuit Stadium, the Lions and Rangers walked on to the field both undefeated in district, setting up a winner-take-all matchup.
St. Mark's took the lead early, but midfielder Carson Buell '13 tied it up with about 10 minutes remaining in the first quarter. For the rest of the half, the Jesuit offense found the net only once more with Mac Maguire '12 scoring Jesuit's second goal, leaving the Rangers down at halftime 3-2.
The third quarter turned out to be a defensive battle. Even though Jesuit held on to the ball for almost the entire quarter and led the shot count 11-1, they still couldn't find the net and the score remained unchanged heading into the fourth.
Finally the Jesuit offense came alive in the fourth quarter, bursting the game open with six goals in seven minutes. The run was sparked by Garrett Van de Ven '13 who scored two goals in a row, giving the Rangers their first lead at 4-3. The onslaught continued as four more goals were scored by Sam Rosengarden '13, Matt Miller '12, Alex Petsos '12, and Zach Coker '13. With the game clearly over, St. Mark's managed to score one late goal, culminating an 8-4 Jesuit victory.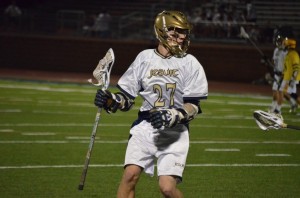 Though the Rangers were very happy with their victory, instead of resting on their laurels, they have no plans of slowing down for the rest of the season
"It was really exciting for us to finally assert ourselves as number one, but we haven't reached our goal yet. The goal in any sport is a state championship and we came so close last year. No one on this team will be satisfied until we win state," explained attack-man Zach Coker '13.
The Ranger lacrosse team still has a long way to go, but they are now the clear-cut favorites to win that elusive state title and a rematch with St. Mark's may be meeting them down the road.