This past week was an eventful one in the world of Jesuit Ranger baseball. Two emotionally charged games were played: one that captured the team a district title and another that sent off an unforgettable group of seniors in the right way.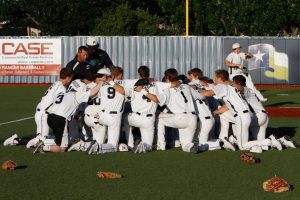 On Friday, April 27, the Sunset Bisons made their way to Jesuit to compete with the Rangers after senior night ceremonies commemorating the Jesuit baseball graduating class of 2012, as it was their last home game wearing the blue and gold. Sunset was not welcomed warmly, as Jesuit stormed out of the gate leading 7-1 by the end of the third inning.
In honor of senior night, the Rangers came out with a full starting lineup of seniors, led by pitcher Scott Weiss.  No underclassmen played. Sophomore Stuart Deary said, "It was cool to see some of the seniors who might have lost their spot to a younger kid get to play and beat Sunset." And beat them they did. One more inning passed and the umpires were forced, due to league rules, to call the game.
Behind multiple hit performances from Christian Bartholomew, Hayden Williams, Cole Enmon, and Connor Glogowski, as well as hits from four of the remaining five seniors who came to the plate, the Rangers run-ruled Sunset 14-1 in only 4 innings. "It was an emotional night," commented Bartholomew, "but we went out on top and we couldn't feel better heading into the playoffs."
Five days earlier the Jesuit squad was looking at a game with much more pressing implications. They were playing Lake Highlands for a district championship. Senior Joe Powell was called to the mound to pitch for the Rangers as they tried to take the district title for the third year in a row.
The game was close throughout and ended up reaching extra innings. In the bottom of the 8th, with the bases loaded – as a storybook situation unfolded before everyone's eyes – sophomore Max Ready made his way to plate for a chance to win the game for Jesuit. "I was scared," said Ready, "but I knew this was a chance to maybe make a name for myself, and obviously I wanted to win."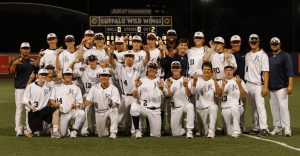 What happened next was likely outside anyone's expectations. Ready resisted swinging and watched as the Lake Highlands pitcher tossed three balls. "He just couldn't throw a strike," Deary said. One pitch later, and the Rangers stormed out of the dugout to dog pile Ready as he resisted his swing once more and won the game for Jesuit on a walk-off walk. "It was incredibly exciting.  I couldn't have asked for a better way to win that game, except for maybe a homerun," Ready joked.
After these two emotional games, Jesuit looks forward to the playoffs. While not a favorite for the state title, the team has no doubt that they have the talent to win it. "Everyone would be surprised if we won," Bartholomew said, "but we aren't going to count ourselves out because of that." Jesuit will face Naaman Forest in the first round of the playoffs, playing their first game this Thursday, May 3rd.