If you have ever entered Jesuit's new weight-room on Mondays, Wednesdays, or Fridays, you may have seen this tall, muscular man who trained Jesuit's athletic teams, organized their workout schedules, and developed new plans to benefit student athletes through their hydration and nutrition. This man, Logan Lacy, served as Assistant Director of Athletic Performance.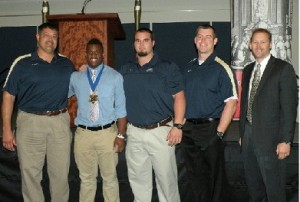 Coach Lacy was born and raised in Brownwood, Texas. He spent his entire childhood there where he attended Brownwood high school, home of the Lions.  At Brownwood, Lacy powerlifted and also played football. After high school, Lacy attended Abilene Christian University where he played football, but only for the first year, due to an injury.
Once he graduated from ACU, Lacy transferred to the University of Texas at Arlington where he earned his Bachelor of Science degree in Exercise Science. Through UTA, Lacy found an internship at Jesuit in August 2011 through Jeremy Weeks, Jesuit's Head Director of Athletic Performance. At the conclusion of the first semester of the 2011- 2012 school year, Lacy was asked to join the Jesuit community as the Assistant Director of Athletic Performance; he accepted.
Lacy lauded Jesuit's athletic program. "Weeks has developed a unique training system here. I've seen colleges that don't have programs run this well, and that's one reason why I really enjoy Jesuit."
On Mondays, Wednesdays, and Fridays, Coach Lacy is in the weight-room on the third floor of the new athletic center from 6:00 AM to approximately 6:00 PM. He works with Reid Heim and Jeremy Weeks who both run the athletic performance program.
Prior to April 2012, Lacy also coached Jesuit's first state-champion powerlifter Akuda Esin '12. Together, these two men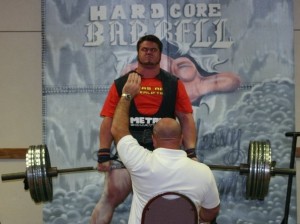 trained for countless hours working on technique, stamina, and overall body strength. Lacy said that he was able to help "Akuda with the gears of the game. The key for me was knowing what he was going through with 500 or 600 pounds on his back. I could tell what he was feeling and what reaction he was having, so it was easier for me to assist him with his lifts."
Coach Lacy is very unique compared to other high school athletic coaches. Lacy used to be a professional powerlifter until just a few years ago, setting multiple state, national, and even world records. Logan Lacy holds the world record for squatting- over 1,000 pounds by the age of 21. Lacy also broke the national and world records for bench press in 2009, lifting about 738 pounds at the same age. The previous record was set by Anthony Clark in 1988 at 663 pounds.
Lacy started lifting his freshman year in high school, but then blew out his back. After surgery and rehab, Lacy started lifting again his freshman year in college.
When asked if he misses his professional career, Lacy said, "I do. I miss the competition. But you know, there are things you find that you enjoy more. Like this year, coaching Akuda and watching him was more fulfilling to me than anything I ever wanted. I went out and did what I wanted for many years, but then I was ready to accept new challenges."
"I really enjoy Jesuit. The thing with [Jesuit students] is that y'all are great kids. I have not found one student that I can't go to and ask them to do something for me, even if it's the little things like hydration, nutrition, or straightening up the weight-room. I really do enjoy Jesuit."
Although Lacy truly does love Jesuit, he will soon be working for the athletic performance program at Baylor University. "I will [work for Baylor] for the next 10 weeks and then see what God has in store for me after that."
Coach Lacy has contributed to the Jesuit community in many ways. His leadership and care for the student athletes has proven to be strong since day one. His knowledge of powerlifting not only helped Esin achieve Jesuit's first powerlifting title but also helped strengthen the entire powerlifting program.
Jesuit would like to wish the best of luck to you, Coach Lacy. Thank you for all your contributions to the athletic performance program.