Arriving in front of Jesuit on Monday, April 30, 2012, he uttered a single word: "Wow." This was not merely an annual return to Jesuit to reminisce about the past.  This was the first time Charles Edmond '58, the first African-American student to graduate from Jesuit, had stepped foot on either the original Oak Lawn campus or the current Inwood school since 1958.
Mr. Edmond, who, along with Arthur Allen '59, integrated Jesuit in 1955, had never been able to return to Jesuit previously.  Finally, he did so after encouragement from his wife, Ruth, and Ms. Sheryl Row, the school archivist and English teacher, who had been in contact with Mr. Edmond for over five years.
Being such an important event, Jesuit pulled out all the stops, inviting The Dallas Morning News Staff Writer Marc Ramirez and Staff Photographer Kye Lee to cover the big story.
The day began with a brief reception where Mr. Edmond and his family introduced themselves to school administrators, faculty members, student council members, and students on The Roundup staff. Two of Edmond's classmates, John Stack '58 and Jack Harper '58, gathered at the reception to celebrate his homecoming and catch up on each other's lives. Harper expressed the notion that he "never realized what a big deal it was" that Edmond and Allen attended Jesuit during wide spread segregation.  To him "Charles was just a typical student."
Following the private reception, Edmond gave a 40 minute lecture to a group of students, detailing his high school experiences during the era of Jim Crow. He explained how he wasn't allowed to attend the Jesuit prom or homecoming dances, surprising much of the audience when he noted that he wasn't allowed to attend any graduation parties on his graduation night.
After Mr. Edmond's talk, Corey Johnson '13 asked him about his transition from Jesuit to the historically black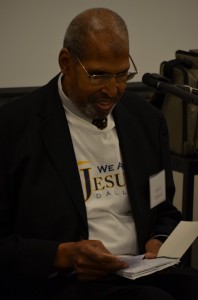 college, Grambling State University. Mr. Edmond told him that it was a "difficult transition" because he had been introverted for the most part throughout his high school years and had to work hard to become more social when he went to Grambling. His wife reassured the audience, asserting, "He got his swag on" there.
As soon as the lecture and Q&A concluded, Mr. Edmond was led on a tour of the school by Tim Nguyen of the Student Council. Two more of his former classmates, Bill Schuster '58 and Frank Cardenas '58, caught up with him for the tour. Schuster and Cardenas both reminisced about the days in class when Mr. Edmond would "have knife fights" with Jim Hayes '58 in class. "Charlie had a banana knife and Jim had a smaller knife," Cardenas explained, "and when the [Jesuit scholastic teacher] would leave the classroom, they would take [their knives] out and [jab at each other]."  Fortunately, these were not spiteful attacks, but rather good-natured ways of causing mischief.
Mr. Edmond and his family were very excited to walk through the Hall of Honors where the class of 1958's
composite picture hangs.  Another area Mr. Edmond particularly enjoyed was the band hall, he himself having played in the Jesuit band. "This is a lot larger hall," exclaimed Mr. Edmond as he entered the hall.
Following the tour was a lunch, where Fr. Edwards talked with Mr. Edmond about their lives in the 1950s. Having gained much more insight into his father's Jesuit experience, Mr. Edmond's son, Charles, cheerfully proclaimed, "I didn't know these things about my father until today when he gave his talk."
Principal Tom Garrison and the rest of the Jesuit community were very proud of being able to host such a notable alumnus, and according to Mr. Garrison, "I am proud that everyone could be here and make this happen."
As Edmond was getting ready to leave, he shared his amazement at Jesuit's
state-of-the art facilities, revealing that he "loved the old Jesuit High
School, but [he] like[s] the new building just as much." Edmond also expressed his fondness for the Diversity program and the community service program, two groups he "wished [he] could have been in at Jesuit."  In his day, he had no support group to help him acclimate to the school.
Even though Mr. Edmond wasn't returning to the same building he had attended classes in, he was returning to the exact same sense of unity that had taught him the axiom: "Men for others; brothers for life," a motto that has guided him ever since his graduation from Jesuit.
Dallas Morning News article and video link http://www.dallasnews.com/news/community-news/dallas/headlines/20120502-the-first-black-student-to-graduate-from-dallas-jesuit-high-returns-to-relive-memories.ece?action=reregister
To re-read Maher's more thorough series on this topic, click here
 http://jesuitroundup.org/?page_id=6060